We've written about the best wireless earbuds and games of 2022, so it's about time for a big one: the best smartphone of 2022. There were many excellent phones released throughout the year, but one device stood out – the Apple iPhone 14 Pro.
In my opinion, the iPhone 14 Pro ticks all the right boxes for a high-end, premium smartphone in a (relatively) compact form factor. It offers blazing fast performance; it has a capable, versatile camera system; and most of all, it's a compact flagship smartphone without compromise.
These are just some of the reasons why the iPhone 14 Pro is my pick for the best smartphone of 2022. Yes, it's a costly device with a RM5,299 starting price, but you're definitely getting your money's worth with the latest iPhone.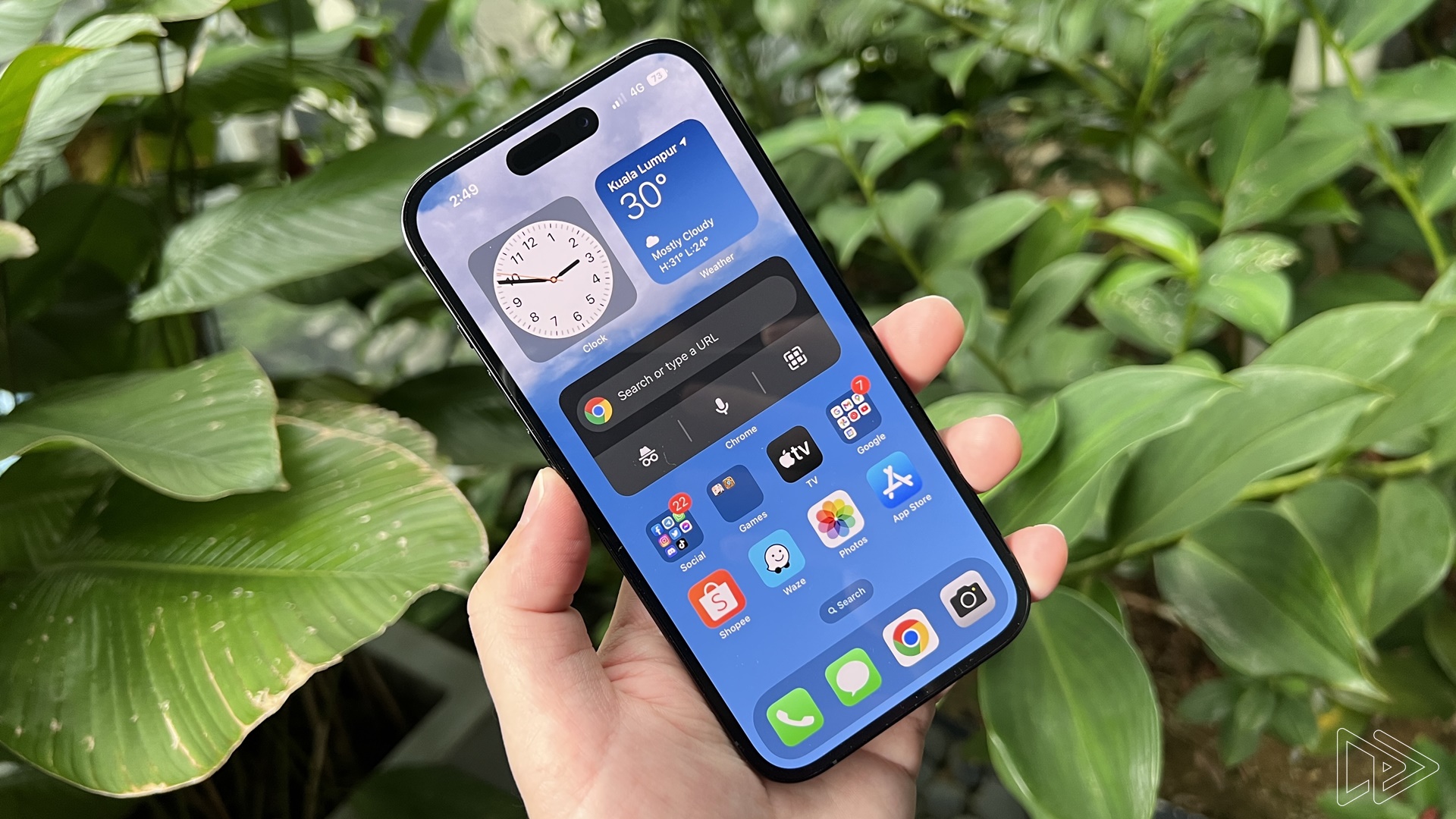 A flagship smartphone should have fast, uncompromising performance, and in this regard – much like every new iPhone Pro released annually – it doesn't get any better than the iPhone 14 Pro's Apple A16 Bionic chip. After all, it brings superior CPU and GPU performance over the A15, which was (and still is) a very fast processor to begin with.
It really is no exaggeration to say that the A16 chip is the fastest mobile chip in the market now, even in comparison to the best Qualcomm or MediaTek SoC found on flagship Android devices. Whether it's to provide a smooth gaming performance or user experience, the A16 can do it all extremely well.
Processing power aside, the camera performance of the iPhone 14 Pro is excellent as well. Sure, it doesn't get the far-reaching 10x optical zoom of the Samsung Galaxy S22 Ultra, for example, but what it does offer is a more responsive camera interface, lending to a pleasant shooting experience.
On top of that, the iPhone 14 Pro's new and improved triple camera system (48MP primary + 12MP ultra-wide + 12MP telephoto lens) can take great-looking shots regardless of lighting situation too. This is especially true for the 48MP main camera, which now uses pixel binning to further improve image quality; it also reduces the image to 12MP to save space.
Judge for yourself with these sample shots:
But I do have one qualm with the iPhone 14 Pro's camera: the minimum focus distance of the 48MP primary sensor is noticeably further away from last year's iPhone. As a result, I can't get tighter close-up shots with the 14 Pro. The macro mode and 2x zoom options do alleviate this issue, but the image quality does suffer a tad.
Nonetheless, I do still thoroughly enjoy shooting with the iPhone 14 Pro. It has by far the most responsive camera interface out of all flagship smartphones I've reviewed this year. This is one of the reasons for my fondness with iOS – being able to capture the shots I want without missing a beat is incredibly handy.
Another strong point for iOS is its power efficiency. Even though the iPhone 14 Pro doesn't have a particularly big battery – it's rated at 3,200mAh as revealed by teardowns – it can still deliver all-day battery life easily. In my review of the phone, I mentioned that I can get about five hours of screen on time with it, even with the always-on display enabled.
Speaking of display, there's also the iPhone 14 Pro's much talked about Dynamic Island notch. Compared to the standard notch found on previous iPhones, the new pill-shaped notch is certainly a meaningful upgrade. Not only does it look better, it is also quite functional.
When I'm playing music on YouTube Music or Spotify, for example, the Dynamic Island will actually expand to show the album art and waveform when I minimise the app. While this is by no means a groundbreaking feature, it is a smart use of the notch.
Instead of pulling focus away from the notch – like every other phone maker, basically – Apple decided to make the notch a part of the user experience. Given that the Dynamic Island is already being copied, it's clearly a feature other brands will replicate.
That being said, there is still room for improvement. As much as I like the Dynamic Island notch, I don't love how it gets in the way of certain content. It's fine when I'm watching a regular 16:9 video, but for content that are in a different aspect ratio (such as Nextrift's videos), the notch will block off a part of it.
All in all, the iPhone 14 Pro is still my pick for best smartphone of 2022. It has all the features you'd expect from a flagship smartphone…and then some. The fact that it is also a compact phone that doesn't compromise on any key features – this is typically the case with smaller-sized phones – is an added bonus.
Retailing from RM5,299, the iPhone 14 Pro is not an affordable phone by any means, but you're paying for a premium, high-end compact smartphone with a complete feature set. In my opinion, that is worth every penny.