For the longest time, my daily driver has been an Android device. While I briefly swapped to a couple of different iPhones back in 2018, I ended up going back to Android afterwards for the familiarity of the operating system, among other things.
But when an opportunity to give the iPhone 13 Pro Max a proper review presented itself – in the sleek new Alpine Green colourway, to boot – I decided to switch to it for good to see just what I'm missing out on. Well, after a month of use, I'm happy to report that…I'm glad I made the switch!
Don't get me wrong, there are still some aspects where Android is better. But for the most part, iOS offers a more refined software experience, not to mention the incredible performance of the 13 Pro Max's Apple A15 Bionic chip. If you're thinking of migrating from Android to iOS, here's what you can expect.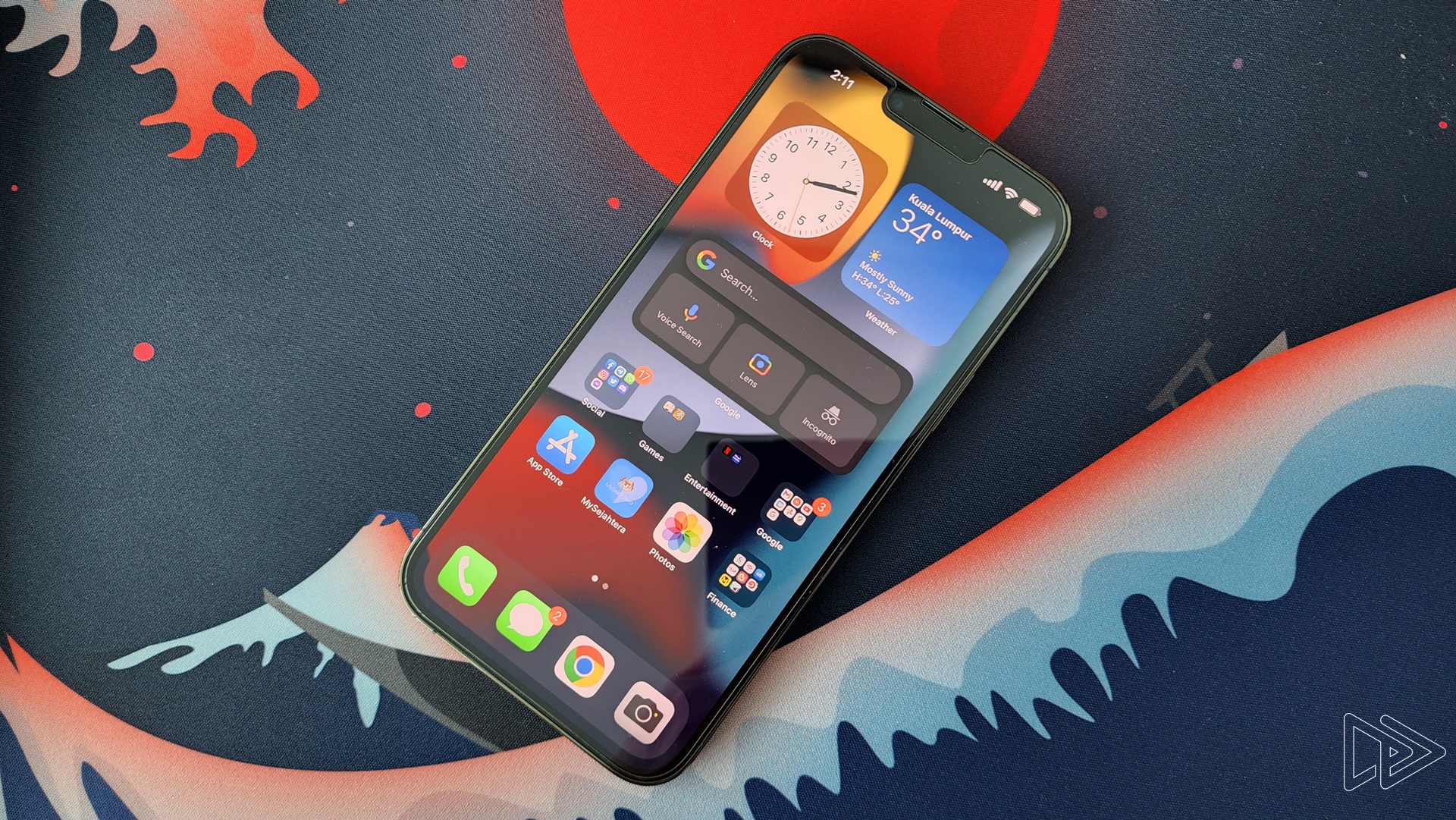 Uncontested Performance
It is no exaggeration to say that no Android phone to date can rival the performance of the iPhone 13 Pro Max. Powered by the Apple A15 Bionic chip with a powerful 5-core GPU, it offers insanely good graphics performance and processing power.
To put this to the test, I thoroughly tested Genshin Impact on this phone; a game that many high-end, flagship Android devices struggle to run consistently at 60fps. Well, on the 13 Pro Max, not only can I set the framerate to 120fps – not even the PC version has this option – it also runs very smoothly at maxed out graphics settings.
Granted, there are a few instances where the framerate would drop below 60fps, but this is only for a short while. Basically, there really is no denying the fast performance of Apple's A15 Bionic chip.
Fantastic OS & App Optimisation
Aside from its powerful chip, iOS 15 on the iPhone 13 Pro Max is also very well optimised. By just scrolling through the user interface, you can feel how fluid and responsive the operating system is. The bright and vibrant Super Retina XDR display with ProMotion – offering an adaptive refresh rate from 10Hz to 120Hz – certainly helps with the responsiveness of the phone too.
The same applies to apps on iOS 15. Not only do they load noticeably faster compared to Android – which is also thanks to the speedy A15 Bionic chip – the level of refinement of these apps (and especially games) is a step ahead of Google's operating system as well.
It's almost as if the same apps available on both iOS and Android are originally made for the former.
But it makes sense for apps to simply work better on an iPhone. After all, developers only need to make sure that their apps work well on a handful of iPhone models, rather than a bunch of different Android devices with different hardware capability.
Impressive Battery Life
Although the iPhone 13 Pro Max is "only" packing a 4,352mAh battery, it's able to return immensely good battery life. Throughout my time with the phone as my daily driver, it never failed to last me through the end of a typical work day, even when I did a lot of gaming.
Suffice to say the power efficiency of iOS 15 is superior to Android. While most flagship Android devices are packed with much more generous 5,000mAh batteries, the 13 Pro Max can still easily outlast them. This is a perfect example of how hardware don't tell the full story; software optimisation matters too.
Premium Build Quality
You cannot fault Apple when it comes to build quality. The iPhone 13 Pro Max feels nice, hefty, and most definitely premium in the hands. While the glossy stainless steel frame is a fingerprint magnet, I do like the flat nature of it. This makes it easy to get a good grip on the phone.
The smooth matte finish on the glass back panel of the 13 Pro Max is also very nice to the touch, and I'm a fan of the Alpine Green colour. Depending on lighting, it can actually look like a shade of grey. Personally, I quite like this: not only does it look great, it also gives the phone a unique aesthetic.
Responsive, Capable Camera System
And then we have the camera performance of the iPhone 13 Pro Max, which is great. What really impressed me when I started photographing with the phone is just how responsive the camera interface is. There's no stuttering at all, and I can capture my shots without any annoying shutter delay.
Aside from that, the triple camera system of the 13 Pro Max is very competent too. Made up of a 12MP primary sensor, a 12MP telephoto shooter (3x optical zoom), and a 12MP ultra-wide angle lens with autofocus capability, this is a versatile camera setup that can capture great-looking shots regardless of lighting condition.
While I do miss the far-reaching zoom of the Samsung Galaxy S22 Ultra when I switched to the 13 Pro Max, I'm happy that I still have access to a capable camera system…along with a more responsive camera interface for a more pleasant shooting experience.
Unintuitive Notification System
Now, onto less positive aspects of the iPhone 13 Pro Max, starting with the unintuitive notification system. I don't love the fact that I cannot dismiss notifications with a simple swipe, and even though it's great that iOS can now group notifications by different apps, it's still a little clunky when I have multiple conversations from the same app.
iOS' notification system has always been my least favourite feature of the operating system. While it has gotten better over the years, Android still handles notifications much better. I especially miss having interactive notifications on Android; this is one area iOS 15 still lags behind its competition.
Accurate Keyboard, But Could Be Better
I love how accurate iOS' stock keyboard is, but only when I'm typing in "proper" English. When I'm composing a message in informal English with some Bahasa Malaysia words thrown in (hey, I love my Manglish), the autocorrect is more of a nuisance than a helpful feature.
Granted, after "teaching" the keyboard some of my informal vocabulary and Bahasa Malaysia words I often use, the autocorrect does gradually get better. But even after using the 13 Pro Max exclusively over the past month, I still find myself typing more comfortably on an Android device.
It's really because iOS' stock keyboard doesn't support one feature: swipe to delete. I've used SwiftKey on Android devices for the longest time, and being able to quickly delete words by just swiping to the left on the keyboard really speeds up my typing.
Yes, I've tried installing SwiftKey on the iPhone 13 Pro Max. No, swipe to delete isn't offered on iOS, for whatever reason. While I wouldn't say the stock keyboard is intolerable – I really do appreciate how accurate the autocorrect is – I definitely miss using SwiftKey on Android.
In Need of Redesign
Last but not least is the design of the iPhone 13 Pro Max, which is honestly due for an update. While it's a premium phone with impeccable build quality, it still has largely the same design as iPhones over the past couple of generations.
I mean, the 13 Pro Max still has a display notch in this day and age, even if it's slightly smaller now. Because of the notch alone, this iPhone doesn't look quite as sleek next to its Android competition, such as Samsung's S22 Ultra and the Xiaomi 12.
Hopefully, rumours of the iPhone 14 series sporting a bigger design update will pan out. While the notch is necessary to house the module for Face ID – I actually find myself liking this authentication method – it's high time Apple swaps it out for a more modern solution that doesn't require such a big screen cutout.
At the end of the day, the iPhone 13 Pro Max is still a very easy phone to recommend, especially for folks that don't have a preference for any mobile operating system. It offers performance even flagship Android phones cannot compete with, it's a very well optimised platform, and it has really long battery life, not to mention a competent, responsive camera system.
That is why the iPhone 13 Pro Max gets the Nextrift Recommends badge, which we award to products that are, well, worth recommending. It's our way of endorsing products for their unique appeal, refinement, and in the case of the 13 Pro Max, its feature set as a high-end, premium smartphone.
Yes, I'm not a fan of how iOS handles notifications, and the 13 Pro Max is not the sleekest-looking phone in the market either. But despite all of that, I do not regret switching over to this phone at all. It provides a level of refinement – both hardware and software – that Android devices just don't offer.
Granted, with a RM5,299 starting price, the iPhone 13 Pro Max certainly carries a premium price tag, but so does its competition. In fact, you don't even have to pay top dollar to get a similar level of performance with the 2022 iPhone SE – it's also packed with an A15 Bionic chip from only RM2,099.