I've always been a fan of compact flagship smartphones. But more often than not, these pocket-friendly devices are filled with compromises. Whether it's in the camera department, processing power, or battery life, a compact flagship phone simply isn't as good as the "main" device in a particular series.
But that is not the case with the iPhone 14 Pro. Not only is it a high-end compact phone, it also has similar hardware as the larger iPhone 14 Pro Max. That means it offers the same camera experience, performance level, and even display quality – yes, it has the new Dynamic Island notch as well.
Of course, the iPhone 14 Pro carries a premium price tag too, but you are getting your money's worth, in my opinion. I've been using the 14 Pro for a while now as my daily driver, and I'm really impressed with it – it's certainly a worth successor to last year's iPhone.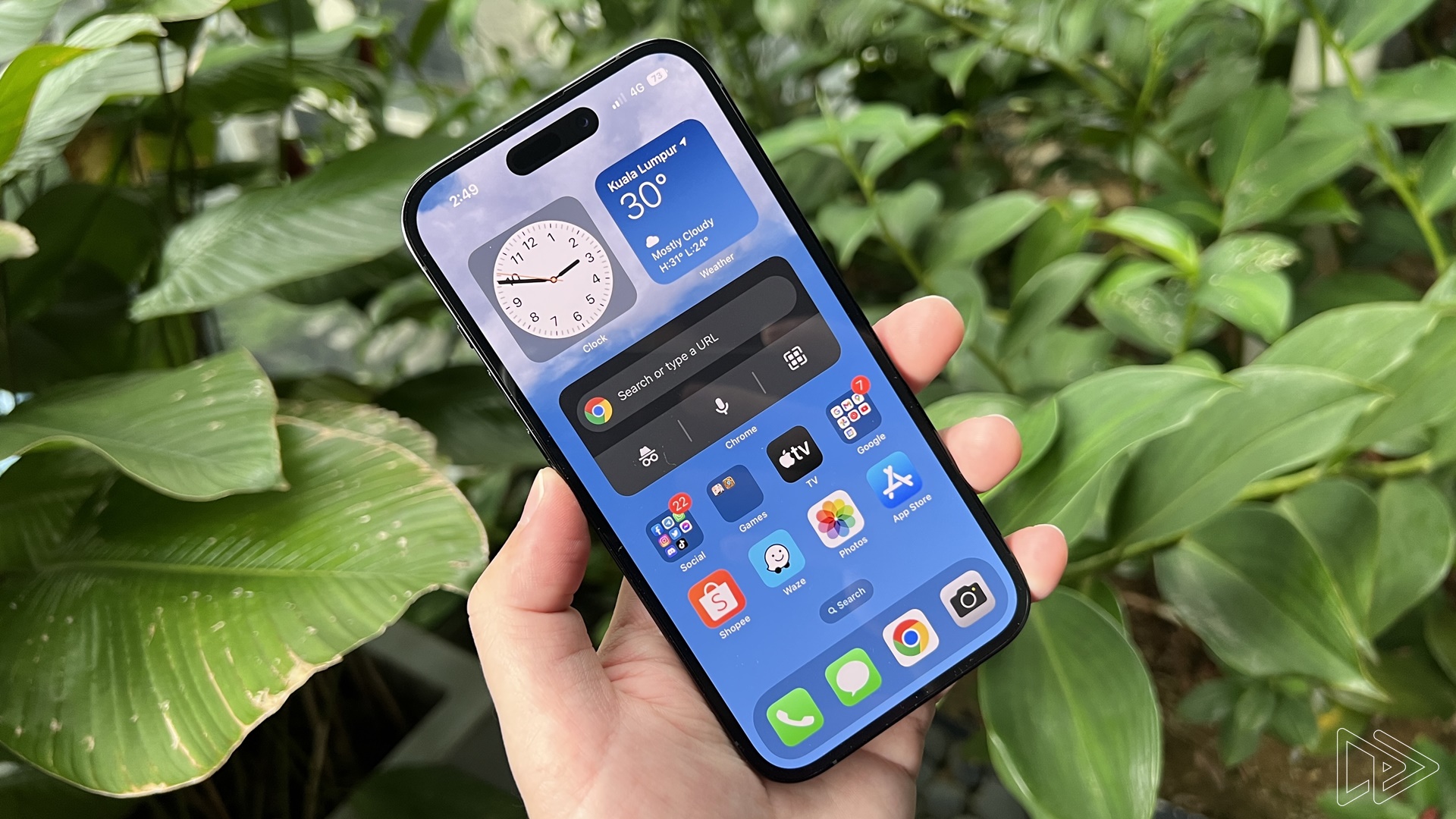 What It Is
Display
6.1-inch Super Retina XDR OLED (2556 x 1179), adaptive 120Hz
Chipset
Apple A16 Bionic (6-core CPU; 2 performance and 4 efficiency cores)
GPU
Apple A16 Bionic 5-core GPU
RAM
6GB
Storage
128GB/256GB/512GB/1TB, non-expandable
Camera (rear)
48MP f/1.78, 100% Focus Pixels, second-gen sensor-shift OIS
12MP f/2.2 (ultra-wide), 100% Focus Pixels
12MP f/2.8 (telephoto), 3x optical zoom, OIS
Camera (front)
12MP f/1.9, autofocus with Focus Pixels
Battery

3,200mAh
Dimensions
147.5 x 71.5 x 7.85 mm
Weight

206g
OS
iOS 16
Connectivity
5G
LTE
NFC
Bluetooth 5.3
WiFi 802.11ax
Lightning port
Price
RM5,299 (128GB), RM5,799 (256GB), RM6,799 (512GB), RM7,799 (1TB)
Compared to its predecessor, the iPhone 14 Pro features a number of improvements. These include a faster Apple A16 Bionic chip, a more sophisticated triple camera system, along with a brighter Super Retina XDR OLED display – these are some noteworthy upgrades.
Though Apple did not reveal the RAM and battery capacity of the iPhone 14 Pro, teardowns by other parties have verified these details. While 6GB of RAM and a 3,200mAh battery don't sound particularly impressive, they are more than enough to provide a pleasant user experience – I'll get back to them further down the review.
The Good Stuff
One of the most highlighted new features of the iPhone 14 Pro is the Dynamic Island notch, so let's talk about that first. Compared to the standard notch found on previous iPhones, the new pill-shaped notch is certainly a meaningful upgrade. It looks better, and it is also quite functional.
When I'm playing music on YouTube Music or Spotify, for example, the Dynamic Island will actually expand to show the album art and waveform when I minimise the app. While this is by no means a groundbreaking feature, it is a smart use of the notch.
Instead of pulling focus away from the notch – like every other phone maker, basically – Apple decided to make the notch a part of the user experience. It's a bold move, to be sure, but it's one direction I'm glad Apple took. Given that the Dynamic Island is already being copied, it's clearly a feature others will replicate.
And then we have a feature that's finally available on an iPhone: an always-on display. But Apple's implementation is quite different than other phone maker's – when the always-on display is activated on the iPhone 14 Pro, it's essentially a dimmed lock screen.
That's not all, of course. To further conserve battery life, the display's refresh rate in always-on mode is also reduced to only 1Hz. But because the iPhone 14 Pro's always-on display looks a little too…on, I thought I forgot to lock the phone in the first few days of use.
But I did get accustomed to the always-on display of the iPhone 14 Pro quite quickly, and I love how functional it is; I can see all of my notifications at a glance instead of just icons. While the always-on display does impact battery life, it's a worth trade-off for the sheer utility of the feature.
So how is the battery life of the iPhone 14 Pro? Pretty darn good! This is especially the case for a phone as compact as this. On average, I can get about five hours of screen on time with the 14 Pro out of the 3,200mAh battery, and this is with the always-on display enabled to boot.
Throughout the review period, I had no issue at all getting through a typical workday with the iPhone 14 Pro. It can certainly deliver the "all-day battery life" promised by Apple.
Display quality of the iPhone 14 Pro is noticeably better than last year's iPhone too. Thanks to its higher (and very impressive) 2,000 nits outdoor peak brightness, the 6.1-inch Super Retina XDR OLED panel is clearly more legible under bright sunlight.
This being an OLED screen, it's a joy to stream my favourite TV series with the iPhone 14 Pro; the panel's bright, vibrant colours with deep, true blacks make for a very enjoyable viewing experience. Even though the 6.1-inch display may be a tad too small for some folks, I find it to be perfectly adequate.
Oh, the iPhone 14 Pro's display has ProMotion technology too, which offers up to 120Hz adaptive refresh rate. Needless to say, every animation on the screen looks extra smooth with the high refresh rate.
That brings us to gaming on the iPhone 14 Pro, and playing mobile games like Genshin Impact on the iPhone 14 Pro's 120Hz display is incredibly fun. It's worth noting that only Apple devices with ProMotion technology can play Genshin Impact at 120fps; even a powerful gaming PC don't have the option to run the game at this frame rate.
However, can the iPhone 14 Pro sustain the 120fps frame rate in Genshin Impact? Even with only 6GB of RAM? Absolutely. After all, the Apple A16 Bionic chip brings superior CPU and GPU performance over the A15, which was (and still is) a very fast processor to begin with. I'd even go as far to say that the A16 chip is the fastest mobile chip in the market now, especially against the best of Qualcomm or MediaTek.
Last but not least is the camera performance of the iPhone 14 Pro. I'll say this out of the gate: the 14 Pro has a better camera system than its predecessor. The new and improved triple camera system (48MP primary + 12MP ultra-wide + 12MP telephoto lens) can take great-looking shots regardless of lighting situation.
This is especially true for the iPhone 14 Pro's 48MP primary camera, which now uses pixel binning to further improve image quality; it also reduces the image to 12MP. There's even an option for 2x zoom now that crops a 12MP image from the main 48MP sensor. This (essentially) adds another dedicated focal length to the phone's camera.
Anyway, judge for yourself the camera performance of the iPhone 14 Pro with the sample images below:
There's no doubt I have a lot of positive things to say about the iPhone 14 Pro, but it does have its fair share of shortcomings, which I'll get to in the following section.
The Bad Stuff
I love how refined and functional the iPhone 14 Pro's Dynamic Island is, but I don't love how it gets in the way of certain content. It's fine when I'm watching a regular 16:9 video, but for content that are in a different aspect ratio (such as Nextrift's videos), the notch will block off a part of it.
There's also the minimum focus distance of the iPhone 14 Pro's new 48MP primary camera, which is noticeably further away from last year's iPhone. As a result, I can't get tighter close-up shots with the 14 Pro. The macro mode and 2x zoom options do alleviate this issue, but the image quality would not be as good as the main 48MP primary camera.
But the main shortcoming of the iPhone 14 Pro is…well, its asking price. Retailing from RM5,299, it is a costly phone, and that kind of money only gets you the 128GB model. If you want the more practical 256GB or 512GB variants, it'll set you back RM5,799 and RM6,799 respectively.
Is It Worth It?
In my opinion, yes! There's no denying that the iPhone 14 Pro costs a pretty penny, but there's also no denying that this is a refined, high-end (and compact) smartphone through and through. It has a sophisticated, capable camera system, blazing fast performance, and the unique Dynamic Island notch.
Plus, there are methods to offset the high asking price of the iPhone 14 Pro, such as getting it from your favourite telco. It's worth noting that iPhones hold their values very well over the years too, and that is a plus point in my book.
The iPhone 14 Pro is also a compact flagship smartphone without compromise – this alone makes it a phone worth getting, and why it gets the Nextrift Recommends badge. We award this to products that are, well, worth recommending.
Nextrift Recommends is our way of endorsing products for their unique appeal and refinement. In the case of the iPhone 14 Pro, it gets this badge for its complete feature set as a premium, high-end compact smartphone that's worth every penny.