We've talked about our 2022 game of the year – it's God of War Ragnarok, if you're wondering – and now, we have our mobile game of the year! Our pick is none other than Marvel Snap, which was officially released about two months ago on 18 October 2022.
Since its release, I haven't been able to put down Marvel Snap. On the surface, it's a quick, simple card game, but its underlying mechanics make for a very engaging, very entertaining mobile game. It does have its shortcomings, but for the most part, it's definitely one of the best mobile games I've come across in recent times.
It's no surprise that Marvel Snap is such a delightful card game. After all, it's developed by Second Dinner, an indie studio co-founded by none other than Ben Brode, the former director of Hearthstone. Obviously, he knows a thing or two about good card game design.
Unlike the majority of other card games, a deck in Marvel Snap consists of 12 cards; that's right, twelve! On top of that, a match only lasts six turns, so you can complete a typical game of Snap in about five minutes or so.
Marvel Snap's low time commitment is a stark contrast to other digital card games like Hearthstone, and it is one of my favourite aspects of the game.
The match structure of Marvel Snap is quite simple too: players have to win two out of three "locations" that are randomly generated to secure a victory. Winning a match rewards players with two "cubes," and these cubes are what determine a player's rank.
You need 10 cubes to go up a level, so winning only two cubes a match can make for a…well, slow progression. But that's where the "snap" mechanic of Marvel Snap comes into the picture, which adds another dimension to the game. If you're confident you can win a match, you can snap your opponent to double the cube count.
If only one player snaps, the final cube winnings is four; it's doubled to eight (the maximum amount) if both players snapped. Needless to say, an adept player can climb up the ranks fast with strategic snaps. There's an element of deception to this mechanic too, and I absolutely love it.
There's also a retreat feature in Marvel Snap if you want to avoid losing (too much) of your precious cubes. You can retreat at any point in the game before the final turn, but not immediately after you snap, of course. Knowing when to retreat is just as important as knowing when to snap to climb up the ranks.
I'm quite a fan of Marvel Snap's card acquisition too, which is quite fair, in my opinion. In order to unlock new cards, you'll need to "upgrade" your existing cards with boosters that can be obtained by just playing matches. Credits are also required to upgrade cards, and they can be obtained from completing daily missions.
Upgrading cards will add additional effects to them, but more importantly, they also increase your Collection Level, which gives you various rewards.
As you progress through the Collection Level, you'll get additional credits, boosters, and more importantly, new cards. This is the primary method to unlock cards in Marvel Snap, though the token shop does offer new cards too. However, you'll need tokens – obtained from Collection Level 506 onwards from Collector's Cache and Reserve – to unlock them.
I feel like this is a fair system as Marvel Snap's matchmaking will match players with similar Collection Level and ranking. This way, both players will have access to (largely) the same collection of cards, though each player will unlock the cards in a random order.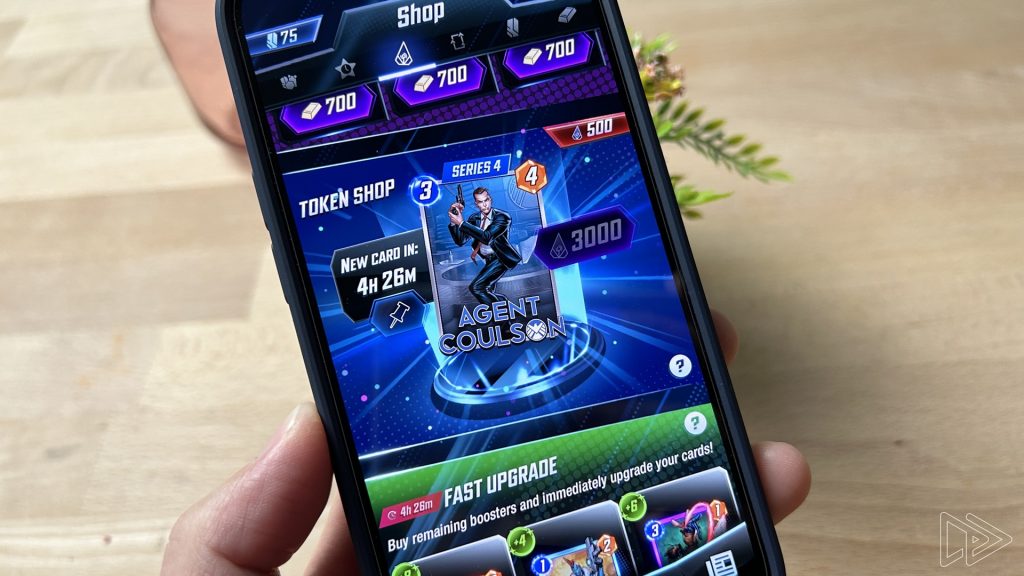 That being said, the randomness does feel quite frustrating at higher Collection Levels. Sometimes I'm just missing a couple of cards to complete a particular deck, and waiting to reach the next Collector's Reserve for a chance to unlock a new card isn't the most pleasant gaming experience.
Nonetheless, Marvel Snap is still a ton of fun. I can enjoy the game in short bursts throughout the day, the gameplay mechanics are simple (but surprisingly complex at times), and the card designs are also very interesting with a ton of different deck archetypes to explore.
All in all, Marvel Snap is easily one of the most entertaining mobile games released this year, and it's an easy winner for our 2022 mobile game of the year award and the Nextrift Recommends badge. The game is now available on both the Apple App Store and Google Play Store, though it's also offered on Steam if you prefer playing it on PC instead.