The Samsung Galaxy S22 Ultra, especially for the Malaysian market, will appeal to two folks. Galaxy Note fans, for one, will love the built-in S Pen and Note-like design of this flagship phone. The other group? Users who have eagerly waited for Samsung Malaysia to bring in the Snapdragon variant of the Galaxy S series.
With the Galaxy S22 Ultra, you're getting just that…and more. Of course, given the premium positioning of this phone, you'll also have to pay a premium for it, though it's not that much more costly than its predecessor. Without further ado, here's our review of the S22 Ultra.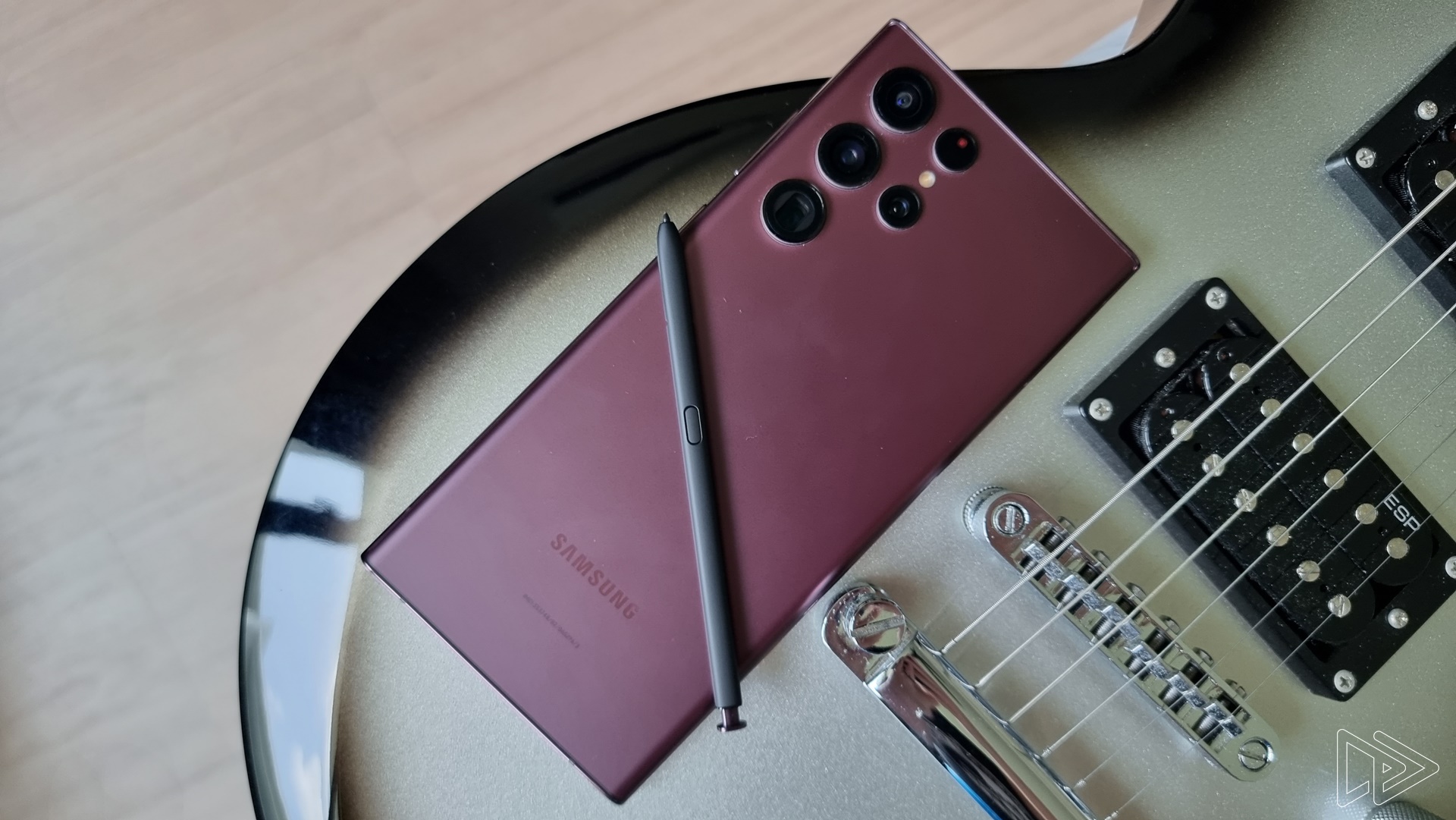 What It Is
Display
6.8-inch QHD+ Dynamic AMOLED 2X (3088 x 1440), 120Hz adaptive
Chipset
Qualcomm Snapdragon 8 Gen 1 2.99GHz octa-core
GPU
Adreno 730
RAM
8/12GB
Storage
128/256GB, non-expandable
Camera (rear)
108MP f/1.8, PDAF, OIS
12MP f/2.2 (ultra-wide angle), Dual Pixel AF
10MP f/2.4 (telephoto), Dual Pixel AF, OIS, 3x zoom
10MP f/4.9 (telephoto), Dual Pixel AF, OIS, 10x zoom
Laser autofocus system
Camera (front)
40MP f/2.2
Battery

5,000mAh with 45W fast charging (15W wireless)
Dimensions
163.3 x 77.9 x 8.9 mm
Weight

228g
OS
One UI 4.1 based on Android 12
Connectivity
5G
LTE
NFC
Bluetooth 5.2
WiFi 802.11 a/b/g/n/ax
USB Type-C
Price
RM5,099 (128GB + 8GB), RM5,499 (256GB + 12GB), RM5,899 (512GB + 12GB)
There's no denying that the Galaxy S22 Ultra is a high-end phone through and through. Not only does it have a stunning Dynamic AMOLED 2X screen with a 120Hz adaptive refresh rate – it can alternate between 120Hz to as low as 1Hz – it even has a sophisticated, far-reaching quad camera system.
Granted, most of these hardware are also found on its predecessor (except for the S Pen, obviously), but what makes the S22 Ultra particularly unique for the Malaysian market is the inclusion of a Snapdragon 8 Gen 1 chipset. This is quite a surprise, given that the S series for our market had always used Exynos chips instead.
The Good Stuff
Let's talk about the design of the Samsung Galaxy S22 Ultra first, which I really, really like. Compared to the S21 Ultra, this new phone sports a more angular design with its flat top and bottom. The sides of the phone, on the other hand, are rounded; it's almost like the display and glass back panel of the phone are wrapped around the frame. All in all, this makes for a premium phone in looks and feel.
And then there's the camera arrangement on the back of the S22 Ultra. While it looks…well, slightly unconventional, I like the fact that the lenses are no longer housed in a large module. They look better (in my opinion) this way, even if the sensors are not quite as protected.
While design is subjective, it's much easier to judge a display's fidelity. In this regard, the Galaxy S22 Ultra has a fantastic 6.8-inch QHD+ Dynamic AMOLED 2X panel. According to Samsung, this is the brightest screen ever on a Galaxy S device with a peak brightness of 1,750 nits. Naturally, it also supports HDR10+ with 100% coverage of the DCI-P3 colour gamut.
The result? Well, a very pleasant screen to look at. It can get really, really bright, it has vibrant colours, and this being an AMOLED panel, it also offers deep, true blacks with wide viewing angles. The display's 120Hz adaptive refresh rate also makes it a joy to game on.
Speaking of which, the performance level of the S22 Ultra is undoubtedly good, especially after an update to remove the throttling by Samsung's Game Optimization Service (GOS). While it still can't run Genshin Impact at maxed out graphics settings – to be fair, not many flagship Android phones can – it still offers smooth enough gameplay.
What about the S Pen? Well, it's great! Thanks to its lower latency, the writing experience is more fluid than ever. In short, it feels quite natural to write using the S Pen; almost like I'm physically scribbling on a piece of paper.
The design of the S Pen itself sees a slight revision as well. Previously, it was just a simple plastic stylus, but the S22 Ultra's S Pen has a slightly rubberised texture for a more comfortable grip. I also like the fact that it's finished in black now.
Last but not least is the camera performance of the Galaxy S22 Ultra, which is (unsurprisingly) excellent. This applies to all four sensors of the quad camera system; not something that can be said of many, many other flagship-tier phones in the market now. Judge for yourself with these sample shots:
What remains to be very impressive is the zooming capability of the S22 Ultra's telephoto cameras. While the image quality at 100x zoom isn't great, I'd argue the 30x zoom is still acceptable. Of course, the camera interface itself is responsive too, and focus locking is very fast and accurate.
While the Galaxy S22 Ultra has a lot of winning qualities, it does have its fair share of shortcomings as well – let's get to them in the next section.
The Bad Stuff
Despite its sizeable 5,000mAh battery, the S22 Ultra's battery life is…decidedly average. Throughout the review period, I can only get about five hours of screen on time on a single charge. While this isn't bad by any means, it's certainly not class-leading.
But the biggest downside of the S22 Ultra has to be its high asking price. Retailing from RM5,099 – a RM100 price increase over the S21 Ultra – this is a costly device. You do get a fantastic phone for that kind of money, but you can also get the same level of performance and refinement from a more affordable phone.
Is It Worth It?
Even though the value proposition of the Samsung Galaxy S22 Ultra isn't great, it does have more than a few winning qualities to justify its high price tag. Not only do you get an excellent far-reaching quad camera system with the S22 Ultra, there's also the unmatched utility of the S Pen.
The S Pen has always been one of the best features of a Galaxy Note phone, and now that the series is (likely) discontinued, the stylus lives on with the Galaxy S22 Ultra. Given that none of Samsung's competition is able to offer the same utility as the S Pen, this stylus remains to be a winning feature for Samsung.
For fans of the S Pen – and the Galaxy Note lineup – the Galaxy S22 Ultra will be right up your alley. It really is a true successor to the Note series, which hasn't seen an update for almost two years now. Even if you don't need the utility of the S Pen, the S22 Ultra's combination of a sophisticated camera system, stunning display, and high-end performance…make for a complete flagship smartphone.
With a matching price tag, of course.