Magic: The Gathering's newest set, The Lord of the Rings: Tales of Middle-earth, made its tabletop debut just last week. As its name suggests, the set features iconic characters and items from the LOTR franchise, including a serialised one of one copy of The One Ring that is going for upwards of 2 million euro, though this card can only be opened in Collector Boosters.
Anyway, in conjunction with the release of MTG LOTR, Wizards of the Coast sent us a few products from the set, including a box of Set Boosters and several merchandise that can be obtained at the MTG Welcome Party this weekend. If you're interested to get these products, here's our unboxing!
Let's start with the Set Boosters. Unlike Draft Boosters, Set Boosters are meant to be more "exciting" to crack open. This is probably why it is popular among folks who just enjoy opening booster packs instead of using them for Limited play, such as Draft or Sealed.
What makes an MTG Set Booster more exciting to open is the structure of the 14-card pack for this LOTR set. 12 of them are guaranteed Magic cards, while the other two are an art card and a token/ad card; the latter has a chance to be replaced with a card from "The List."
Typically, when you crack open a Set Booster, the first card you'll see is an art card followed by a land card. But this have changed since the introduction of Phyrexia: All Will Be One. Depending on how you open a pack of Set Booster now, you may see the art card first, but the cards now face the other side with some changes to the order. Technically, the art card is now the "last" card in the pack.
So the order of a LOTR Set Booster looks like this: a token/ad card; a guaranteed foil card; the set's rare or mythic rare card; two wildcards; a common or uncommon borderless scene or showcase Ring card; three uncommon and three common cards; a basic or full-art Middle-earth map land card; and an art card.
There are a few interesting things to take note of. The guaranteed foil card, for example, can be of any rarity, including mythic rare. On top of that, the two wildcard slots can be of any rarity as well, so it's possible you can get as many as four rare or mythic rare cards in an MTG LOTR Set Booster.
It's worth noting that for The Lord of the Rings: Tales of Middle-earth set, a Realms and Relics Box Topper card is bundled with a box of Set, Draft, and Collector Boosters. 30 different cards can be opened from this Box Topper, and this is the only place where "traditional foil versions of Realms and Relics cards can be found," as Wizards puts it.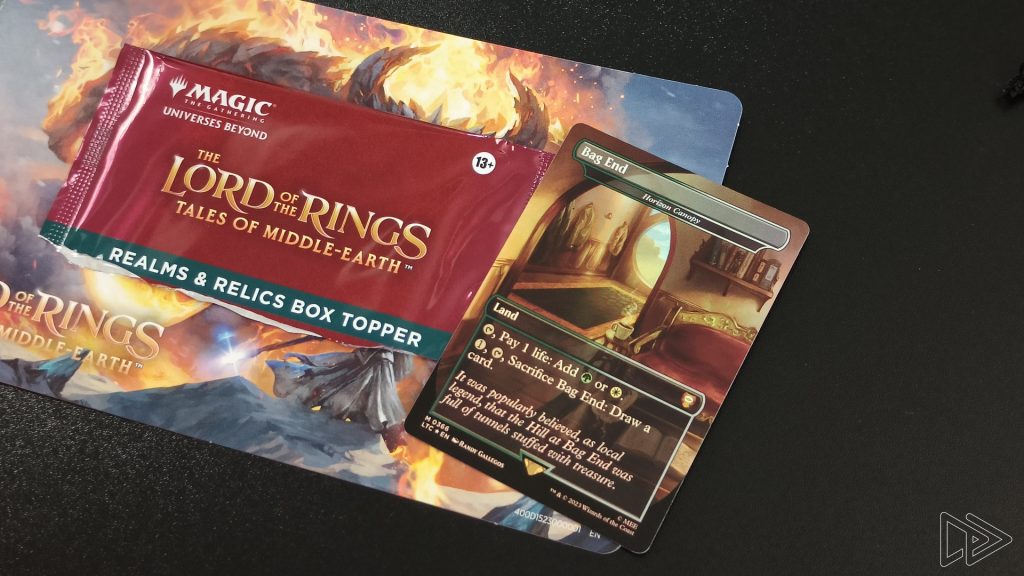 Also unique to the MTG LOTR set is the aforementioned showcase Ring treatment and full-art Middle-earth map land card. The former is a Booster Fun treatment applied to 30 legendary LOTR characters who were influenced by the power of the Ring throughout the lore of the franchise.
As for the full-art Middle-earth map land card – which looks fantastic, in our opinion – it takes inspiration from the maps of LOTR. There are a total of 10 different arts (two for each mana colour in MTG) featuring the lands of Middle-earth.
As mentioned, we also received some MTG LOTR merchandise. These include MTG pins, a tote bag, and even a rather nice wooden tray for the new The Ring Tempts You mechanic in the LOTR set. All of these items can be obtained by participating at the MTG Welcome Party happening this weekend from 1 to 2 July at Paradigm Mall, Petaling Jaya
If you're keen to check out Magic: The Gathering's The Lord of the Rings: Tales of Middle-earth set, give your nearest game store a visit. Alternatively, you can join the MTG Welcome Party this weekend at Paradigm Mall.