The Samsung Galaxy Z Fold 4 is not remarkably different from its predecessor, though this isn't necessarily a bad thing. Instead of releasing a brand new design, Samsung decided to refine a winning formula, and the result is one of the most polished foldables yet.
Even though the Z Fold 4 is also slightly costlier than its predecessor at launch, it does offer some noteworthy upgrades, including a more robust design, improved performance, and a superior camera system.
Of course, it does have some shortcomings still, but for the most part, the Z Fold 4 is a worthy successor to last year's model.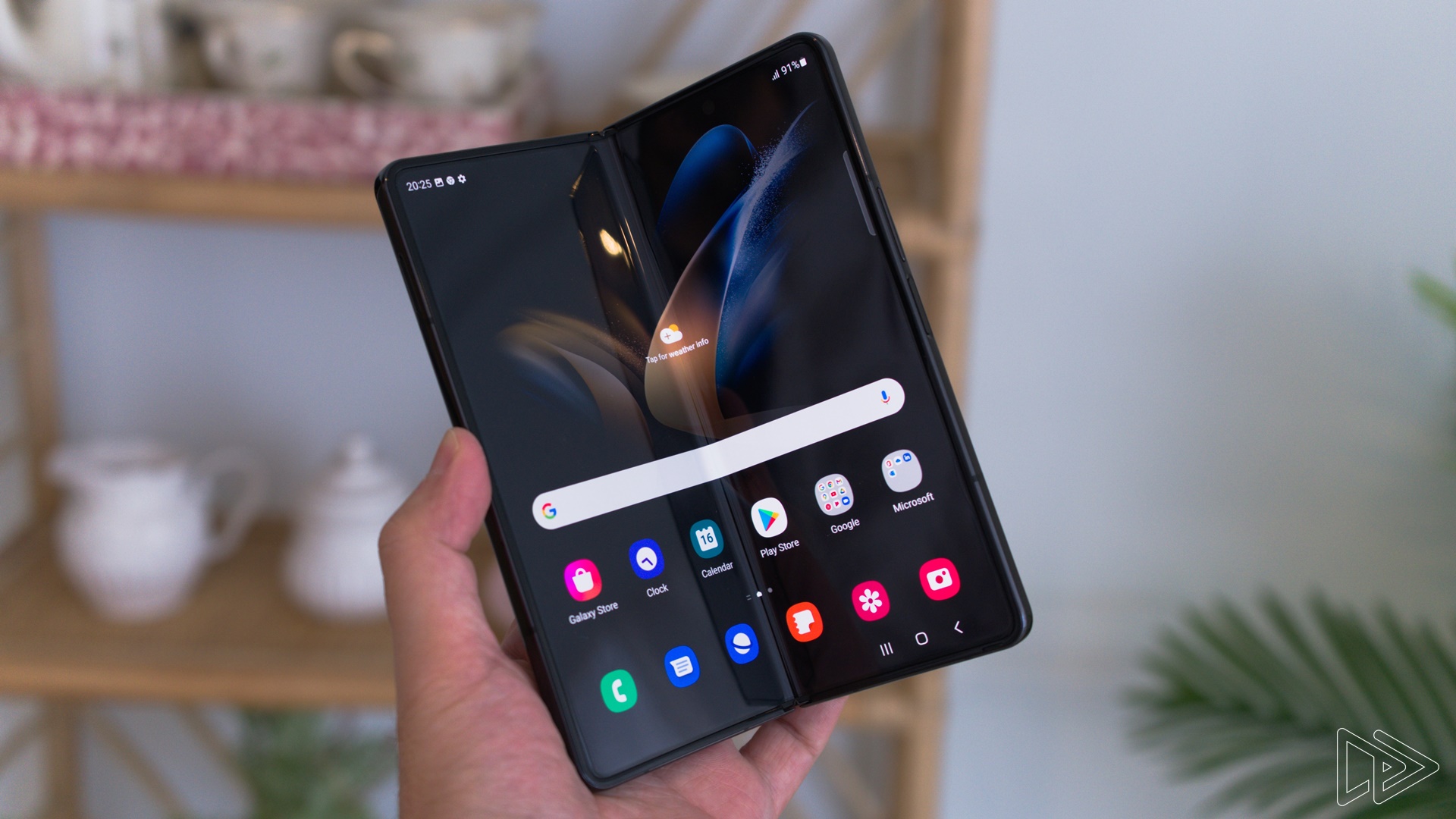 What It Is
Display
Main: 7.6-inch QXGA+ Dynamic AMOLED 2X (2176 x 1812), adaptive 120Hz
Cover: 6.2-inch HD+ Dynamic AMOLED 2X (2316 x 904), 120Hz
Chipset
Qualcomm Snapdragon 8+ Gen 1 3.18GHz octa-core
GPU
Adreno 730
RAM
12GB
Storage
256GB/512GB/1TB, non-expandable
Camera (rear)
50MP f/1.8, Dual Pixel AF, OIS
12MP f/2.2 (ultra-wide)
10MP f2.4 (telephoto), PDAF, 3x optical zoom
Camera (front)
10MP f/2.2 (cover), 4MP f/1.8 UDC (inner screen)
Battery

4,400mAh with 25W fast charging
Dimensions
Unfolded: 155.1 x 130.1 x 6.3 mm
Folded: 155.1 x 67.1 x 14.2~15.8 mm
Weight

263g
OS
One UI 4.1.1 based on Android 12L
Connectivity
5G
LTE
NFC
Bluetooth 5.2
WiFi 802.11 a/b/g/n/ac/ax
USB Type-C
Price
RM6,799 (256GB), RM7,299 (512GB), RM8,299 (1TB)
Hardware wise, there's no denying that the Galaxy Z Fold 4 is a flagship phone through and through. It has a fast Snapdragon 8+ Gen 1 chipset, an equally fast 120Hz Dynamic AMOLED 2X display, and even a rather sophisticated triple camera system with three different focal lengths.
Unfortunately, the battery capacity of the Z Fold 4 remains the same at 4,400mAh, though it can still offer reasonably good battery life…depending on how you use the foldable phone.
The Good Stuff
Compared to its predecessor, one area where the Galaxy Z Fold 4 improved on is the hinge. It feels much tighter now, which inspires confidence. The tension of the hinge is also consistent when I fold and unfold the phone; last year's Z Fold 3 takes less effort to close up.
The design of the Z Fold 4 has also been slightly tweaked. It's more comfortable now to hold the foldable phone, thanks to the flatter sides. The bezels surrounding the 6.2-inch cover screen have been shrunk as well, slightly increasing the size of the display.
These small design changes do improve the overall refinement of the Z Fold 4. It may not look like a new phone, but it does feel like a different phone in my hands.
Aside from that, the display quality of the Galaxy Z Fold 4 is as excellent as ever. Even though the HD+ resolution of the 6.2-inch cover screen isn't as pixel-dense as I would've liked, it's still a pleasant screen to look at with deep blacks and vibrant colours. Its 120Hz refresh rate lends to a very fluid user experience as well.
Naturally, the Z Fold 4's primary 7.6-inch 2640 x 1080 Dynamic AMOLED 2X foldable screen – also with a 120Hz refresh rate, though it can go down to as low as 1Hz when needed – is its defining feature. Yes, the crease is still there, though I personally don't see it as an issue.
While I can still feel the crease when I run my finger over it, I don't notice it much in normal use. It would've been great if Samsung can somehow eliminate the crease, though I have a different qualm with the foldable screen – more on this in the next section of the review.
Performance wise, the Galaxy Z Fold 4 is without a doubt a fast phone, though it is not without faults. While the Snapdragon 8+ Gen 1 chipset can keep up with whatever tasks I throw at it, it can't quite run Genshin Impact consistently at 60fps; something that many other flagship smartphones also struggle with.
Nonetheless, it's no doubt that the Z Fold 4 still provides the performance level of a proper flagship smartphone.
Another neat feature of the Galaxy Z Fold 4 is the Taskbar, which is an Android 12L feature. It can be summoned by swiping up from the bottom of the screen, providing quick access to my favourite apps. I can also tap and drag any of the apps and drop it on the screen to open said app in a new window; it's quite convenient.
Last but not least is the camera performance of the Z Fold 4. Sporting a triple camera system made up of a 50MP primary sensor, a 12MP ultra-wide angle shooter, and a 10MP telephoto lens with 3x optical zoom – similar to the camera setup of the Galaxy S22 and S22+ – it's a capable camera array.
Judge for yourself with these sample shots:
In more challenging lighting conditions, the Z Fold 4's camera does struggle with noise and detail preservation, though it's still comfortably a flagship-tier camera system. It may not be the best, but it's much improved over last year's model.
The Bad Stuff
I love the fact that I have access to a bigger screen when I unfold the Galaxy Z Fold 4, but what I don't love is how the phone handles the switch between tablet and phone mode. Say I have Telegram open on the cover screen: if I unfold the phone while the app is still open, it wouldn't switch to the tablet interface automatically.
To force the Z Fold 4 to switch to the tablet interface, I had to restart the app, which does negatively impact the overall user experience. Evidently, some optimisation is still needed here, either on Samsung's or Android's side.
And then there's the battery life of the Galaxy Z Fold 4. For my own use, I use the cover screen more often than the larger, primary foldable display, and I can get about five hours of screen on time consistently with this usage pattern. But when I use the bigger screen more frequently, the screen on time goes down to about four hours.
Although the Z Fold 4's Snapdragon 8+ Gen 1 chip is more power efficient than its predecessor's Snapdragon 888 SoC, the fact that the 4,400mAh battery sees no change doesn't quite improve the battery life by a meaningful amount, much to my chagrin.
I'm also not crazy about the amount of dust that the inner screen collects when I put the phone in my pocket due to the gap when it's folded. Sure, it's not difficult to clean, though it's still an annoyance worth pointing out.
Finally, there's the asking price of the Galaxy Z Fold 4. Retailing from RM6,799, it's not exactly an affordable device, which limits the mainstream appeal of the foldable phone.
Is It Worth It?
It really depends on what you look for in a phone, foldable or not. If you want access to a smartphone with a large screen in a pocketable form factor – even if the Z Fold 4 is quite a chunky device when it's folded – then yes, I would say it's worth it, even with its steep RM6,799 price tag.
After all, Samsung is the leading player in the foldable smartphone market, and the Z Fold 4 is your best option right now, especially here in Malaysia.
Even with its shortcomings, the Samsung Galaxy Z Fold 4 still has a lot of winning qualities, including a more robust hinge, stunning display, fast performance, and of course, IPX8 water resistance. If you're willing to fork out the money for it, you'll get a refined, practical, and most importantly, durable foldable smartphone that (should) be able to withstand years of daily use.