The Samsung Galaxy Z Fold 4, at a glance, can easily be mistaken as the Z Fold 3. Yes, just as leaks and rumours have revealed, there's no big design changes to Samsung's flagship foldable phone; it's an incremental, evolutionary improvement, rather than a revolutionary overhaul.
But just like the Z Flip 4, the small upgrades the Z Fold 4 bring make for a more complete foldable phone, including a slightly more compact chassis, faster performance (naturally), and improved camera performance. On top of that, it is also the first phone to ship with Android 12L, which is optimised for foldable phones.
Yes, it sees a price hike too, but with all of the upgrades taken into consideration, the slightly higher asking prices make sense. Keen to get the Z Fold 4? Keep on reading!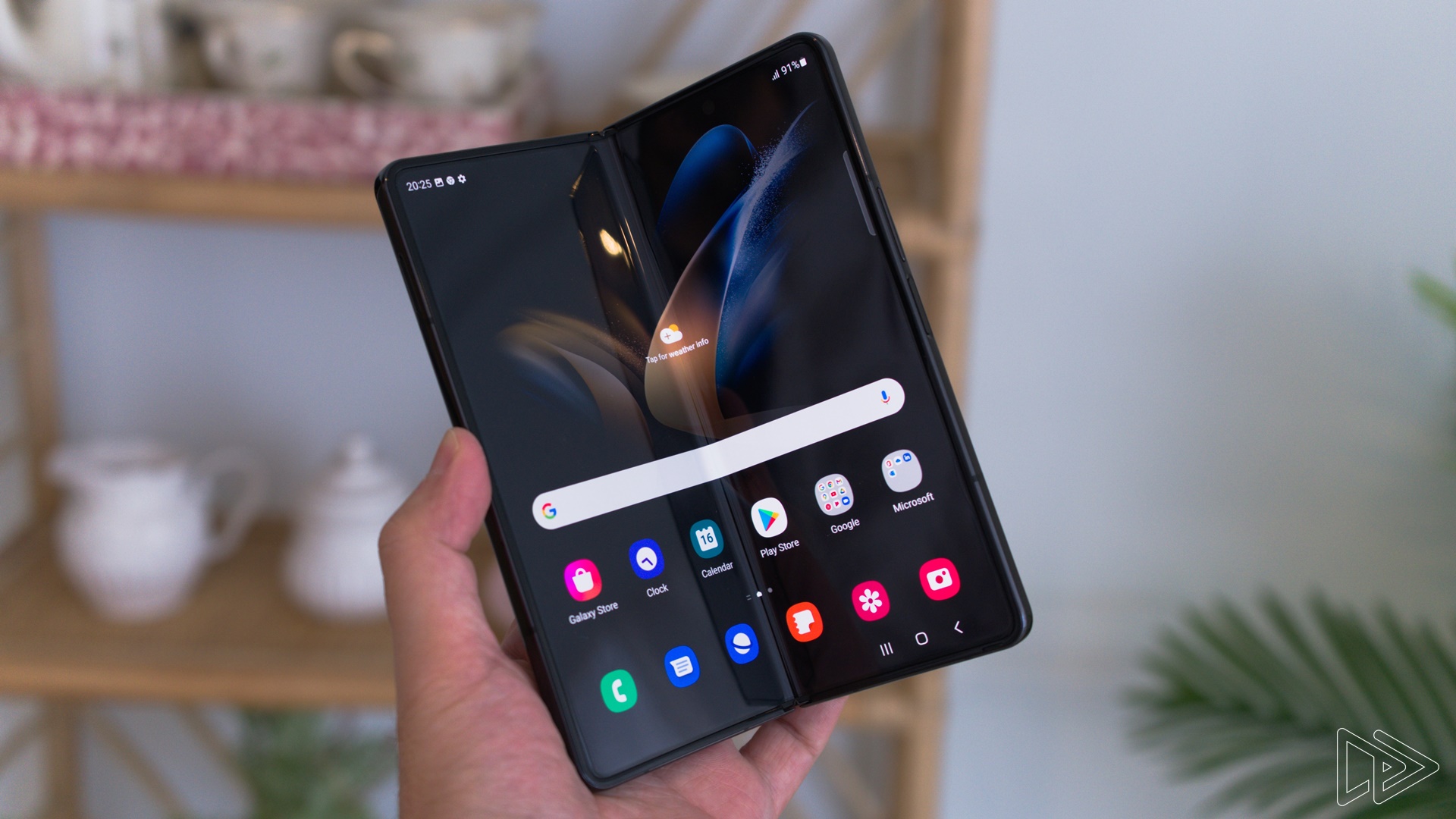 Compared to the Z Fold 3, the Galaxy Z Fold 4 is slightly more compact. The bezels on the 6.2-inch HD+ Dynamic AMOLED 2X cover screen with a 120Hz adaptive refresh rate (48~120Hz) have also been shrunk, making it that much easier to use with only one hand.
Speaking of which, it's also more comfortable to hold the Z Fold 4 now, thanks to the flatter sides. These small design changes do improve the overall refinement of the foldable phone, which extends to other aspects of the device as well.
It may not look like a new phone, but it does feel like a different phone in my hands. Again, an evolutionary change, rather than revolutionary.
Another aesthetic change to the Z Fold 4 is the 4MP under display camera (UDC) on the main foldable display, which is said to be less visible now with a new "scatter-type sub-pixel arrangement." While this is true when darker elements are shown on the display, it's still quite obvious on, say, a white screen.
Beyond that, the Z Fold 4's primary 7.6-inch 2640 x 1080 Dynamic AMOLED 2X foldable screen with a 120Hz adaptive refresh rate (1~120Hz) remains as excellent as ever. It offers, deep, true blacks, punchy colours, wide viewing angles, and it can get very, very bright. The 120Hz refresh rate lends to a very fluid user experience as well.
Unfortunately, the display crease is still there, though I personally don't find it an issue, especially in normal use. I'm more bothered by the protective layer on top of the foldable screen, which doesn't feel as smooth as the actual glass of the display.
What I am a fan of is the Galaxy Z Fold 4's new Taskbar, which is an Android 12L feature. It can be summoned by swiping up from the bottom of the screen, providing quick access to your favourite apps. On top of that, you can also tap and drag any of the apps and drop it on the screen to open said app; very neat and convenient.
Performance wise, the Z Fold 4 is naturally no slouch. It is powered by the latest Qualcomm Snapdragon 8+ Gen 1 chipset, and in my short time with the foldable phone, it definitely feels fast and zippy with no noticeable sluggishness. Built on a 4nm process, it should be more power-efficient than its predecessor's 5nm Snapdragon 888 chip too.
The Z Fold 4 will need the better power efficiency for improved battery life, given that it still has the same 4,400mAh battery as last year's Z Fold 3.
And then we have the camera performance of the Galaxy Z Fold 4. It has a triple camera system made up of a 50MP primary sensor, a 12MP ultra-wide angle shooter, and a 10MP telephoto lens with 3x optical zoom. That's right, it's similar to the camera setup of the Galaxy S22 and S22+.
With that in mind, it's no surprise that the Z Fold 4's triple camera system feels very capable with fast autofocus, good detail preservation, and responsive camera interface. While we weren't allowed to share images taken with the foldable phone at the media preview, the images I took do look quite promising.
However, it would've been great if the Z Fold 4 had, say, the Galaxy S22 Ultra's more sophisticated camera array instead. Then this foldable phone would have Samsung's best camera system yet.
Okay, so how much does the Samsung Galaxy Z Fold 4 cost in Malaysia? Well, it starts at RM6,799 for the base 12GB + 256GB model; that's a RM100 price increase. As for the 512GB model with the same amount of RAM, it goes for RM7,299 (RM200 increase). New to the Malaysian market is a whopping 12GB + 1TB configuration of the foldable phone; this variant is priced at a cool RM8,299.
While some may be disappointed that the Galaxy Z Fold 4 isn't a major overhaul – and the fact that the S Pen still isn't built-in – there's no denying that it is Samsung's most refined foldable phone yet. It is now more comfortable to hold, the camera performance is improved, and it is also a faster device with a Snapdragon 8+ Gen 1 chipset.
Samsung evidently wants to improve the mainstream appeal of the Z Fold 4, and one way to do that is to keep prices as low as possible. If the company had overhauled the design of the foldable phone, it would've likely increased the retail price out of the reach of mainstream buyers.
It's not an exciting upgrade, but the Z Fold 4 is also not a bad phone by any means. In fact, it's still one of the most accessible foldable phones in the market now, both in terms of general availability and affordability – this fact alone, more often than not, is a winning formula.
The Samsung Galaxy Z Fold 4 is now available for pre-order in Malaysia on Samsung.com. If you use code AMGZF4VIP at checkout, you can get a Super Fast Wireless Charger Duo worth RM369 with your purchase; a cable and 15W charger are also included.