Samsung makes some of the best – if not the best – smartwatches in the Android space, and the Samsung Galaxy Watch 5 Pro continues that prestige. Not only is it feature-packed, it also offer pretty darn long battery life for a smartwatch of this calibre.
But given its pro branding, the Watch 5 Pro also carries a premium price tag, and it's quite a sizeable smartwatch too, so it may not look particularly flattering on folks with smaller wrists. Nonetheless, there's no denying that the Watch 5 Pro is a fantastic smartwatch that's worth every penny.
What It Is
Hardware wise, the Galaxy Watch 5 Pro features an Exynos W920 processor, 1.5GB of RAM, 16GB of internal storage, a sapphire crystal display, and a sensor to measure body temperature. That sensor is used to improve the smartwatch's sleeping tracking feature, though it has not been activated yet.
Other specifications of the Watch 5 Pro include a 1.4-inch 450 x 450 circular Super AMOLED display, a generous 590mAh battery (the biggest battery found in a Samsung wearable), a titanium case, as well as GPX support, which allows the smartwatch to track hiking and cycling routes.
So how much does the Galaxy Watch 5 Pro cost? RM1,899, putting it squarely against the Apple Watch Series 8, even if the two smartwatches are meant for different audiences. Nonetheless, this does position the Watch 5 Pro as a premium offering.
The Good Stuff
One of the most appealing features of the Galaxy Watch 5 Pro has to be its design. Yes, it's a big smartwatch, but I do like how it looks on my wrist. Paired with its bright and vibrant 1.4-inch Super AMOLED display, it is Samsung's sleekest-looking watch yet, in my opinion.
Speaking of which, I like the always-on display of the Watch 5 Pro too. While it is a tad too dim under bright sunlight, it is perfect legible indoors. With certain watch faces, it even looks like a regular wristwatch, which I absolutely love.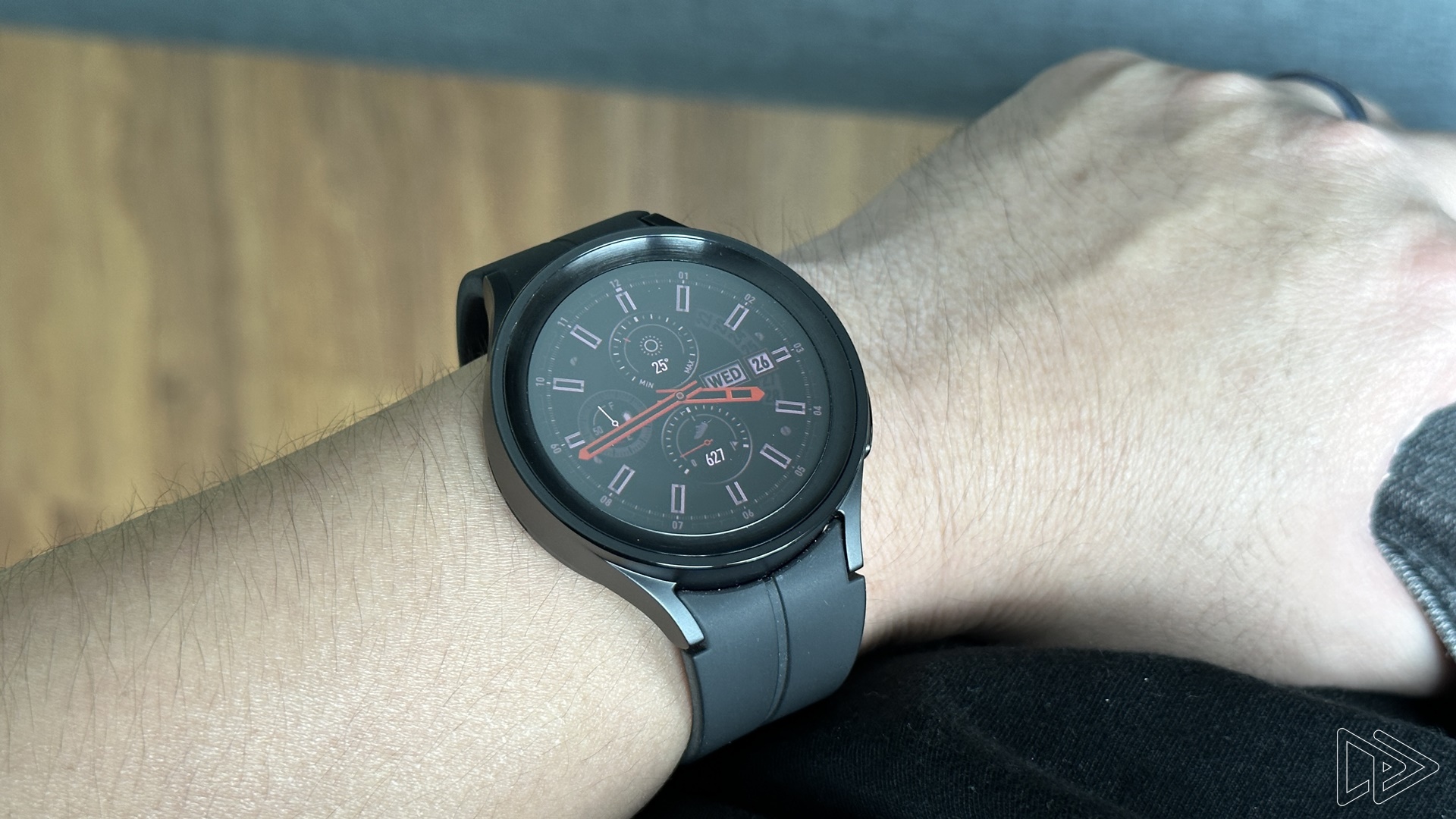 Another noteworthy design element of the Galaxy Watch 5 Pro is the magnetic clasp system of the D-Buckle Sport Band. While it's a bit tricky to set up, I can seamlessly put on and remove the watch whenever I want. The magnet is also strong enough to ensure that the strap doesn't come off under heavy workouts.
And that is a good segue to the comprehensive fitness-centric features of the Watch 5 Pro. There are a ton of useful features here, and my personal favourite is the body composition analysis. By using the Samsung BioActive Sensor on the back of the watch, the sensor can give me interesting data such as my skeletal muscle, fat mass, body fat percentage, BMI, and even my body water percentage.
These data are useful as a guideline for health tracking, and it's convenient that I can get these stats from the Watch 5 Pro itself instead of a dedicated measuring device. Even if this is not a diagnostic tool, I still find it useful to track my health goals.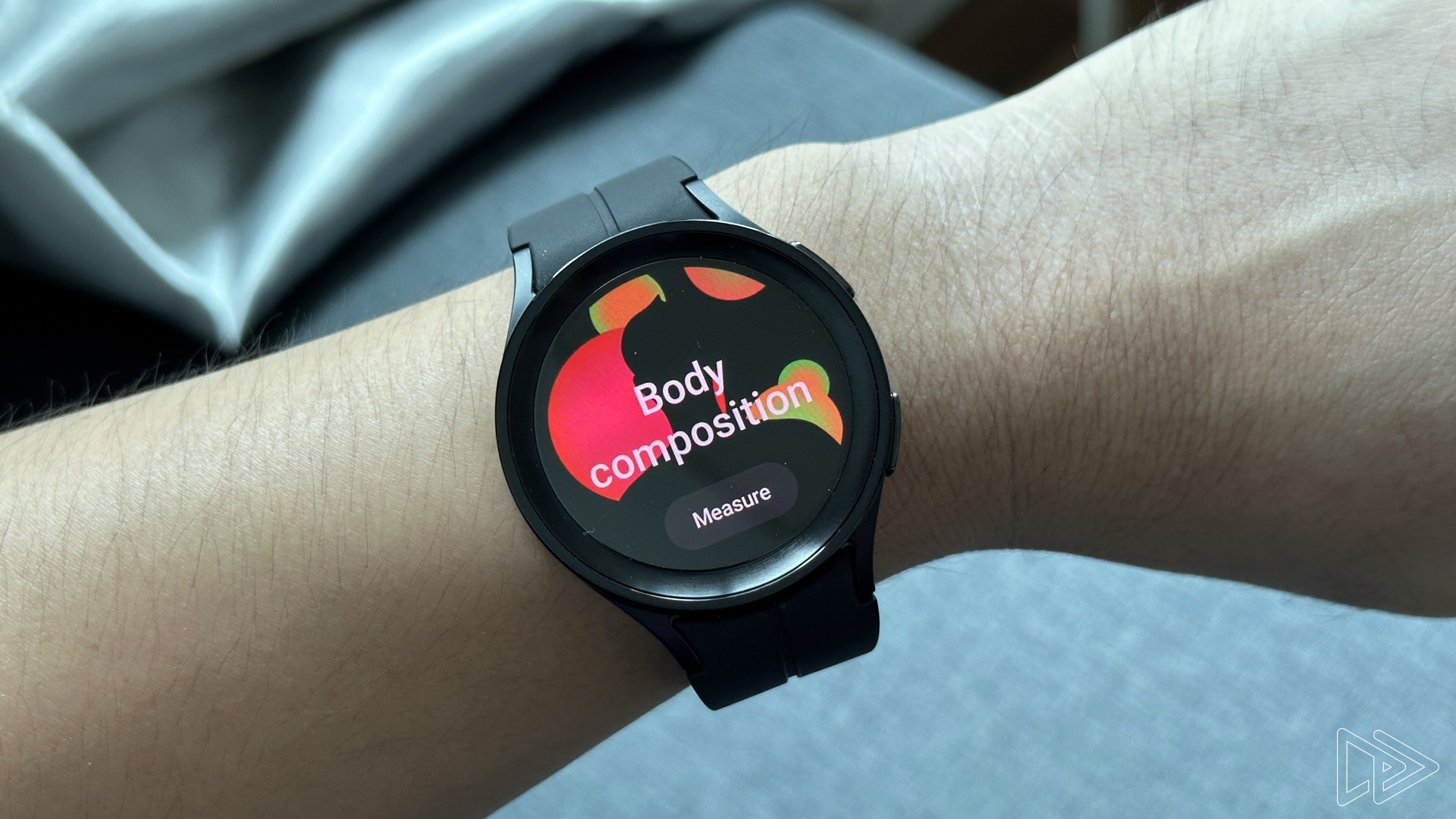 I'm also quite impressed with the automatic workout detection of the Galaxy Watch 5 Pro. While I was walking around a theme park, the smartwatch detected that as a workout; it was even tracking my route throughout the park with the help of its GPS. It's quite nice to see how much distance I've covered at the end of my trip.
Distance is not the only thing that the Watch 5 Pro tracks in any given workout. It was even measuring my VO2 Max, heart rate, speed, and even elevation. These comprehensive data should help outdoor enthusiasts measure their fitness level more precisely.
Aside from that, there's also the sleep tracking capability of the Watch 5 Pro. While many other smartwatches are able to do this too, what sets this watch apart is its ability to measure blood oxygen throughout the night (a very important health indicator) and snoring pattern. It's quite neat to know whether or not I snore in my sleep.
Now, Samsung said that the Watch 5 Pro can measure a user's body temperature with a dedicated sensor to further improve the smartwatch's sleeping tracking feature. Unfortunately enough, this feature is still not available yet – at least, not to my knowledge – so I can't test it out.
While that's a bit of a disappointment, the battery life of the Galaxy Watch 5 Pro is far from that. On average, I can get between three to four days of use out of the smartwatch, depending on how heavily I use it for workout and sleep tracking. It's worth noting that I enabled the always-on display as well, so this level of battery life is very respectable.
Evidently, I've got a lot of positive things to say about the Watch 5 Pro, but it does have a few notable shortcomings – let's get to that in the next section.
The Bad Stuff
One of my favourite features on Samsung's smartwatches is the physical rotating bezel, which was still retained in last year's Galaxy Watch 4 Classic. Unfortunately, it's completely removed in this year's lineup, and Samsung opted for a touch-sensitive bezel instead.
It's not that this touch-sensitive bezel doesn't work, it just doesn't work particularly well. On top of that, it is not as precise or as satisfying to use as a physical rotating bezel either.
And then there's the Galaxy Watch 5 Pro's GPX feature, which is troublesome to set up. While GPX can track cycling and hiking routes with turn-by-turn navigation, this is assuming I already have a GPX file ready to go.
Otherwise, I'll have to complete a cycling or hiking route first and download it as a GPX file through the Samsung Health app. Do note that this feature is limited to the two activities; other workouts like walking or running don't support GPX, as far as I can tell.
Last but not least is the sheer size of the Watch 5 Pro. While I like how it fits my wrist, this may not hold true for everyone, especially for users with smaller wrists. I'd definitely recommend trying out the smartwatch for yourself at a retail store to see if it fits your wrist well.
Is It Worth It?
Retailing at RM1,899, the Samsung Galaxy Watch 5 Pro isn't exactly affordable. But for that kind of money, you do get a complete, sleek-looking fitness-centric smartwatch, even if it may be a tad too big for some folks to comfortably wear on their wrists.
I do miss Samsung's physical rotating bezel, and I'm not thrilled by the finicky setup process of the Galaxy Watch 5 Pro's GPX feature, but all in all, it is still a feature-rich, premium smartwatch. If you're an Android user looking for a fitness-centric smartwatch, the Watch 5 Pro should definitely be in your shortlist.