Razer's range of PC peripherals are easily some of the most recognisable options in the market. From its lineup of gaming mice to mechanical keyboards, there's no denying the sheer popularity of the company's products, and the Razer DeathStalker V2 Pro is one of the latest releases from Razer.
Sporting a low profile design with Razer's own optical switches, the DeathStalker V2 Pro is a…well, surprisingly good pre-built keyboard. Although it's quite a costly product, it could be ideal for some folks – especially those that can't be bothered to build a custom keyboard.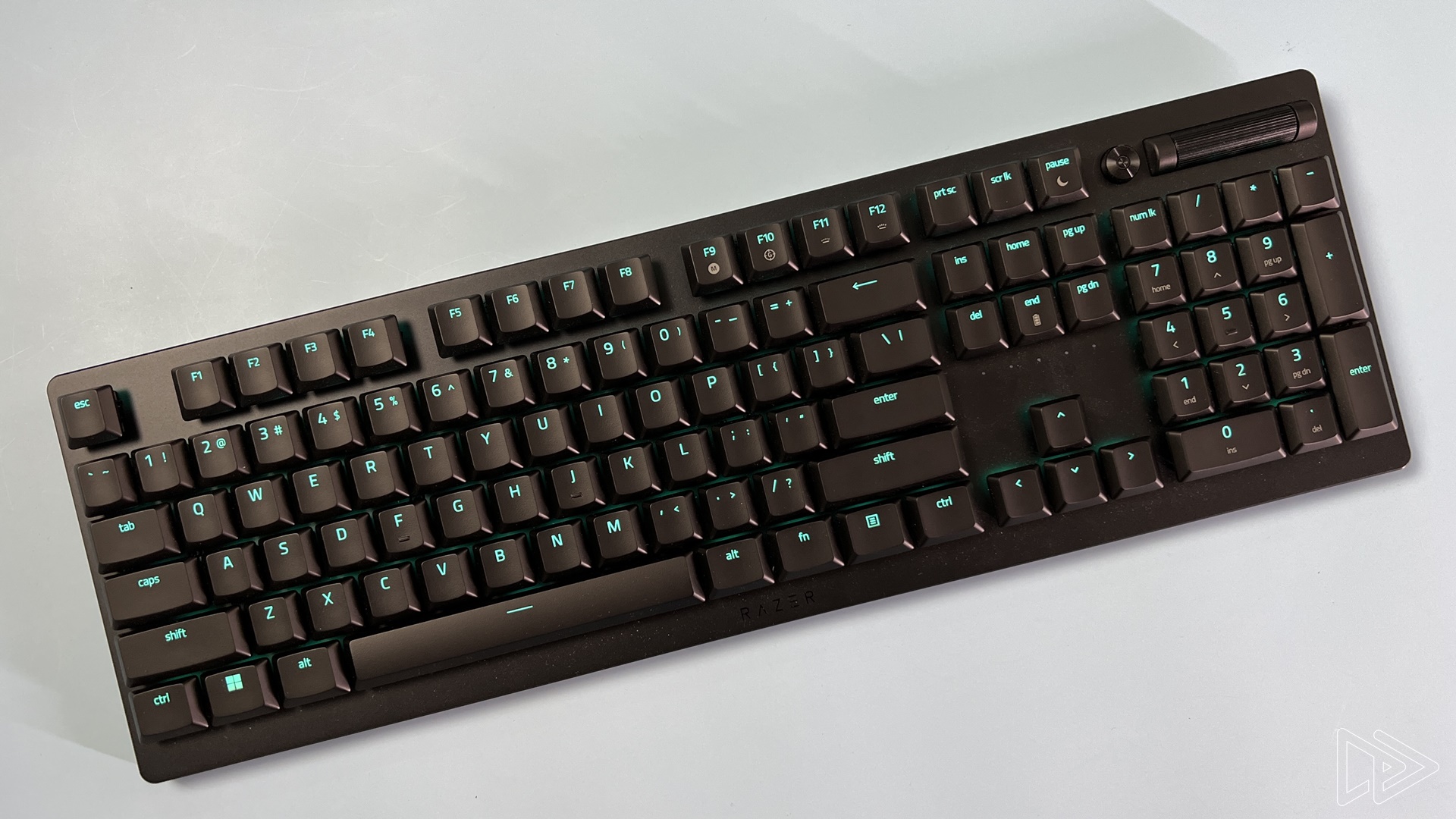 What It Is
There are three different variants of the DeathStalker V2. The most affordable one is the standard DeathStalker V2 wired keyboard (RM799), followed by the DeathStalker V2 Pro Tenkeyless (RM929) and the DeathStalker V2 Pro (RM999) you see in this review – the latter two are wireless keyboards.
As mentioned, the DeathStalker V2 series are low profile keyboards with Razer's optical switches. The model we received is installed with the red linear switch, though there's also a clicky option. Of course, Razer Chroma RGB is available on these keyboards too.
Another neat feature of the DeathStalker V2 Pro is the metal scroll wheel, which can be used to adjust volume; it can even be clicked to mute audio. It's also worth noting that this wireless keyboard supports both Bluetooth and a 2.4GHz dongle, not to mention pretty darn long battery life – more on this further down this review.
The Good Stuff
What really surprised me when I first started using the DeathStalker V2 Pro is how refined the typing experience is. Yes, it's a stiff keyboard, but I'm absolutely a fan of the linear optical switch. It does have some audible scratchiness if I put my ear against the switch, but overall, it really has quite a smooth downstroke.
Not only is it a reasonably smooth switch, Razer's linear optical switch has a nice cushioned bottom out as well; it's as if I'm bottoming out on a topre keyboard, which is high praise for the DeathStalker V2 Pro. Thanks to the minimal key travel – this is a low profile keyboard, after all – it has fast actuation to boot.
I'm also quite a fan of the DeathStalker V2 Pro's keycap quality. While it's not amazing by any means, the double shot ABS keycaps definitely feel and look above average. The shine-through legends are quite sharp and consistent, and the texture of the keycaps is quite nice to the touch too. It doesn't feel cheap, basically.
Wireless performance of the DeathStalker V2 Pro is worth highlighting as well. The keyboard's "HyperSpeed" Wireless tech – which uses a 2.4GHz dongle – promises 25% faster performance than other wireless tech, and…I'm inclined to agree with the company here.
Throughout the review period, the keyboard feels very responsive whether I'm in wired mode or wireless mode with the dongle. It still feels reasonably responsive on a Bluetooth connection as well.
Speaking of wireless connectivity, the battery life of the DeathStalker V2 Pro (despite its thin chassis) is very respectable. Razer quoted up to 40 hours of battery life with the backlight set to 50%, and in my testing – while also using the HyperSpeed dongle – this is right on the money.
Last but not least is the metal scroll wheel of the DeathStalker V2 Pro. It's quite satisfying to use it to control the volume, and it's a feature that's not typically found on a custom keyboard – an advantage that is definitely worth highlighting as we move on to the next section.
The Bad Stuff
As impressive as the Razer DeathStalker V2 Pro is, it's still a pre-built keyboard at the end of the day, so it has a few shortcomings in this regard. For one, its stabilisers are rattly, though this is somewhat masked by the shorter key travel of the low profile design.
This comes down to the stabiliser wires of the keyboard, which doesn't seem to be lubed at all. Thankfully, it's quite easy to squeeze in a bit of lube in between the wire and the stabiliser housing with a syringe to eliminate ticking and rattling, though this does require some effort from end-users.
And that brings us to the sound profile of the DeathStalker V2 Pro. While I like the fact that it's a relatively quiet keyboard, it still has the plasticky typing sound of a pre-built board. For a keyboard that sits at this price point, I expect a more refined sound profile.
For RM999, the DeathStalker V2 Pro is by no means an affordable keyboard either. For the same amount of money, you can get a custom keyboard with superior sound signature, typing experience, and customisability…if you're willing to put in the work, of course.
Is It Worth It?
A pre-built keyboard has a different target audience than a custom keyboard, so it's important to put this into perspective. Yes, a custom build has its advantages, but its disadvantage (read: limited availability) makes a pre-built keyboard like the Razer DeathStalker V2 Pro a much more accessible and compelling option.
As a custom keyboard enthusiast, I do think the DeathStalker V2 Pro can be the right choice for folks who want a mechanical keyboard that just works, and it does work quite well. Even if it doesn't have well-tuned stabilisers or the most pleasant sound profile, it still has other winning qualities, such as smooth optical linear switches, long battery life, fast wireless connectivity, and a low profile design.
If these qualities are exactly what you look for in a mechanical keyboard, then give the DeathStalker V2 Pro a consideration.