The Proton X90 is finally open for booking in Malaysia! Offered in four different variants, we now got a closer look at the specifications (and colour options) of the premium D-segment SUV, so you can better decide on which particular trim level fits your needs.
We first noticed that the X90 is open for booking when Proton dealers started posting about it on their respective Facebook pages. Proton Regal Motors 4S even shared the specifications of the four different variants – Standard, Executive, Premium, and Flagship – and colour options of the new SUV.
Out of the four different variants of the X90, the Flagship trim is the only model with six seats. There are individual "captain seats" for the second row, as you can see in the interior shot above. Based on our brief time with the X90, it does feel very much like a premium SUV. It looks and feels great, and all seven seats – or six seats for the Flagship model – are comfortable, though the third row does have pretty limited leg room.
But in terms of practicality, the X90 ticks all the boxes. Not only are there dedicated USB-A charging ports for all passengers – the second row even gets a USB-C charger – they also get individual air-conditioning vents; great for those balik kampung trips.
If you need to transport large items with the X90, you'll be happy to know that the D-segment SUV offers up to a whopping 2,050L of boot space with the seats folded down. That is a lot of space.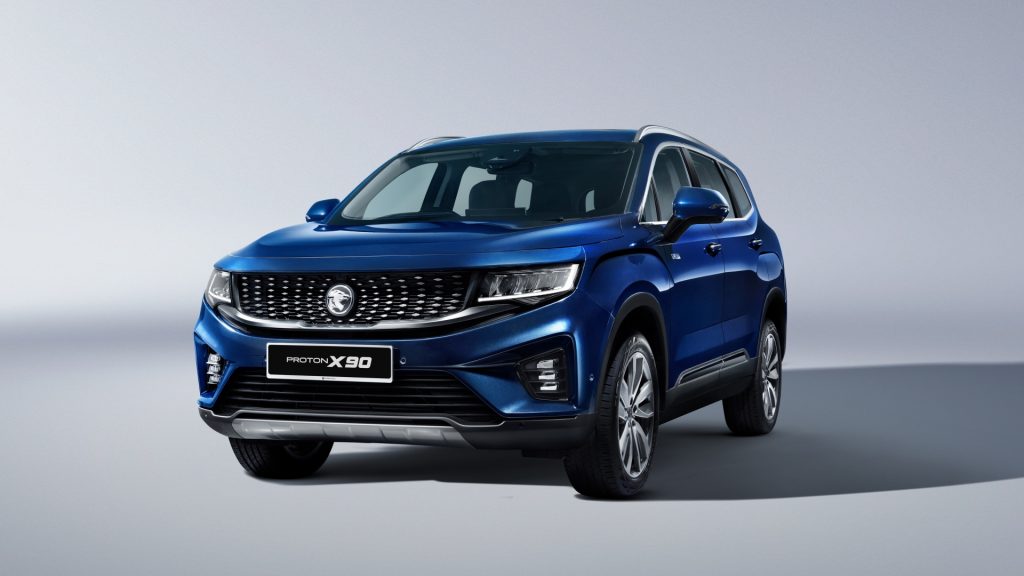 As previously revealed, the X90 is Proton's first new energy vehicle (NEV) with a mild hybrid system. Its 1.5L TGDi three-cylinder turbo engine is paired with a 48V electric motor synergy (EMS) system that offers a combined output of 190PS and 300Nm of torque paired to a seven-speed dual-clutch transmission. According to Proton, this mild hybrid system offers up to 15% improved fuel efficiency.
In the safety department, the X90 features Proton's most elaborate advanced driver assistance systems (ADAS) yet, which is available on the Premium and Flagship models. The ADAS is said to offer a sophisticated level 2 autonomous driving, including three new features: rear collision warning (RCW), rear cross traffic alert (RCTA), and traffic sign information (TSI).
Yes, the X90's ADAS can detect and display road signs in Malaysia.
No launch date has been set for the Proton X90, so naturally, the pricing of the D-segment SUV has not been revealed yet either. Nonetheless, you can now head to your nearest Proton dealer to find out more about the premium, modern family SUV – you can also place a booking for it if you're keen.