The Oppo Enco Air 2 is the Chinese company's latest wireless earbuds. Not only does it offer a number of interesting features – especially for the money – it also has a rather unique-looking, translucent "jelly" case lid.
Ahead of its launch alongside the Oppo Reno 7 series next week, here's our unboxing and hands-on of the Enco Air 2. Even though it's an affordable product, the unboxing experience doesn't feel cheap at all.
Let's start with the packaging of the Enco Air 2, which looks great, especially for a budget-friendly product. Open up the box, and you'll be greeted by the charging case with the earbuds in it. Beyond that, there's…nothing much to it.
Underneath the cardboard that holds the Enco Air 2's charging case in place is a small black box, which only includes some leaflets. That's right, for some reason, these earbuds do not come with a charging cable, even though there's clearly a slot in the box for it. Thankfully, it charges over USB-C, so it shouldn't be too difficult to find a compatible charger.
Anyway, let's get to the Enco Air 2 itself. The charging case has a nice, soft texture, and I quite dig the translucent "jelly" lid. After all, most (if not all) charging cases have opaque casings, so it can be a little tricky to figure out if the earbuds are already in the case or not – not a problem with these earbuds.
I also like how easy it is to store the Enco Air 2 earbuds in the charging case. Thanks to the use of magnets, I can just slip the earbuds into the slot, and it'll just click into place. That being said, the glossy surface of the earbuds does make it quite slippery, so it can be a little tricky to pull it out of the charging case.
Hardware wise, the Enco Air 2 features a 13.4mm "composite titanised diaphragm driver," which is said to offer good audio quality. It also promises up to a whopping 24 hours of battery life: the earbuds themselves can last up to four hours on a single charge, which can be extended up to 24 hours with the charging case.
Another noteworthy feature of the Enco Air 2 is its IPX4 rating, making it water and sweat resistant. If you plan on wearing the earbuds for your workout sessions, you won't have to worry about water or sweat damaging them – just make sure your workouts aren't too strenuous.
The thing is, the Enco Air 2, much like Apple's AirPods, does not use silicone ear tips for a more secure, customisable fit. Instead, it has a one-size-fits-all hard plastic design, so depending on the size and shape of your ears, the earbuds may fit snuggly in your ears…or too loose.
Because the Enco Air 2's hard plastic tips are fitted in your ears, they don't feel particularly comfortable either; at least, that's my initial experience with these earbuds. I'll spend more time with them to see if I can get a more comfortable fit, though I'm not feeling very optimistic.
There's also another negative to this design: it's tough to get a good seal without the use of silicone tips. As a result, the Enco Air 2's noise isolation isn't great, so you'll still hear the outside world quite a bit. That is, unless you crank up the volume, but you'd probably want to avoid doing that to avoid damaging your ears.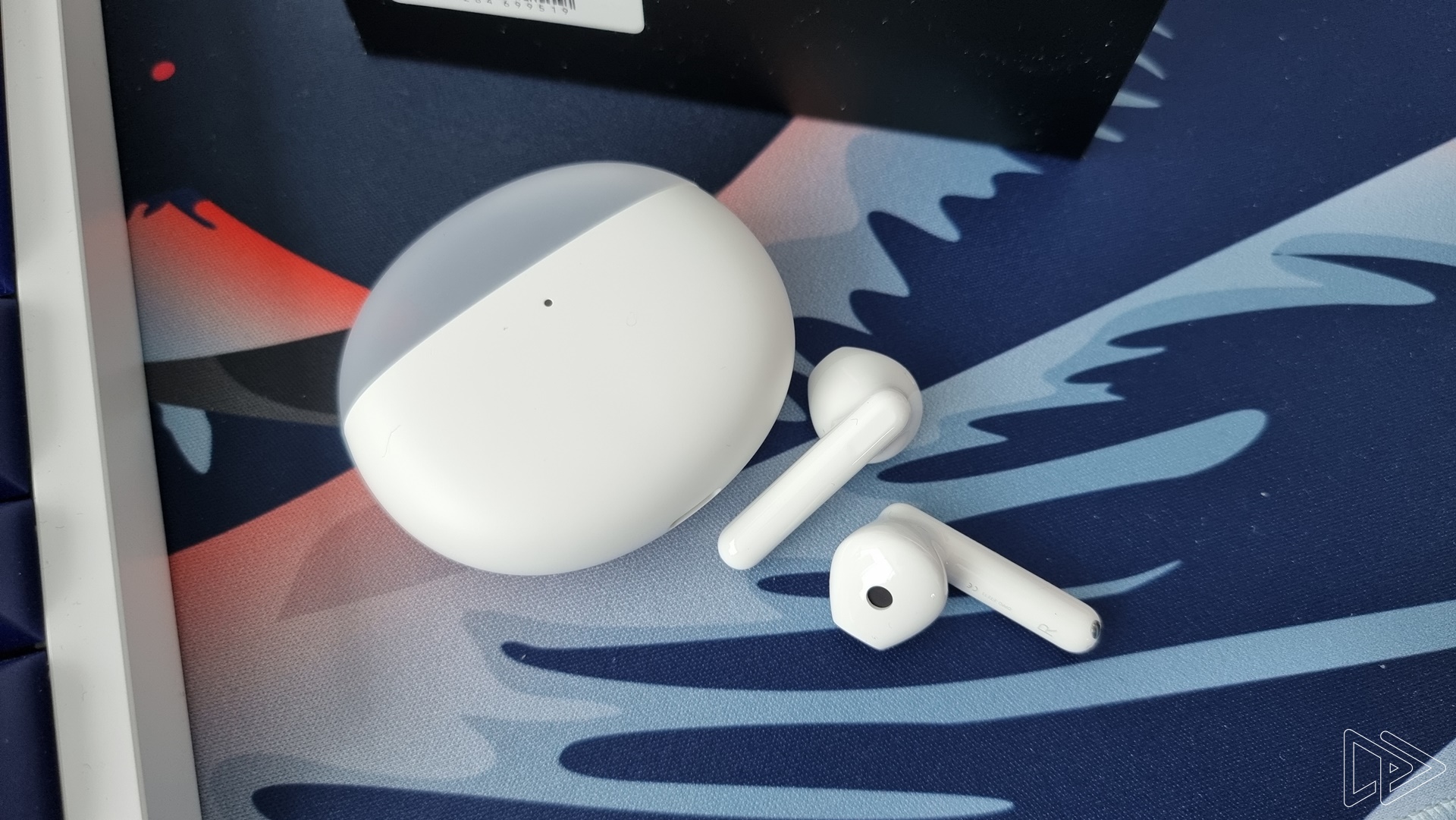 Beyond these negatives, the Enco Air 2 still has some genuinely good features. Its lightweight design, for example – each earbud weighs only 3.5g – helps with comfort when wearing the earbuds for long periods of time.
Low latency is another advantage of the Enco Air 2. When game mode is activated, you won't suffer from out-of-sync audio; that's what Oppo promises. It also has pretty good touch controls too, though I do wish it supported single taps as well, It only offers double, triple taps, and long holds.
As far as first impressions go, the Oppo Enco Air 2 looks to be a reasonably good pair of wireless earbuds with equally good value for money. Of course, exactly how attractive it'll be will depend on how much it's priced at for the Malaysian market.
For context, the Enco Air 2 retails at 199 Chinese yuan in China; that comes up to about RM130. If it's priced around the same price point for the local market, I reckon it will be a good option for folks that want a budget-friendly pair of wireless earbuds.