The OnePlus 11 made its global debut yesterday, and it looks to be the company's most exciting flagship phone yet. Not only does it continue to offer high-end features – along with the return of the alert slider – it is also priced competitively with a $699 starting price. That's only about RM3,000 if we do a direct conversion to our currency.
After spending a few weeks with the OnePlus 11 as my daily driver, I do think it is the brand's best flagship to date. It is a return to the company's original philosophy as a phone maker that offers flagship hardware at a lower price point, though the OnePlus 11 isn't without faults.
But if it is priced right for the Malaysian market, this phone could just be a winner for OnePlus.
What It Is
Display
6.7-inch QHD+ Super Fluid AMOLED (3216 x 1440), 120Hz adaptive
Chipset
Qualcomm Snapdragon 8 Gen 2 3.2GHz octa-core
GPU
Adreno 740
RAM
16GB
Storage
256GB, non-expandable
Camera (rear)
50MP f/1.8, OIS
48MP f/2.2 (ultra-wide)
32MP f/2.0 (telephoto), 2x optical zoom
Camera (front)
16MP f/2.45
Battery

5,000mAh with 100W SUPERVOOC charging
Dimensions
163.1 x 74.1 x 8.53 mm
Weight

205g
OS
OxygenOS 13.0 based on Android 13
Connectivity
5G
LTE
NFC
Bluetooth 5.3
WiFi 802.11 a/b/g/n/ac/ax/be (2.4/5GHz)
USB Type-C
Price
From $699 (about RM3,000)
On paper, the OnePlus 11 is a high-end flagship phone through and through. It's powered by the latest Snapdragon 8 Gen 2 chipset, it has a sharp, fast 120Hz QHD+ display with adaptive refresh rate, and it has a generous 5,000mAh battery with support for speedy 100W fast charging too.
To top it off, the OnePlus 11 also features a sophisticated Hasselblad-branded triple camera system that can take some great-looking shots, albeit with some shortcomings. I'll elaborate further down this review.
The Good Stuff
Since the OnePlus 11's Hasselblad camera system is one of its most highlighted features, let's talk about that first. Made up of a 50MP primary sensor, a 48MP ultra-wide angle shooter, and a 32MP telephoto lens, it's a versatile camera array that can deliver good shots regardless of lighting condition.
I'm especially fond of portrait shots taken with the OnePlus 11 you see above. The bokeh effect looks great with (reasonably) good edge detection, and subjects don't look like a "cardboard cutout," thanks to the more subtle and gradual background blur. All in all, it's easily one of my favourite implementations of portrait mode.
Throughout the review period, I had a ton of fun shooting with the OnePlus 11, and the camera interface is quite responsive too, even if it does stutter a little in portrait mode. Nonetheless, judge for yourself the camera performance of the phone with these sample shots:
Beyond its camera, the OnePlus 11 is also a fast, zippy smartphone, thanks to the new Snapdragon 8 Gen 2 chipset under its hood. Regardless of what I throw at the phone, it continues to run smoothly without missing a beat. It can even run graphically demanding mobile games like Genshin Impact at a stable 60 frames per second. All in all, I'm very impressed with the performance level of the phone.
Further elevating the user experience of the phone is its fast 6.7-inch 1440p AMOLED display with a 120Hz adaptive refresh rate. Animations on the screen look very smooth thanks to the extra frames, and the image quality of the AMOLED panel is, without a doubt, good as well.
Colours are vibrant and punchy, viewing angles are wide, and most importantly, the panel can produce true, deep blacks too; inherent advantages of an AMOLED screen, basically. That being said, I do wish the edge detection of the dual-curve display could be better, though I'm not too bothered by it.
And then there's the battery life of the OnePlus 11, which is…reasonably good. On average, I can get between five to six hours of screen on time out of the 5,000mAh battery, and I do quite a bit of gaming, web browsing, and navigating with the phone. While this isn't class-leading battery life, it's definitely above average.
Last but not least is the value proposition of the OnePlus 11. As mentioned, the flagship starts at just $699 in the US, making it one of the most affordable Snapdragon 8 Gen 2 phones in the market now. If the OnePlus 11 is priced close to this figure locally, it'd be a very easy phone to recommend.
The Bad Stuff
As much as I love photographing with the OnePlus 11, I'm not particularly impressed with the phone's 32MP telephoto lens. Yes, it can take good-looking shots, but its colour profile is also quite a bit different than the primary and ultra-wide sensors.
Compared to the other two sensors, the OnePlus 11's telephoto lens has a warmer white balance, which doesn't look quite as appealing to my eyes.
OxygenOS 13.0 on the OnePlus 11 has its quirks too. While it does offer a lightweight, intuitive user experience, it's also not as responsive as it should be. It's not "laggy" by any means, but when I'm opening the recent apps page, for example, I have to wait a split second before I can interact with the screen; not a very pleasant experience.
Build quality of the OnePlus 11 isn't to my liking either. Don't get me wrong, the phone feels like a proper high-end flagship phone, but the glossy back panel of this Eternal Green model also feels very, very slippery. In fact, the phone actually slipped out of my jeans pocket while I was driving.
Now, there's a chance the Titan Black model won't suffer from this issue, given that its back panel has a matte finish instead. But if you're planning to get this Eternal Green model, keep in mind that it is slippery. I would even consider putting on a case to make it easier to grip.
Is It Worth It?
There is no denying that the OnePlus 11 is a capable flagship smartphone with an equally capable camera system – albeit with some drawbacks – and fast performance. But until we know exactly how much it costs here in Malaysia, it's a little tough to deliberate on whether or not it is worth it.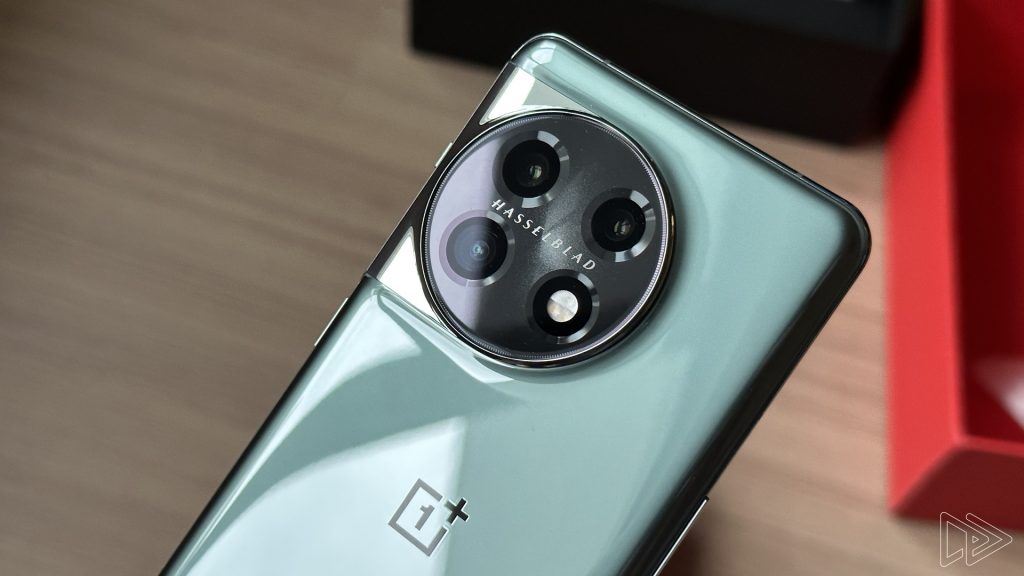 Thankfully, the OnePlus 11 is set to be launched in Malaysia as early as next week on 14 February. Hopefully, it will be priced close to its $699 starting price in the US; even better if it's priced below the RM3,000 price point locally.
Good value proposition was one of the reasons that contributed to OnePlus' success in the smartphone market. If the OnePlus 11 can bring that back, it'd be an easy recommendation for those who want a premium phone without the premium price tag.