The OnePlus 11 and the OnePlus Buds Pro 2 are set to be unveiled globally on 7 February next month. Ahead of their global launch, Nextrift received these two new products, and we're allowed to share some of our thoughts on them, albeit with some restrictions.
Nonetheless, the OnePlus 11 and OnePlus Buds Pro 2 look and feel great, which makes sense, given their premium positioning. At a glance, these are quite compelling products, especially if OnePlus Malaysia can offer them at competitive price points – like how it is in China.
The OnePlus 11 and OnePlus Buds Pro 2 are packaged in a rather interesting gift box. Inside this (quite sizeable) box are the two products placed side-by-side, and there's a tray underneath them as well that houses a "special phone case." Unfortunately, the case did not arrive in time for this unboxing.
Let's start by unboxing the OnePlus 11. Unlike most phones in the market now – especially flagship-class devices – OnePlus actually includes a charger (a fast one too) with the phone. I also love the signature red USB-C to USB-A cable provided in the box; very nice.
One of the restrictions of this unboxing is that no images of the OnePlus 11 being switched on are permitted, though the OnePlus logo can be shown in the boot up screen. Rest assured, this is an actual working unit of the phone, and it feels like a properly premium one too.
There are two different colourways of the OnePlus 11. There's this green model with a smooth, glossy finish on the rear panel, while the black variant features a matte surface that's reminiscent of OnePlus' famous sandstone finish. Personally, I prefer the black model for its more unique aesthetic and feel in my hands.
Since the OnePlus 11 has been launched in China already, we know what's under its hood. These include the latest Qualcomm Snapdragon 8 Gen 2 chipset paired with up to 16GB of RAM, two storage options (256GB or 512GB), a 6.7-inch 3216 x 1440 AMOLED display with a 1Hz – 120Hz adaptive refresh rate, as well as a generous 5,000mAh battery with support for 100W fast charging.
Of course, the camera system of the OnePlus 11 is quite intriguing as well. It's a Hasselblad-branded triple camera system made up of a 50MP primary shooter, a 48MP ultra-wide angle lens, and a 32MP telephoto sensor with 2x optical zoom. All of them support autofocus, and in the case of the ultra-wide camera, it can also do 3.5cm macro shooting.
For those who are wondering how the Hasselblad camera performs, I can only elaborate on them in the full review. Yes, this is one of the aforementioned restrictions in this unboxing.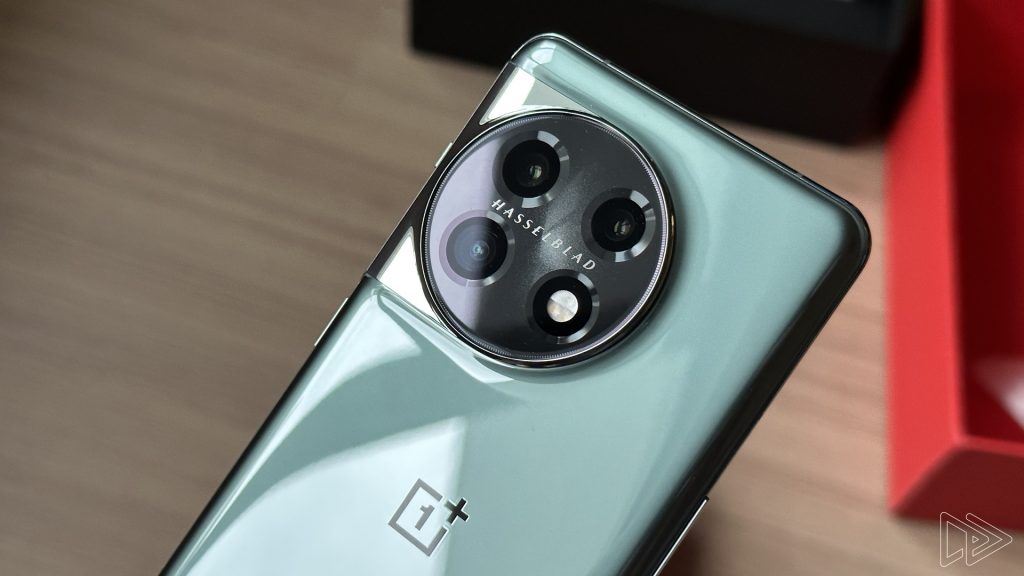 Anyway, let's move on to the OnePlus Buds Pro 2. What stood out to me the most is the sleek charging case, which is noticeably slimmer than its competition. On top of that, it's quite lightweight as well, so you can probably keep in in your pockets without much issue.
Naturally, additional ear tips are provided with the Buds Pro 2. The medium one is installed on the earbuds out of the box, while the small and large ear tips are stored in the box. A USB-C to USB-A cable is also bundled to charge up the…charging case.
Hardware wise, the OnePlus Buds Pro 2 is quite well-equipped. It has a dual-driver design – the 11mm unit handles bass while the other 6mm driver focuses on mids and highs – active noise cancellation, spatial audio support, as well as up to 9 hours of battery life on a single charge.
After unboxing the OnePlus 11 and OnePlus Buds Pro 2, I can say with confidence that they look and feel like premium products; their hardware (on paper, at least) are promising as well. Rest assured, I will be putting both of them through their paces in the coming weeks for the full review – stay tuned for that.