For the longest time, I've been looking for the "perfect" gaming laptop that suits my needs. It must come with a fast display, a capable GPU, good battery life (to double as a productivity machine), and most importantly, it has to be in a compact form factor. Well, one such laptop that fulfills all of my requirements is this one right here: the Level51 Vapor 15 Pro.
Needless to say, I was more than excited to put the Vapor 15 Pro through its paces. After spending a few weeks with this laptop, I'm more than happy to say that it really does live up to my expectations. However, it is by no means faultless – there are a couple of things the Vapor 15 Pro could still improve upon.
Specifications
Display
15.6-inch 144Hz FHD IPS (1920 x 1080)
Processor
Intel Core i7-9750H (2.6GHz with Turbo Boost up to 4.5GHz, 12MB cache)
GPU
Nvidia GeForce GTX 1660 Ti 6GB GDDR6 VRAM
Nvidia GeForce RTX 2070 Max-Q 8GB GDDR6 VRAM
RAM
16GB DDR4
Storage
512GB M.2 NVMe SSD
Camera
IR webcam with Windows Hello support
Battery
94WHr
Dimensions
356.4 x 233.66 x 20.5 mm
Weight
1.87kg
Audio
Bottom-firing stereo speakers
Ports
1x USB 3.1 Type-C (Thunderbolt 3)
3x USB 3.1 Type-A
1x HDMI 2.0
1x SD card reader
1x RJ45
Price
RM5,999 (GTX 1660 Ti), RM7,499 (RTX 2070 Max-Q)
Design
Gaming laptops are usually "loud" with aggressive styling and striking colours, but that's not the case at all with the Vapor 15 Pro. In fact, if you switch off the illumination of the RGB keyboard and light strip right beneath the trackpad, you've got a laptop that won't look out of place in a professional setting.
On top of that, I'm a big fan of the Vapor 15 Pro's completely blank and unblemished top lid. Not only is it free of any branding, it gives the gaming laptop a very understated, minimalist design. Of course, if you so desire, you can easily personalise the lid with your own customisations. It's basically a blank canvas.
But the absolute best design element of the Vapor 15 Pro – to me, at least – is its sheer portability. Compared to other 15-inch gaming laptops in the market now, this notebook is a lot more compact, thanks to its minimal bezels on all four sides of the screen.
To put into context just how small the Vapor 15 Pro's footprint is, I've compared it to my own 14-inch Lenovo ThinkPad T480s. Admittedly, the latter isn't the most portable productivity laptop, but the Level51 laptop is only a tad wider than the T480s – that's impressive.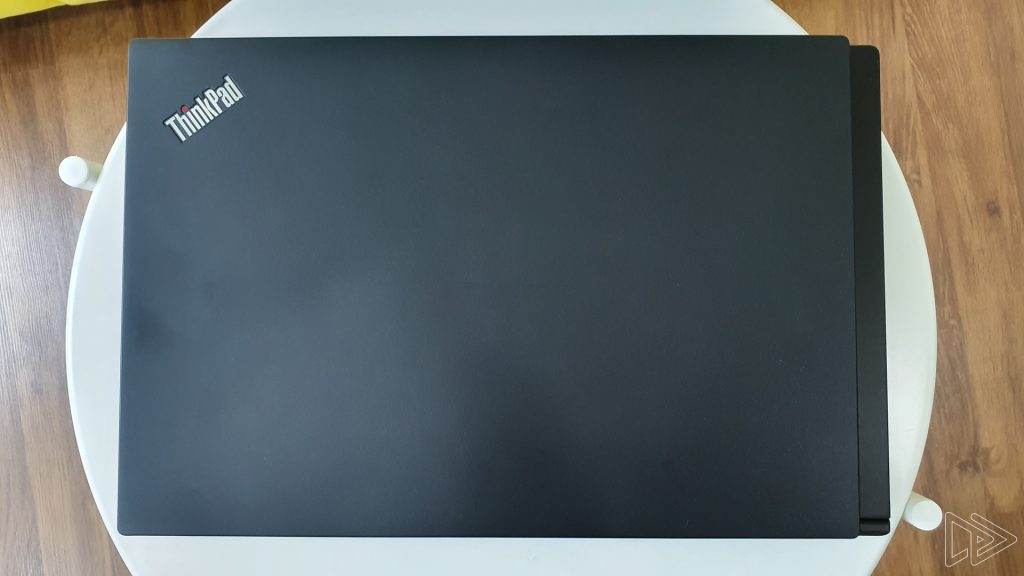 It's also worth noting that the Vapor 15 Pro is a lightweight, slim gaming laptop. It measures only 20.5mm thin, and it tips the scales at an impressive 1.87kg. Given that this machine has an absolutely generous 94WHr battery, I'm surprised it's as light as it is.
So how is the Vapor 15 Pro so lightweight despite the huge battery capacity? Well, its chassis is made out magnesium alloy, which is a lot lighter than the aluminium chassis of other gaming laptops. Not only is it a lightweight material, it gives this laptop robust build quality too.
In terms of connectivity, the Vapor 15 Pro is very complete. On the back, there's an HDMI output, a USB-C port with Thunderbolt 3 support, as well as an RJ45 jack. Either sides of the laptop, on the other hand, house three USB-A ports, a microphone jack, a headphone jack, and even an increasingly rare SD card slot.
Overall, I love the minimalist, compact design of the Vapor 15 Pro. Its lightweight nature and slim profile also make it easy to lug around, which is not something you can say of many other gaming laptops.
User Experience
Let's start with something that you'll either love or hate: the Vapor 15 Pro's mechanical keyboard. On paper, this keyboard offers 2mm of key travel, which sounds great. However, once you start typing on it, you may not be quite fond of the typing experience.
Unlike the tactility of normal laptop keyboards with rubber dome constructions, the mechanical switches of the Vapor 15 Pro's keyboard don't offer the same "bounce" or feedback. It doesn't have very pronounced tactile feedback, and coupled with the light actuation force of the keys, you will bottom out quite often.
Personally, I don't quite mind the typing experience of this mechanical keyboard. I'm used to keyboards with lighter actuation forces, so I feel right at home with the Vapor 15 Pro; the long 2mm key travel is also very nice. Even though it doesn't have fantastic tactile feedback, I can definitely type comfortably on this keyboard for long periods of time.
And then there's the trackpad of the Vapor 15 Pro. Generally, it's a relatively accurate trackpad, but I do have a couple of issues with it. For one, the build quality isn't particularly great, feeling "loose" and wobbly whenever I tap lightly on the surface.
Besides that, throughout my time with the laptop, the trackpad would occasionally become unresponsive. While it usually fixes itself after a couple of minutes (a quick restart works too), it's an oddity that's worth pointing out. Given that this only happens occasionally, I suspect it's a software issue.
Anyway, let's move on to more positive aspects of the Vapor 15 Pro, such as its incredibly long battery life. Thanks to its large 94WHr battery, I was getting between seven to eight hours of use consistently on a single charge. This is very good battery life for a gaming laptop.
Of course, when I was testing the battery life, I wasn't doing any gaming on this laptop. Instead, I was using it like a productivity laptop, with lots of web browsing, writing, and content consumption. I also set the power mode to power saver and dimmed the display to a comfortable level to maximise battery life.
Speaking of display, the Vapor 15 Pro's 15.6-inch 1920 x 1080 IPS screen with a fast 144Hz refresh rate is pleasant to look at and game on. It is bright, colours pop, and viewing angles are more than good enough. The high refresh rate also makes everything look extra smooth and fluid, especially when I'm gaming.
Given the relatively thin chassis of the Vapor 15 Pro, I expected the system noise to be quite pronounced; the cooling solution has only so much room to work with. Unfortunately, the fans do get quite loud when the laptop is running demanding games, so you may want to put on headphones when you're gaming on this machine.
The good news? It's whisper quiet when I'm using the Vapor 15 Pro as my work laptop. Whether I'm writing a long review or bingeing on the latest Netflix series, the fans never make themselves heard in situations outside of gaming, and that's a very good thing.
Thermals of this gaming laptop is quite good too. While the palm rest area does get warmer when I'm running demanding games, it never gets to the point where it is too hot to the touch. Rest assured, you can still game comfortably on this laptop in extended gaming sessions.
All in all, I enjoy using the Vapor 15 Pro as my daily driver. It has long battery life, the fast display is a joy to game and work on, and while its mechanical keyboard may not appeal to some folks, I really quite like it.
Performance
There are two variants of the Vapor 15 Pro for the Malaysian market, and only the GPU differentiates the two models. There's the GTX 1660 Ti variant (the one I'm reviewing here), and the higher-end RTX 2070 Max-Q model. Both GPUs are paired to a fast Core i7-9750H CPU.
Now, even though the GTX 1660 Ti doesn't sound quite as impressive as the RTX 2070, it's still a very capable GPU that can return respectable gaming performance. Judge for yourself with the results below.
| | |
| --- | --- |
| Games (Max settings @ 1080p) | Average FPS |
| Witcher 3 (HairWorks disabled) | 59.18 |
| Borderlands 3 (DX11) | 46.92 |
| Fortnite (DX11) | 90.09 |
| PlayerUnknown's Battlegrounds | 77.92 |
Looking at these results, the GTX 1660 Ti's performance isn't very different than, say, the higher-end RTX 2060 GPU found in the Acer Predator Triton 500. Granted, you're not getting RTX-specific features like ray tracing with the GTX 1660 Ti, but hey, it still provides comparable frame rate.
Yes, the frame rate at which these games run on the Vapor 15 Pro don't exactly make full use of the laptop's fast 144Hz display, but I was testing them at maxed out settings. If you want better frame rate, you can do so by just tweaking the graphics settings.
Competition
This GTX 1660 Ti variant of the Vapor 15 Pro retails at RM5,999, while the RTX 2070 Max-Q goes for RM7,499. Without a doubt these are steep price tags, and there are a number of noteworthy alternatives to this laptop at this price range.
Illegear Onyx Pro
Just like the Vapor 15 Pro, the Illegear Onyx Pro is a slim and light gaming laptop, weighing only 1.55kg with an 18mm thin chassis. On top of that, both laptops are pretty similar in terms of dimensions too, with the Onyx Pro being ever so slightly wider and taller.
But unlike the Vapor 15 Pro, the Onyx Pro (by default) ships with an even faster 240Hz 15.6-inch 1080p screen with an RTX 2060 GPU. This particular variant retails at RM6,499, and upgrading the GPU to a more powerful RTX 2070 Max-P card drives up the price to RM7,598.
While that's quite a bit more money than what the Vapor 15 Pro costs, you're getting good value for money with the Onyx Pro. Not only is the 240Hz display more impressive than the 144Hz screen of the former, you're getting more powerful GPU options too, along with the same Core i7-9750H processor, 512GB of RAM, and 16GB of RAM.
It's also worth noting that you can even upgrade the Onyx Pro's display to a sharper 4K AMOLED panel for RM799 more; Level51 doesn't offer the same customisation.
That being said, there is one area where the Vapor 15 Pro is superior: battery life. Given that the Illegear Onyx Pro only has a 63WHr battery and a more power-hungry 240Hz screen, it wouldn't be able to match the Vapor 15 Pro's impressive battery life, thanks to its far bigger 94WHr cell.
Acer Predator Triton 500
While it's not quite as compact as the Vapor 15 Pro, the Acer Predator Triton 500 is a much slimmer gaming laptop. With a chassis that's only 17.9mm thin, the Triton 500 also features a Core i7-9750H processor paired with 16GB of RAM, a fast 144Hz 15.6-inch 1080p IPS display, GPU options that include RTX 2060 and RTX 2070 GPUs, 512GB of SSD storage, as well as respectable battery life.
However, the Triton 500 is also a costlier machine. The Core i7-9750H model with an RTX 2060 GPU retails at RM6,999, while the RTX 2070 option with the same CPU goes for RM7,999. Evidently, you need to pay a premium for the slim chassis of the Triton 500, though it's worth noting that Acer's offering already comes with an activated copy of Windows 10 Home.
Oh, right. Both the Level51 Vapor 15 Pro and Illegear Onyx Pro only come with a trial edition of Windows 10. You need to add RM439 to get Windows 10 Home for the Onyx Pro, and RM479 for the Vapor 15 Pro.
Conclusion
The Level51 Vapor 15 Pro is not the fastest gaming laptop in the market now, and neither does it offer the best value for money. But it is still my favourite gaming laptop for its sheer portability, long battery life, and very respectable performance.
To me, this combination makes the Vapor 15 Pro almost the perfect gaming laptop, and it is legitimately one of very few gaming machines that I will gladly use as my daily driver. The only thing that would've made it even better if it was more affordable, but that is wishful thinking: a premium laptop of this calibre demands an equally premium price tag.
So if you want a gaming laptop with long battery life in a compact form factor, look no further than the Level51 Vapor 15 Pro. As far as I know, it is the only laptop in the market now that offers such a package.