Let's cut to the chase: you will not find a phone faster than the 2022 iPhone SE at the RM2,099 price point. After all, this third generation iPhone SE is powered by Apple's very own A15 Bionic chip – the same chip used in the higher-end iPhone 13 series.
However, even though the iPhone SE is a fast phone, it also has…well, a dated-looking design. Sharing the same chassis as the iPhone 8 – which was launched five years ago in 2017 – it has a compact 4.7-inch display as well. To some folks, this may be too small.
But if you can overlook the "vintage" design and small screen of the iPhone SE, it really is the fastest phone you can get for RM2,099 – here's our hands-on of this blazing fast compact phone.
As with any new iPhones, the 2022 iPhone SE does not come with a charger, evident by the slim packaging. Thankfully, a USB-C to Lightning cable is provided with the phone, though you'd need to get a charger with a USB-C port to use the cable.
This is the Midnight variant of the iPhone SE, which is quite an interesting colour. At a glance, it looks like your standard black phone, but it's really a dark blue shade. If you want a brighter colour, you can opt for the Starlight or (very striking) Product Red colourway.
One of my favourite features of the iPhone SE has to be its compact form factor. Sporting a 4.7-inch 1334 x 750 IPS display – which looks great, especially for an LCD panel – I love the fact that I can comfortably type on this phone with only one hand.
Yes, this 4.7-inch display is definitely on the small side, but it's still very usable, in my opinion. The on-screen keyboard does not feel cramped to me, I've got enough screen real estate to comfortably browse the web, and I can play Genshin Impact quite well on this compact display.
What's not so great, however, are the chunky bezels surrounding the screen of the iPhone SE. This gives the phone its dated-looking design, even if you do get the home button with Touch ID; perfect for those that don't like Face ID or gesture navigation of modern iPhones.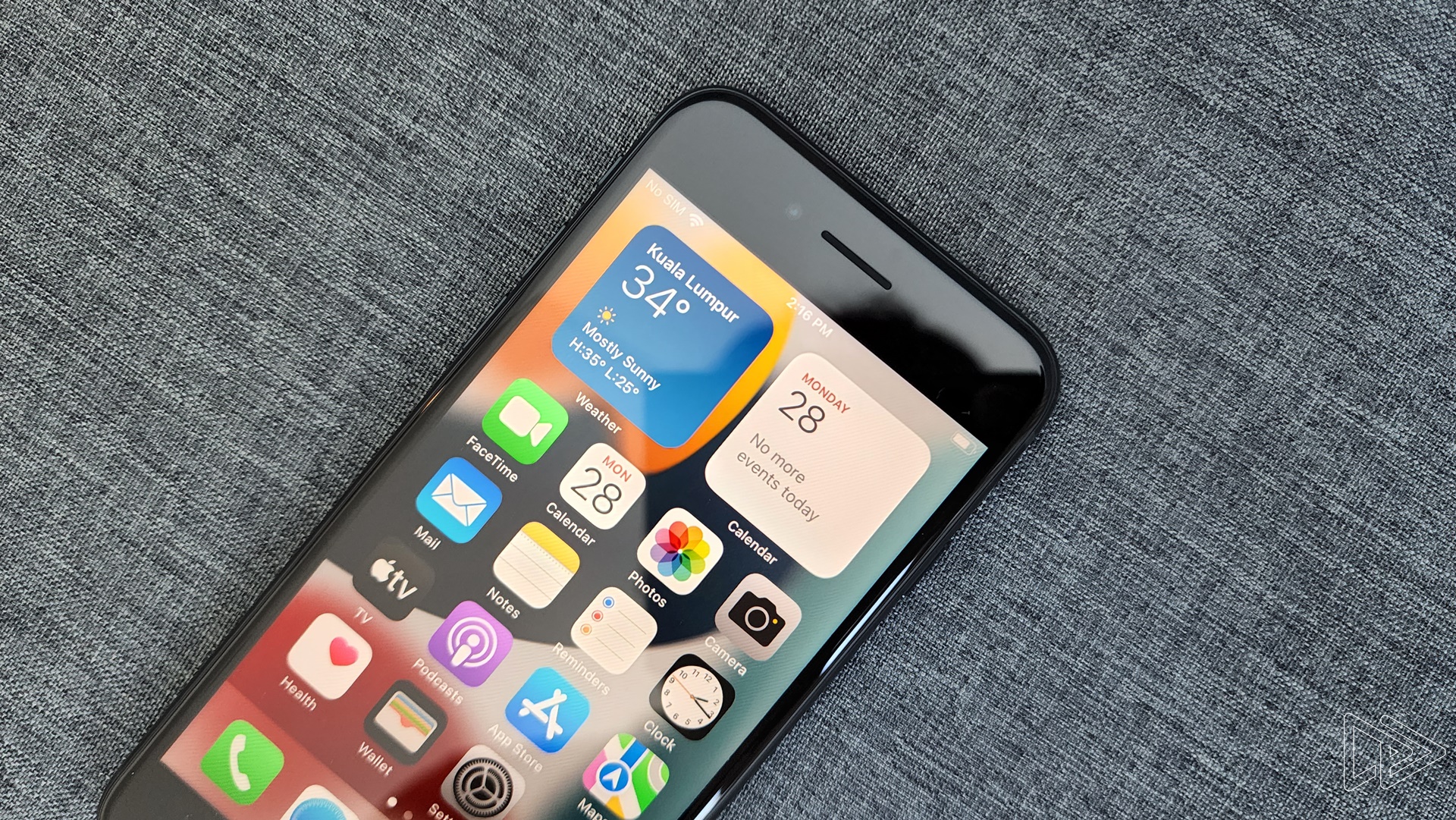 While the design of the iPhone SE is straight out of 2017, its performance level is a completely different story. As mentioned, it is powered by the Apple A15 Bionic chip, so it's no exaggeration to say that it is as fast as the iPhone 13 phones. Needless to say, this is an impressive feat.
Of course, to test out the performance of the 2022 iPhone SE, I had to run Genshin Impact on it; this is easily one of the most demanding mobile games now. Well, as expected, the compact phone ran the game with absolutely no issue at all with maxed out graphics settings at 60fps.
Given that Genshin Impact is a game that even flagship Android phones struggle to run well with lowered graphics settings at 60fps, it speaks volume to just how powerful the iPhone SE is.
But as powerful as the new iPhone SE is, there is still one other area (aside from design) where it is lacking: camera. Granted, the SE's sole 12MP rear shooter with optical image stabilisation does come with some software-based improvements such as Apple's Deep Fusion technology, so it can still take some good-looking shots.
Even so, you're still limited to only one focal length. You don't get the versatility of an ultra-wide angle lens or the far-reaching zoom of a telephoto sensor. It's still possible to take flattering shots with the SE though, as you can see in the sample shots below.
Basically, if you don't care for a more versatile camera configuration, you'll be happy with the camera performance of this compact phone.
All in all, the 2022 iPhone SE packs modern day performance…in yesterday's design. But what it lacks in looks and camera versatility, it makes up in blazing fast performance and good value for money. A compelling combo for those who want the best performance for the least amount of money.
For RM2,099, the iPhone SE offers 64GB of storage. If you want more storage space, you can go for the 128GB or 256GB variant, which will set you back RM2,299 and RM2,799 respectively. Personally, I'd go for the 128GB variant for the best balance between storage capacity and cost.
The new iPhone SE is now available for purchase through Apple's Malaysian online store. Alternatively, if you want to check out the phone in person, your nearest Apple reseller should have it on display now.