Horizon Forbidden West is finally here. This highly anticipated sequel to the original Horizon Zero Dawn brings with it a slew of new mechanics, vast graphics improvements, and most importantly (in my opinion), a continuation of a very engrossing narrative.
Even though there are some aspects of the game that could've been better – there are a number of graphics issue – it is still a strong contender for 2022's game of the year. Whether you're a (lucky) PS5 or PS4 owner, Horizon Forbidden West is absolutely worth picking up.
What It Is
After saving the world from extinction in the first game, Aloy now has to venture to the Forbidden West to…well, save the world yet again from another threat. On her journey there, she will meet old friends, ally with warring new factions, and of course, unravel the mysteries of the ancient past.
Available on both the PS4 and PS5, Forbidden West is priced at RM249 and RM299 respectively. However, do note that the more affordable PS4 copy offers a digital upgrade to the PS5 version, saving you RM50. But if you prefer getting a physical copy instead, this doesn't matter.
Physical copies of the game cost the same, though there are more options to choose from, including an exorbitant Regalla Edition for an eye-watering RM1,099. You do get quite a lot of items for that kind of money, including a statue of Aloy and Tremortusk.
The Good Stuff
Horizon Zero Dawn tells one of the most engrossing storylines I've come across, so naturally, I was looking forward to how Forbidden West will continue the narrative. Without going into spoiler territory, suffice to say that I'm very happy with how the story turned out…for the most part.
While I'm not particularly satisfied with the ending, I do love the plot and character development of Forbidden West. Zero Dawn had some big expositions, and Forbidden West expands upon them in a meaningful manner. Guerrilla Games certainly knows how to craft a good story.
On top of that, it's quite a lengthy story too! I focused almost solely on progressing the main quest of Forbidden West – while also taking the time to upgrade some of my equipment – and I only saw the credits roll after crossing the 28-hour mark.
Further improving the narrative of Horizon Forbidden West are the amazing facial expressions of character models. Every emotion is rendered very well, and this even extends to seemingly random NPCs in side quests. Paired with excellent voice acting and visual fidelity, it provides a very immersive experience.
Speaking of which, Horizon Forbidden West looks amazing on the PS5, especially in Fidelity mode. Aloy's character model is painstakingly detailed, and the environment looks equally detailed and lush. The only downside to Fidelity mode is having the frame rate set at 30fps (as far as I can tell).
I prefer getting a higher frame rate over visual fidelity – especially for an action-packed game like this – so I played the game almost exclusively on Performance mode, which seems to push the frame rate to 60fps. The screenshots you see in this review are all taken in this performance setting.
Of course, Forbidden West doesn't look quite as sharp in Performance mode, but unless you're comparing the two side-by-side, the difference in quality is not immediately noticeable. For context, here's a comparison between Fidelity and Performance mode.
Gameplay wise, Horizon Forbidden West is a ton of fun. The combat system, for one, is quite a bit more complex (in a good way). Melee combat has added intricacies now, and the new Valor Surge system offers different ability augmentations to suit players' different playstyles.
Aside from that, Forbidden West's open world is very vast, not to mention filled to the brim with content. Even after spending more than 30 hours in the game, my completion rate is still only at a mere 28%. Basically, you can expect hours upon hours of content in Forbidden West.
Oh, did I mention you get to fly now? Exploring the open world has never been more fun.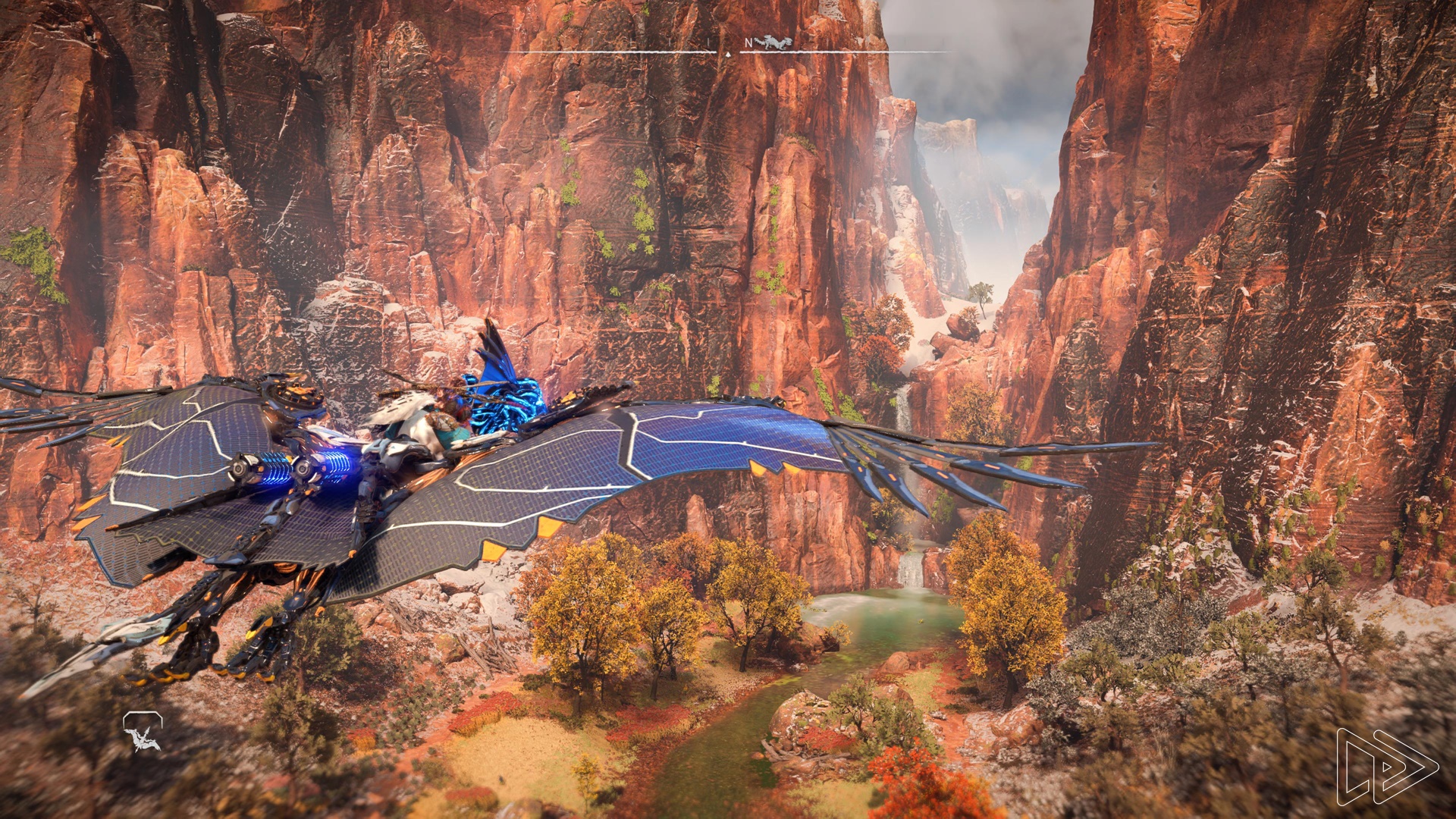 Last but not least are Forbidden West's use of the DualSense's refined haptic feedback and adaptive triggers. Whether I'm soaring in the sky or galloping across the field, the DualSense's vibration motors can convey these experiences very well.
Of course, the adaptive triggers add another element of immersion too. I can feel the triggers "tightening" as Aloy draws back on the bow, and using heavier weapons change how the triggers behave too.
The Bad Stuff
Even though Horizon Forbidden West looks stunning on the PS5, there are a number of issues. In certain cutscenes, especially when there are a lot of elements on the screen, the resolution drops quite a bit. Just look at the screenshot below:
Aside from that, there are some graphical glitches and clipping throughout my time in Forbidden West; the game even crashed in the middle of a quest once. Needless to say, these issues do affect the overall immersion of the game.
However, we were told that Forbidden West will get a day one patch that would solve a slew of bugs, which could include these as well. Hopefully, players won't be facing any of these issues once the patch is live.
In terms of loading times, Forbidden West does load the game relatively quickly, even when I'm fast travelling from one corner of the map to another. However, an update in the middle of the review period somehow made the loading times longer, though it's still fast enough to not be much of an annoyance.
My last qualm with Forbidden West isn't a big negative, but it's definitely worth mentioning. In order to really appreciate the main story of the game, you have to know the narrative of Zero Dawn quite a bit, even the story of The Frozen Wilds.
If it's been some time since you've played the original – it was released back in 2017, after all – you'll have to get familiarised with the intricacies of the story so far. What is the Faro plague? How exactly is Earth repopulated after the extinction of all life?
Is It Worth It?
Without a shadow of a doubt. Though RM249 (PS4) is a steep price tag, Horizon Forbidden West is worth every single sen. It offers a compelling – albeit a little complicated at times – narrative, stunning graphics, new and improved gameplay mechanics, and a vast open world (that you can now fly around!).
With that in mind, Horizon Forbidden West is the first to receive our new Nextrift Recommends badge. It's our way of endorsing a particular game or product for its entertainment value, refinement, unique appeal, or even just sheer value for money.
In short, Nextrift Recommends will make it easier for our readers to find out whether a product is worth picking up or not, and Forbidden West easily fits the criteria.
Horizon Forbidden West launches on the PS5 and PS4 on 18 February.