God of War Ragnarok is set to arrive on 9 November for the PS5 and PS4. Ahead of its release, Sony provided Nextrift with a review copy, and reviewers are allowed to share early impressions of Santa Monica Studio's latest title!
First, a couple of notes. This early impression is based on the first few hours of God of War Ragnarok on the PS5, so I haven't experienced the full extent of the gameplay mechanic or storyline yet. Of course, this is a spoiler-free impression too; no plot details will be detailed to preserve the story experience.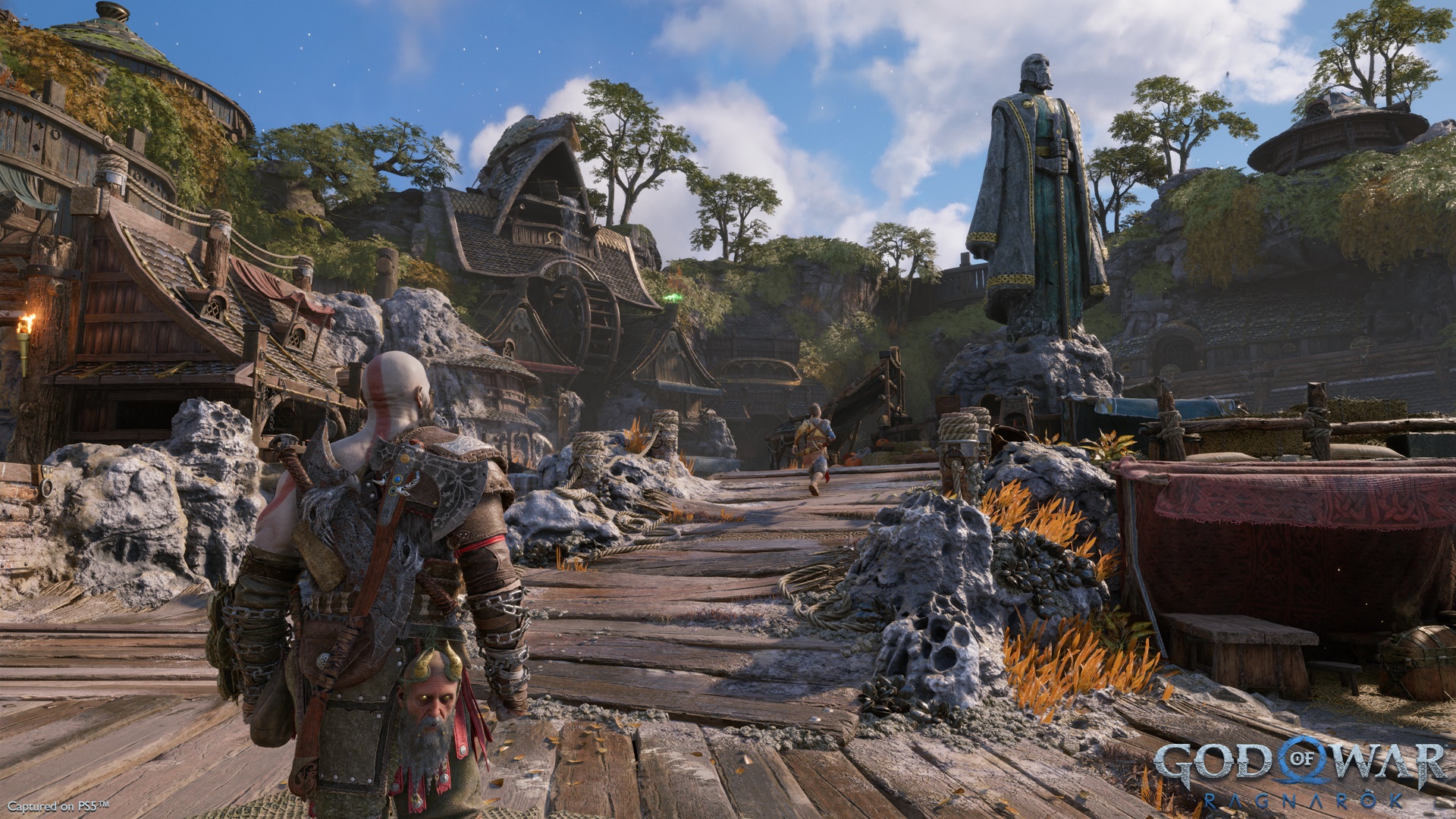 Taking place a few years after the events of 2018's God of War, Kratos' son, Atreus, is now a teenager. He's on a quest to find out who he is, given that the previous game revealed that he's actually – spoiler alert – Loki from Norse mythology.
To be honest, I didn't like Atreus very much in the original God of War; I found him to be too whiny and annoying, though he is understandably a child then. But in Ragnarok, I'm quite fond of him now. Santa Monica Studio really got his character development right, though I'm still in the early hours of the game.
As you've probably seen in the trailers of God of War Ragnarok, Kratos and Atreus will meet a number of legendary Aesir gods in their journey, including Tyr and Thor himself. Without going into too much detail, I'm definitely enjoying the plot so far. I was constantly looking forward to progressing the story.
Graphically, there's no denying that God of War Ragnarok looks absolutely stunning on the PS5. The environment looks lush, character models are painstakingly detailed, and facial expressions are rendered in a very realistic manner as well. There are also two graphics options: Performance (which looks to lower the resolution to achieve 60fps), and Resolution for the best image quality.
Personally, I don't see a huge difference between the two graphics settings, so I opted for the Performance mode for the majority of my playthrough so far. The smoother 60fps frame rate – even at the expense of resolution – is a huge improvement to the overall gameplay experience.
Speaking of which, I'm enjoying God of War Ragnarok's gameplay much more than I did in the 2018 game. Combat, for one, still feels familiar, but there's a certain cohesiveness to it now. As Kratos swings his trusty Leviathan Axe around, it feels more substantial and satisfying, especially when the attacks connect.
Same goes for the parry system of Ragnarok. It's a little tough to get the timing right at first, but once I'm accustomed to an enemy's attack pattern, it feels great when I can parry and immediately counter attack. Again, the same cohesiveness to how the combat flows in Ragnarok can be felt here as well.
Puzzle solving has always been (somewhat) an integral part of God of War, and in Ragnarok, the puzzles are challenging enough without feeling too cumbersome to solve. At times where I'm not quite sure how to proceed, the game doesn't point out the solution immediately; Atreus waits for a bit before giving some hints, which I certainly appreciate.
While not quite an open world game, Ragnarok does feel more expansive now. Granted, I haven't traveled to a lot of realms yet, given that I'm still in the early stages of the game. But even so, I just feel like there are more areas to explore now, even if there's still a linearity to the map.
As far as first impressions go, I am thoroughly enjoying my time in God of War Ragnarok. Whether it's the engrossing plot, improved gameplay mechanics, or stunning graphics, I find myself eager to get back into the game in between play sessions. There's simply an excitement to the game, something that cannot be said of many other titles, AAA ones included.
God of War Ragnarok will be released on the PS5 and PS4 next month on 9 November. You can pre-order the PS4's Standard Edition for RM249 now, while the PS5 version goes for RM299. There's also a Digital Deluxe Edition for RM339, which includes both the PS4 and PS5 version, a Dark Horse digital mini artbook, an avatar set, a PS4 theme, a digital soundtrack, and in-game cosmetic items.
The full review embargo for God of War Ragnarok is set for 4 November at 12AM Malaysian time. If you're not sure if the game is worth picking up, you can wait until then before deciding to pre-order Santa Monica Studio's latest title or not, though I am definitely enjoying Ragnarok so far.