Dell's range of budget-friendly gaming laptops (usually) don't offer particularly great value for money; especially at launch. But that's not the case with the Dell G15 gaming laptop. Retailing at only RM4,199 for an Nvidia GeForce RTX 3050 Ti GPU and a fast Intel Core i7 processor, its value proposition is…surprisingly good.
Of course, the fact remains that the G15 is a budget-oriented gaming laptop, which comes with its fair share of shortcomings, including so-so build quality. But for those who want the best value for their money at this price point, the G15 is one to shortlist.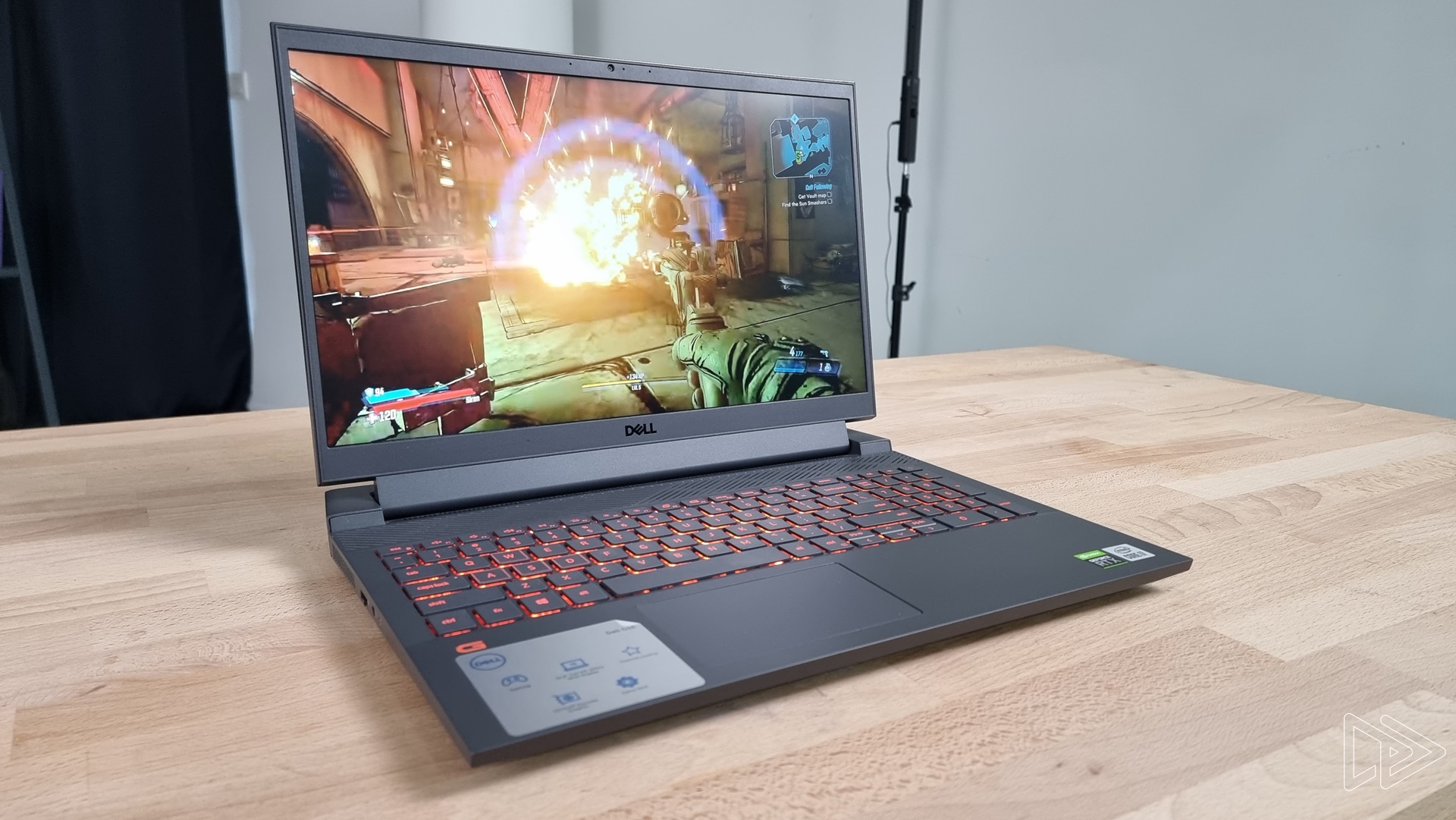 What It Is
Display
15.6-inch FHD WVA (1920 x 1080), 120Hz
Processor
Intel Core i7-10870H (8C/16T, 2.2GHz with boost up to 5.0GHz)
GPU
Nvidia GeForce RTX 3050 Ti 4GB GDDR6
RAM
16GB DDR4 3200MHz
Storage
512GB M.2 PCIe NVMe SSD
Camera
720p
Battery
56Wh
Dimensions
357.26 x 272.83 x 24.9 mm
Weight
2.44kg
Audio
Bottom-firing stereo speakers
Ports
1x USB-C 3.2 Gen 1 (DisplayPort)
1x USB-A 3.2
2x USB-A 2.0
1x HDMI
1x RJ45
Price
Unavailable; RM4,199 for equivalent Core i7-11800H model
Unfortunately, this review unit of the G15 is no longer sold, but the newer Core i7-11800H model is still available for only RM4,199. Of course, both configurations share the same hardware except for the processor, so this review remains (very much) relevant.
Anyway, at this price point, the G15 really does offer great value for money. You'd be hard-pressed to look for another similarly priced gaming laptop that offers both an 11th gen Core i7 processor and RTX 3050 Ti GPU.
The Good Stuff
Its value proposition aside, the Dell G15 has a number of other winning qualities as well. The combination of an RTX 3050 Ti and Core i7-11800H – along with 16GB of RAM – can deliver reasonably good gaming performance. Just take a look at the benchmark results below:
| | |
| --- | --- |
| Games (max settings @ 1920 x 1080) | Average FPS |
| Borderlands 3 (DX11) | 51.29 |
| Control (DX11) | 45.75 |
| Witcher 3 (HairWorks disabled) | 63.229 |
Granted, only Witcher 3 ran above 60fps at maxed out graphics settings in Full HD, but there's no denying that the G15 can still run AAA games relatively well. With some tweaks to the graphics settings, you can definitely get both Borderlands 3 and Control to run at 60fps as well.
Outside of gaming, the battery life of the G15 is adequate too. When I'm doing productivity tasks with the power plan set to battery saver – I also dimmed the screen to a comfortable level – I can get between five to six hours of use on a single charge.
While this is not a fantastic figure, this is a power-hungry gaming laptop with a 15.6-inch 120Hz screen.
Speaking of which, the 15.6-inch 1080p WVA display of the G15 is quite good as well. It can get bright enough for use outdoor, its viewing angles are wide enough, and the 120Hz refresh rate (even if it's not particularly high) offers fluid, responsive user experience. The extra frames afforded by this refresh rate makes this panel a joy to use, even outside of game.
Surprisingly enough, the system noise of the G15 is quieter than I expected. It doesn't kick up a fuss at all when I'm doing productivity work, and even when running demanding games, the fans don't get too audible. In my opinion, the laptop's speakers alone are enough to drown out the fan noise in heated gaming sessions.
One other aspect of the G15 that I find quite appealing is the keyboard. Not only does the layout take little time to get accustomed to, the keyboard itself provides a comfortable typing experience. It has just enough key travel to not feel shallow, and the keys have a good amount of tactile feedback.
The G15's trackpad is quite usable too. It is by no means as accurate as the trackpad of a productivity laptop, but for the most part, it doesn't feel cumbersome to use at all.
The Bad Stuff
I'm going to circle back to the keyboard of the G15. Although it is comfortable to type on, I'm not a fan of the small arrow keys. Putting the page up and page down keys in the same cluster isn't a bright idea either; I find myself constantly hitting them by accident when I just wanted to use the arrow keys.
Aside from that, the G15 also runs hot. After long periods of gaming, the CPU got up to a toasty 98°C, while the GPU peaked at 85°C. Thankfully, at least the palm rest area stayed cool throughout the gaming session.
Given the affordable price point of the G15, it's no surprise that its build quality leaves much to be desired. Sure, the metal palm rest area feels great to the touch, but other exterior parts of the laptop are made from plastic, which don't exactly look or feel premium.
There is one consolation though: the laptop's chassis doesn't creak with added pressure.
Is It Worth It?
If you're shopping for a gaming laptop in the RM4,000 price range, the Dell G15 is really an option worth considering. This is especially the case if you want the most value for your money; it's not easy to find an alternative that offers the same hardware at this price point.
After all, for only RM4,199, the G15 offers powerful enough hardware to game effectively. Yes, it doesn't look or feel like a premium laptop, but hey, it's positioned as a value-oriented product – it's unrealistic to place such high expectations on a sub-RM4,500 gaming laptop.