Gaming monitors with fast and high resolution panels have steadily dropped in price over the years, and the Asus TUF Gaming VG27AQ is one such product. Retailing as low as RM1,489 now, this gaming monitor offers a fast 165Hz refresh rate, along with a sharp WQHD resolution.
Of course, as with any monitors, the VG27AQ does have some shortcomings, such as its HDR performance and black levels. But for folks who want a reasonably high resolution 1440p gaming monitor with a fast refresh rate, the VG27AQ should be in your shortlist.
What It Is
The TUF Gaming VG27AQ is a 27-inch 1440p IPS gaming monitor with a fast 165Hz refresh rate. It also supports HDR10 and variable refresh rate (VRR), so it is Nvidia G-Sync Compatible. In my time gaming with this monitor, this feature does manage to minimise screen tearing.
Unlike most gaming monitors at this price point, the VG27AQ offers excellent adjustability. The stand supports swivel, tilt, height adjustment, and even pivot. Suffice to say it is very easy to get a comfortable viewing angle with this monitor.
Another neat feature of the VG27AQ is the fact that it has a pair of 2W speakers! Unfortunately, the audio quality is…not great. I'll get back to this later.
The Good Stuff
Let's get this out of the way: gaming on the Asus TUF Gaming VG27AQ is an absolute blast. The panel's fast 165Hz refresh rate and VRR support make for a very pleasant gaming experience with no noticeably screen tearing. As far as I can tell, this monitor has low input lag as well.
This is really thanks to Asus' Extreme Low Motion Blur Sync (ELMB SYNC) technology. According to the company, this allows the VG27AQ to achieve a 1ms response time. Basically, it's perfect for gamers who want all the competitive advantage they can get.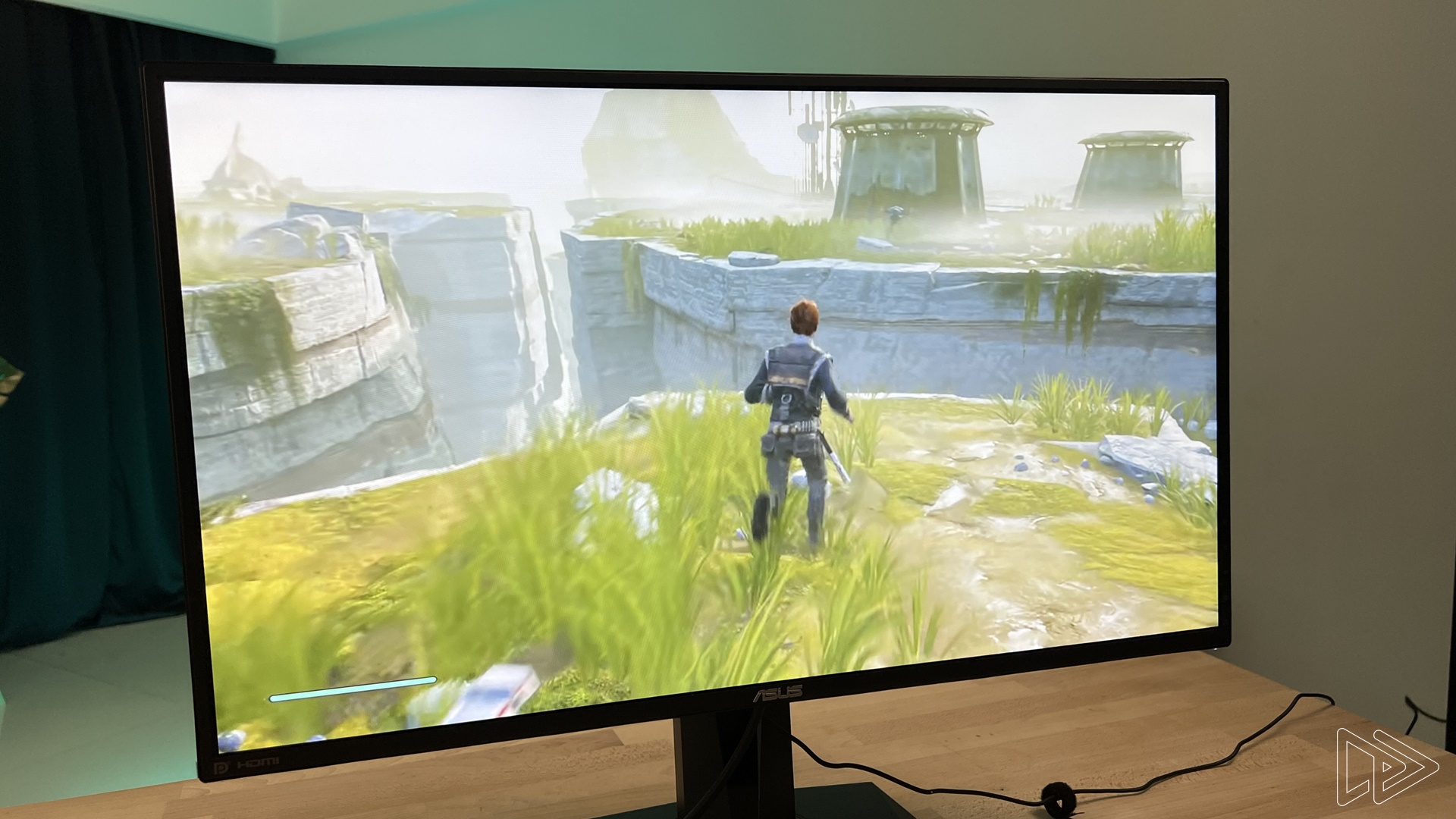 Panel quality of the VG27AQ is great as well. It has vibrant colours, contrast is good, and its viewing angles – as with most IPS screens – are wide too with minimal colour shifting. That being said, this isn't exactly the best monitor for content consumption; more on this in the next section.
Anyway, the 1440p resolution of the VG27AQ is worth a mention too. In the past, you could only get a 1080p monitor at this price point. It's certainly great that consumers can now get a higher resolution panel (without sacrificing refresh rate) at a lower entry price.
Last but not least is the VG27AQ's very intuitive on-screen display (OSD). Thanks to the addition of a joystick on the back of the monitor, it's seamless to navigate through its OSD to access whatever settings I want to. It's worth noting that this one simple hardware is not offered on many, many monitors, especially at this price point.
And that brings us to the best, best selling point of the VG27AQ: its sheer value for money. You can now get this gaming monitor for only RM1,489, and given its feature set, you're really getting your money's worth here.
The Bad Stuff
So I've mentioned the TUF Gaming VG27AQ is not great for content consumption, but why? Well, it lies in the IPS screen of the monitor. Compared to, say, a VA panel, blacks on this IPS display can appear grey; this is an inherent weakness of the latter. If you're in a dark room, this issue is especially evident.
Despite the fact that the VG27AQ supports HDR10, the actual HDR performance…isn't great. The screen itself doesn't get bright enough to bring out highlights in HDR content. That being said, the brightness level is more than acceptable in gaming and normal use; just not for HDR content.
Last but not least are the speakers of the VG27AQ. While it's convenient to have these speakers built into the monitor itself, the audio quality leaves much to be desired. It is tinny, there's no bass, and the maximum volume is…very soft.
Suffice to say you should get proper speakers for content consumption.
Is It Worth It?
Despite its shortcomings, the Asus TUF Gaming VG27AQ is a great buy. After all, you can now get it for only RM1,489. Given all of the features that you're getting for that kind of money, its value proposition is very good, especially from an established brand like Asus.
Aside from its sheer value for money, the VG27AQ is also fantastic for gaming with low input lag, high refresh rate, and good display quality, even if it's not ideal for HDR content. If you want a fast, affordable gaming monitor from an established brand, the TUF Gaming VG27AQ fits the bill.