As the custom keyboard scene grows, we can see that a number of pre-built keyboards have started implementing some features that are more commonly found on enthusiast-level keyboards. One of them is a hotswap PCB, which is one of the best qualities of this keyboard, the Asus ROG Strix Flare II Animate.
Of course, it also has a unique AniMe Matrix LED display on the top right corner; similar to the larger LED panel on the top lid of the Zephyrus G14 gaming laptop. Unfortunately, the Flare II still has the typical shortcomings of a pre-built keyboard, and priced at RM799, it's not particularly affordable either.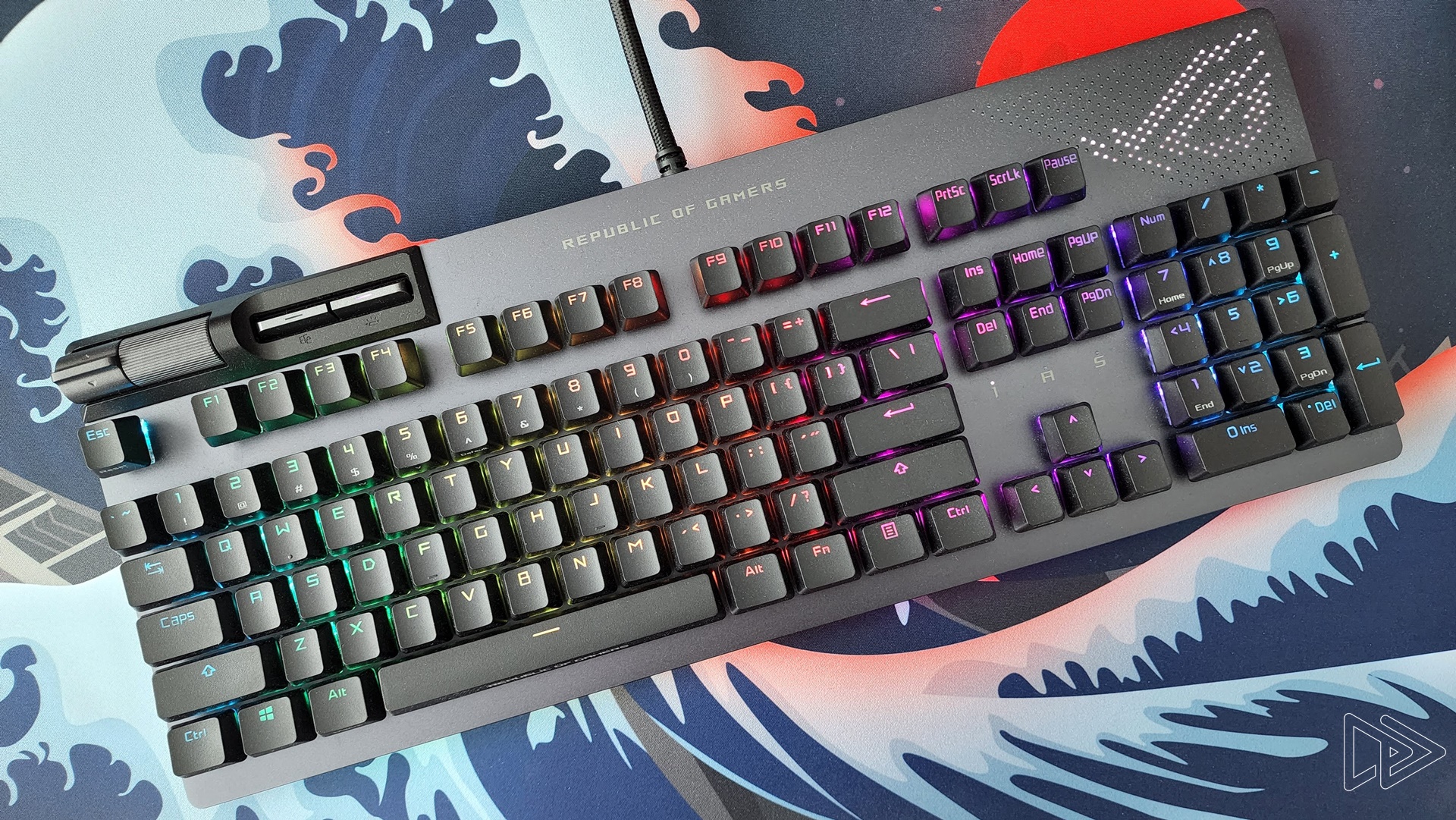 What It Is
The ROG Strix Flare II Animate is a full-size keyboard with a hotswap PCB as one of its best selling points, even if it only supports three-pin switches. It also has double shot PBT keycaps with "shortened stems and mid-height profiles" to reduce key wobble and improve ergonomics. Compared to OEM keycaps, this keycap set definitely has a lower profile; almost like a Cherry profile, in fact.
Aside from that, the Flare II is also offered in three different switches: ROG NX Brown (tactile), Red (linear), and Blue (clicky). It's worth noting that Asus' NX Brown switch – this review unit comes with this option – has a much more pronounced tactile bump than, say, a Cherry MX Brown switch, so don't be fooled by its name.
Regardless of which switch option you go with, the Flare II is priced at RM799. Needless to say, this is a steep price tag for a pre-built keyboard, though you do get features you cannot find on a custom keyboard – let's talk about them in the next section.
The Good Stuff
While there are some custom keyboards that have implemented a screen of sorts, none of them is quite as unique as the LED display on the ROG Strix Flare II Animate. Not only can you customise it to show your own animations, it also shows some useful information. As you adjust the volume with the scroll wheel, for example, the LED display will show the volume level.
Speaking of which, I really, really like the scroll wheel of the Flare II. Not only is it made of metal, there are subtle clicks that feel very satisfying as I use it to control the volume. The toggle to the left of the wheel can also reverse or skip track, and the circular button on the side is used to pause playback.
Naturally, the Flare II has some bright RGB lighting too. The legends on the keycaps are also translucent, so you get the full per-key RGB effect on every key. I'm not big on RGB lighting on my keyboard, but I imagine folks who don't share my sentiment will appreciate this feature.
I'm also quite a fan of the ROG NX Brown switch on the Flare II. It has a pronounced, rounded tactile event that starts at the very top of the downstroke. While it's not as tactile as the Gazzew Boba U4T or Anubis, it's comfortably a medium tactile switch. On top of that, it has reasonably minimal stem wobble as well, though it also has a slight scratchiness throughout the downstroke.
If you want to experiment with different switches, no problem. The Flare II's hotswap PCB allows you to seamlessly swap switches whenever you want to, but it's unfortunate that it only supports three-pin switches.
Build quality of the Flare II is surprisingly good too. Even though it has a plastic bottom case, the keyboard itself has almost no flex at all; it's one solid keyboard. Speaking of flex, the Flare II also offers a stiff typing experience. Depending on your preference, this isn't necessarily a bad thing.
The Bad Stuff
What is definitely a bad thing is the costar-style stabilisers of the ROG Strix Flare II Animate. Not only is it harder to tune than your conventional plate-mounted stabilisers, it is also quite tricky to assemble and disassemble as it requires you to carefully hook the wire to the housing.
Of course, it's still possible to lube these stabilisers with a syringe to eliminate the slight ticking and rattling on these stabilisers – despite the fact that they are factory lubed – but it definitely takes more work than necessary.
And then there's the…unrefined sound profile of the Flare II, to put it bluntly. This is really a typical trait of a pre-built mechanical keyboard: not only is this quite a loud keyboard, it has a plasticky sound signature too. I'm also not a fan of the overly rough double shot PBT keycaps.
But the biggest shortcoming of the Flare II has to be its RM799 price tag. For the same amount of money, you can get yourself a decent custom keyboard, such as the Meletrix Zoom65. Granted, it's not as readily available as the Flare II, but you do get a superior typing experience and build quality.
Is It Worth It?
It may sound cliche, but it really depends on what you want out of a keyboard. If you want a no-nonsense, readily available full-size keyboard with hotswap support, a nice, metal scroll wheel, and a unique LED panel, then the Asus ROG Strix Flare II Animate is a good option.
However, if you want the best typing experience you can get at this price point, and you don't mind much longer waiting times, then putting the RM799 into a custom keyboard instead is the better alternative. It will take more of your time, for sure, but the end result will be well worth it.
But not everyone is willing to put in the time and effort into building a custom keyboard, which is where the Flare II comes in. Yes, you'll sacrifice on typing experience, but you're still getting a reasonably good mechanical keyboard with a unique LED display, a nice scroll wheel, and a full-size layout – features you don't usually get with a custom keyboard.