Asus' range of gaming phones had always offered excellent gaming performance, but the "smartphone" aspect of these devices had always been somewhat…overlooked. More often than not, they are gaming phones first, smartphone second.
While this still applies to the Asus ROG Phone 6 to an extent, it is by far the most refined smartphone yet under Asus' ROG Phone lineup. It addressed quite a bit of its predecessor's shortcomings, and of course, it continues to be a fast, powerful smartphone for mobile gaming.
Yes, it's also slightly more expensive than last year's ROG Phone 5. But given the upgrades you're getting, the extra cost is justifiable, in my opinion.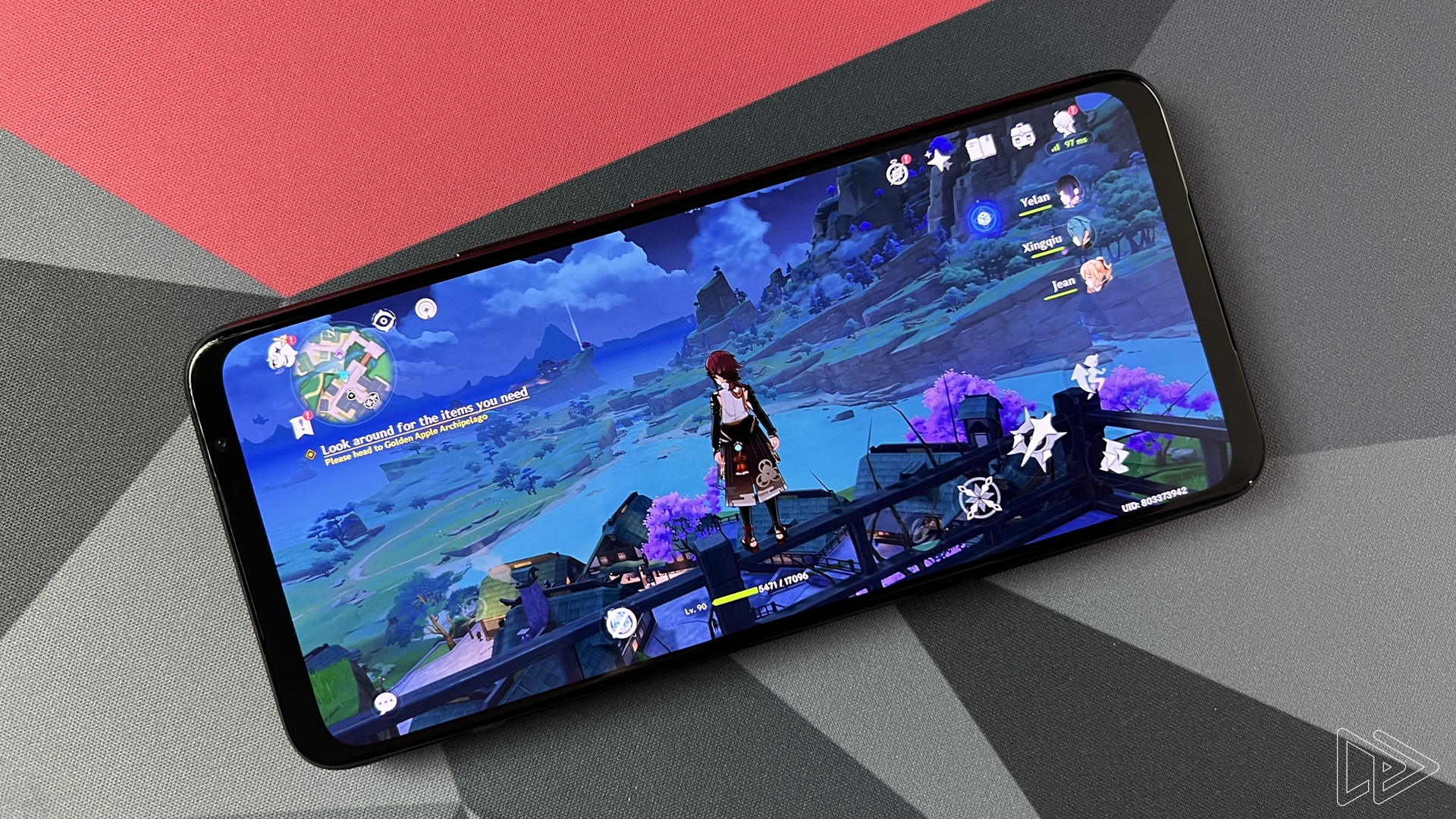 What It Is
Display
6.78-inch FHD+ AMOLED (2448 x 1080), 165Hz
Chipset
Qualcomm Snapdragon 8+ Gen 1 3.19GHz octa-core
GPU
Adreno 730
RAM
12GB
Storage
256GB, non-expandable
Camera (rear)
50MP f/1.9, PDAF
13MP f/2.2 (ultra-wide)
5MP (macro)
Camera (front)
12MP
Battery

6,000mAh with 65W fast charging
Dimensions
173 x 77 x 10.4 mm
Weight

239g
OS
Android 12
Connectivity
5G
LTE
NFC
Bluetooth 5.2
WiFi 802.11 a/b/g/n/ac/ax (2.4/5/6GHz)
USB Type-C
3.5mm headphone jack
Price
RM3,599
Our review unit of the ROG Phone 6 is the base model with 12GB of RAM and 256GB of storage for RM3,599. The higher-end 16GB + 512GB configuration, on the other hand, goes for RM4,399. Beyond the larger RAM and storage capacities, both variants are practically identical to each other.
Compared to its predecessor, the ROG Phone 6 features a faster 165Hz AMOLED display and a Snapdragon 8+ Gen 1 chipset. These two hardware make for a very, very enjoyable gaming experience, which I'll get to in the next section.
The Good Stuff
I'll cut to the chase: the Asus ROG Phone 6 is by far the best (Android) gaming phone I've ever tested. My go-to game to test the performance level of a smartphone is Genshin Impact, and the ROG Phone 6 can run the demanding mobile game at 60fps consistently.
This is really quite an achievement, given that most flagship smartphones – despite sporting the same Snapdragon 8+ Gen 1 chipset – still cannot run Genshin Impact as well as the ROG Phone 6. Evidently, Asus did a good job optimising the chip for its gaming phone, though it does have some thermal issues – more on this further down the review.
Aside from that, I really like the capacitive shoulder buttons of the ROG Phone 6. Though I would've preferred actual buttons for a more tactile feel, the touch buttons are sensitive enough to not feel…troublesome to use.
Further enhancing the gaming experience of the ROG Phone 6 is its fast 165Hz 6.78-inch Full HD+ AMOLED display. This very high refresh rate makes for a fluid, very responsive gaming and user experience; every single animation on this screen looks extra smooth.
Not surprisingly, the AMOLED panel of the ROG Phone 6 looks great as well. It is by no means in the same league as, say, Samsung's Dynamic 2X AMOLED display, but it's still a bright and vibrant AMOLED screen. It also has wide viewing angles and deep, true blacks – inherent advantages of an AMOLED panel.
Battery life of the ROG Phone 6 remains as excellent as ever. With last year's model, I can consistently get over seven hours of battery life, and I can still replicate this with the new gaming phone. If you're not a heavy smartphone user, I reckon you can comfortably get two days of use out of the ROG Phone 6 as well.
I'm also happy to report that the ROG Phone 6 doesn't have its predecessor's software quirk. The user interface continues to be very close to stock Android, and push notifications from apps are no longer delayed; I don't have to manually launch apps to get notifications from said apps anymore!
Also addressed is the in-screen fingerprint sensor of the ROG Phone 6. It is much more responsive than the sensor used in the ROG Phone 5, and it's just as fast as every other optical-based fingerprint sensor in the market now.
The Bad Stuff
Although the ROG Phone 6 doesn't seem to suffer from any major thermal throttling, the phone does get noticeably hot in prolonged gaming sessions. This heat buildup is especially evident on the top portion of the phone; it can actually get uncomfortably hot.
In the camera department, the ROG Phone 6 remains decidedly average. In certain scenarios (especially in low light conditions), the 13MP ultra-wide angle shooter can actually take better-looking shots than the 50MP primary sensor. This is because the former has a tendency to switch to long exposure mode.
Given enough lighting, the ROG Phone 6 will be able to take decent-looking (albeit saturated) shots; just don't expect flagship-level camera quality. For what it's worth, at least the camera interface is quite responsive, which improves the phone's shooting experience.
Is It Worth It?
Retailing from RM3,599, the Asus ROG Phone 6's value proposition isn't quite as good as the previous model. But it is also a faster, much more refined gaming phone without sacrificing (too much) on its smartphone functionalities. Its software is more polished, it's still a long-lasting phone, and the in-screen fingerprint sensor is no longer finicky.
If you want one of the best gaming smartphones money can buy now, the ROG Phone 6 is an easy recommendation. While you do have to contend with the phone's average camera system and some thermal issues, there's no denying that it is a blazing fast gaming phone.
And more importantly, not many Android phones can match the performance level of the ROG Phone 6.