If you've always wanted a true gaming tablet, your wish is realised with the Asus ROG Flow Z13. Not only is it a sleek-looking tablet, it also turns into a truly capable gaming machine with the ROG XG Mobile external GPU enclosure.
Of course, this level of power and versatility also demand a premium price tag. Priced from RM7,999 to an eye-watering RM16,999, the Flow Z13 is a costly product. But if you're willing to fork out the money for it, you won't be disappointed with this gaming tablet.
What It Is
Display
13.4-inch WQUXGA IPS (3840 x 2400), 60Hz
Processor
Intel Core i9-12900H (14C/20T, 2.5GHz with boost up to 5.0GHz)
GPU
Nvidia GeForce RTX 3050 Ti 4GB GDDR6
Nvidia GeForce RTX 3080 16GB GDDR6 (ROG XG Mobile)
RAM
16GB LPDDR5
Storage
1TB M.2 2230 PCIe 4.0 NVMe SSD
Camera
8MP (rear), 720p webcam
Battery
56Wh
Dimensions
302 x 204 x 12 mm
Weight
1.18kg
Audio
Side-firing stereo speakers
Ports
1x Thunderbolt 4 (DisplayPort)
1x USB-A 2.0
1x microSD card reader
1x ROG XG Mobile interface
Price
RM16,999
The Flow Z13 in this review is the range-topping variant with a fast Core i9-12900H processor, a sharp 4K IPS display, and the ROG XG Mobile external GPU enclosure. The latter is packed with an RTX 3080 GPU, which is why the price of the tablet jumps from RM7,999 for the base model to RM16,999.
Personally, I'd go for the RM8,999 variant of the Flow Z13, which swaps out the 4K display of the highest-end model for a lower resolution 1920 x 1200 IPS display, but with a faster 120Hz refresh rate. The XG Mobile enclosure is (obviously) not included either, so you'll only get the RTX 3050 Ti GPU.
Yes, the XG Mobile does dramatically improve the gaming performance of the Flow Z13, but in my opinion, the extra cost does not justify the performance gain. More on this further down this review.
The Good Stuff
Since this is a gaming tablet, let's talk about the performance of the Asus ROG Flow Z13 first. I tested the tablet in two scenarios: with and without the ROG XG Mobile. Given that the built-in RTX 3050 Ti GPU isn't particularly powerful, I tested games at 1920 x 1200 resolution in this configuration.
Of course, with the XG Mobile (RTX 3080) connected, I cranked up the resolution to the display's maximum 3840 x 2400 resolution…except for Control. I could only set the resolution to 3840 x 2160 in the game, oddly enough. Anyway, here are the results:
| | |
| --- | --- |
| Games (max settings @ 1920 x 1200), tablet mode (RTX 3050 Ti) | Average FPS |
| Borderlands 3 (DX11) | 37.98 |
| Control (DX11) | 33.633 |
| Witcher 3 (HairWorks disabled) | 49.434 |
| | |
| --- | --- |
| Games (max settings @ 3840 x 2400), ROG XG Mobile (RTX 3080) | Average FPS |
| Borderlands 3 (DX11) | 38.86 |
| Control (DX11) @ 3840 x 2160 | 29.453 |
| Witcher 3 (HairWorks disabled) | 56.273 |
As the results above show, running games at Full HD with the Flow Z13's RTX 3050 Ti can almost match the performance of the XG Mobile's RTX 3080 GPU in 4K gaming. This is why I would personally forego the external GPU enclosure, though gaming at 4K is certainly a more enjoyable gaming experience.
Next, we have the stunning display of the Flow Z13's 13.4-inch 3840 x 2400 IPS display. Not only is it a bright panel, it also offers vibrant colours with wide viewing angles. I really appreciate the 16:10 aspect ratio of the panel as well; there's more vertical screen real estate for productivity tasks.
Speaking of which, I love using the Flow Z13 as a productivity machine. Not only does it offer the portability of a tablet, it's also quite long-lasting. On a single charge, the 56Wh battery managed to return about five hours of use.
Given that this model has a sharp 4K panel and a powerful Core i9-12900H processor, this level of battery life is respectable. I reckon the more modest Flow Z13 with a lower resolution screen can return even better battery life.
I'm also quite a fan of the Flow Z13's keyboard case. It offers enough key travel to not feel shallow, the keys provide a good amount of tactility, and it even has a "cushiony" bottom out, given that the keyboard itself is elevated above the surface. All in all, this is a comfortable keyboard to do a lot of typing on.
The trackpad is quite good too. It's reasonably accurate, it has a smooth surface, and it offers a pleasant click; I definitely don't feel the need to plug in a mouse when I'm using it for productivity tasks. That being said, I do wish the trackpad was a tad bigger for a more pleasant user experience.
Build quality of the Flow Z13 is also solid. The minimal bezels surrounding the screen lend to a modern-looking machine, and I love the glass window on the back (complete with RGB lighting!) that shows the tablet's internals.
Last but certainly not least is the adjustable kickstand of the Flow Z13. The hinge feels solid as I adjust the angle to my liking – much like a Surface tablet, if I might add – and it even closes with a reassuring thud. I also appreciate the red tab on the kickstand to make it easier to pop it open.
The Bad Stuff
System noise is one area where the Flow Z13 could use some improvement. Now, running demanding games on the tablet itself doesn't produce too much fan noise, but with the XG Mobile GPU connected, the external GPU enclosure certainly makes itself heard.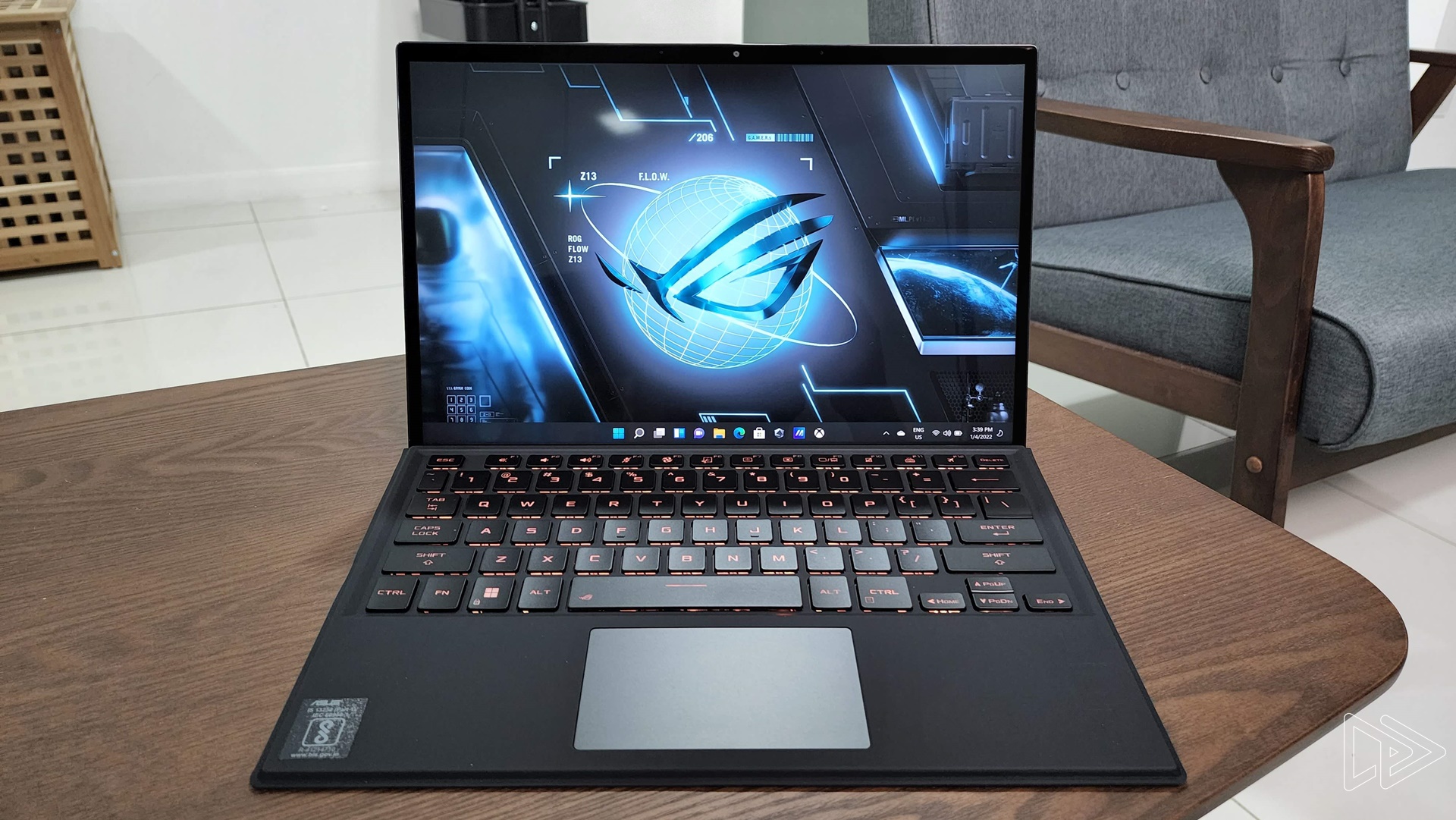 And then there's the cost of the Flow Z13 itself. Starting at RM7,999, this is not an affordable tablet, and the range-topping model's whopping RM16,999 price tag is even harder to swallow. Granted, you do get reasonably powerful hardware even with the base model (Core i7-12700H and RTX 3050 GPU), but there's no denying that the price of entry is steep.
Is It Worth It?
Even though the Asus ROG Flow Z13 costs quite a bit of money, you do get a fantastic gaming tablet with good performance, a bright and vibrant display, as well as reasonably long battery life. Plus, it has solid build quality with some interesting design elements too, especially the glass window on the back of the tablet.
But in my opinion, opt for the Flow Z13 without the ROG XG Mobile. While there's no denying the performance gain you get with the external GPU enclosure, it's not worth paying so much for the hardware.
If it had not used a proprietary connector, then maybe the XG Mobile would be more compelling. The fact that it is only compatible with Asus machines that support the port – and there are only a handful of them – makes it hard to justify the extra cost.