What started as an April Fools' joke turned out to be quite an exciting product. If you're in the market for a handheld gaming PC, the Asus ROG Ally should definitely be in your shortlist. It's the first of (hopefully) more portable machines powered by AMD's new Ryzen Z1 chips.
After spending a brief time with the ROG Ally, I absolutely cannot wait to put the handheld gaming machine through its paces. It's a very promising device for gamers on the go, and if it's priced right – as per an earlier leak – it could prove to be a winner for Asus.
Compared to its main competition, Valve's Steam Deck, the ROG Ally has a number of advantages. Its display, for one, is a higher resolution 7-inch 1920 x 1080 IPS display with a 120Hz refresh rate. The Steam Deck, on the other hand, has a lower resolution 7-inch 1280 x 800 with a 60Hz refresh rate, though it has a taller 16:10 aspect ratio.
So how good is the display quality of the ROG Ally? Well, it's above average. The 120Hz display lends to excellent motion clarity, and with a peak brightness of 500 nits, it's bright enough to provide a comfortable gaming experience. However, I do wish the viewing angles were better; the display dims quite a bit when it's viewed at a slight angle.
I'm not too crazy about the rather sizeable bezels surrounding the screen either.
Next, there's the performance level of the ROG Ally, which is quite impressive. The unit I tested is the range-topping Ryzen Z1 Extreme model, and it can run titles like Monster Hunter Rise: Sunbreak and Street Fighter 6 at a reasonably high (and consistent) frame rate.
Granted, I need to lower the graphics settings so that the ROG Ally can run these games at a higher frame rate, but not by a whole lot. The games still look great on the Ally, and the fact that I don't have to sacrifice too much visual fidelity to get a smooth gameplay experience on this handheld gaming PC is surreal.
It's also worth noting that the ROG Ally remains (surprisingly) quiet when I was running some games on it. Heat doesn't transfer to touch points either, though the top of the handheld does get quite warm after some time.
In terms of build quality, the ROG Ally doesn't feel cheap at all, though it also doesn't feel particularly premium. Don't get me wrong, the handheld gaming PC feels nice to hold in my hands, but the textured plastic chassis doesn't exactly feel…well, expensive.
But to the Ally's credit, its buttons do feel great to actuate with good tactile feedback. The two analog sticks, while not particularly firm – they feel a tad too loose for my liking – are large enough for comfortable use. All in all, the Ally's input devices are good, which is important for a gaming-focused device.
Also important to a handheld gaming device is battery life, and this is still a question mark for the ROG Ally. After all, I only had a brief amount of time with the machine, so I don't exactly have a feel for its battery life yet. For what it's worth, I did notice that a few matches in Street Fighter 6 take up about 10% of battery life, and Asus quotes up to two hours of heavy gaming in performance mode.
Of course, I'll test the Ally's battery life more thoroughly in the full review. It'll be interesting to see how long the 40Wh battery can last on a single charge, given that it is basically a compact PC running a full-blown version of Windows 11.
While that does give the Ally the freedom to install any game that runs on Windows, that also means it will draw the same amount of power as a regular Windows machine.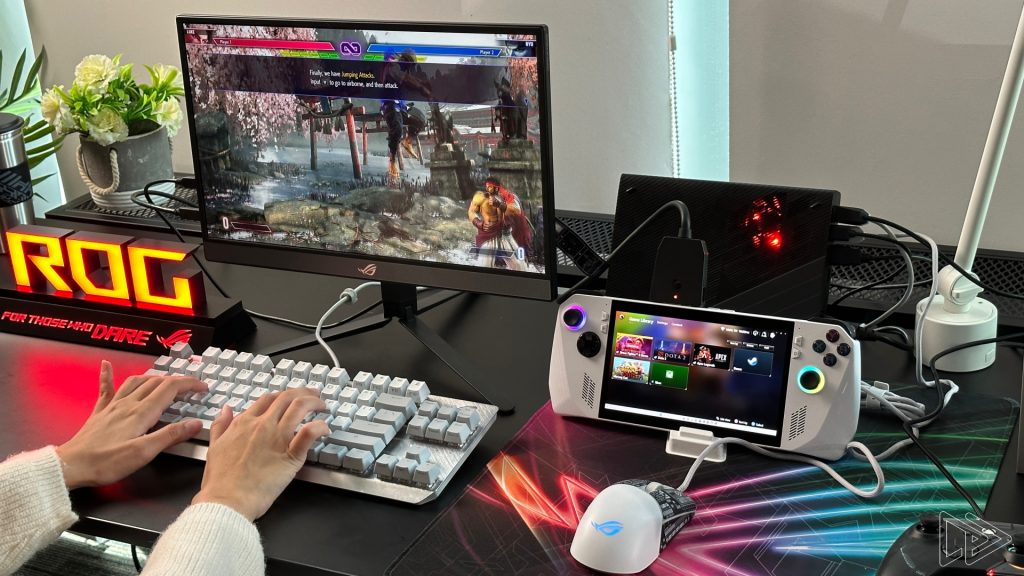 Nonetheless, the Asus ROG Ally is a very interesting handheld gaming PC, and I'd even go as far as to say that it is the most exciting device of its kind to date. Until other companies release similar products powered by AMD's new Z1 chips – which is "temporarily" exclusive to Asus – the Ally is the only handheld I can comfortably recommend right now.
Yes, I'd wholeheartedly recommend the Ally over the Steam Deck, especially here in Malaysia. The thing is, while the latter is available for purchase on our shores, it doesn't come with official warranty support. If anything were to go wrong in the product's lifetime, trying to get it fixed may prove to be a challenge.
Naturally, this won't be an issue with the Ally once Asus Malaysia brings in the handheld PC sometime in Q3 2023.
The ROG Ally will be officially introduced later this week on 11 May. The pricing of the handheld gaming PC will be unveiled then, and if the leaked pricing of the range-topping Z1 Extreme model prove to be accurate at $699 (about RM3,105), it will almost surely sell like hot cakes.