Announced back at CES 2023, the new Asus Zenbook 14X OLED (UX3404) brings quite a number of upgrades over its predecessor. Not only does it come with a more capable Nvidia GeForce RTX 3050 GPU now, it also has a ceramic-like finish for a unique, premium appeal.
Set to be available in Malaysia very soon – before the end of February 2023 this month – the Zenbook 14X OLED is quite an intriguing productivity-focused laptop that can do some gaming on the side as well. If priced right, it could be a winner for Asus.
Off the bat, one of the most appealing features of the Zenbook 14X OLED has to be its ceramic-like finish on the lid. The unique coating is done through a process dubbed plasma electrolytic oxidation (PEO), and the result is…very interesting.
This finish is reserved for the Sandstone Beige colourway of the Zenbook 14X OLED you see here, and I love it. As the name suggests, it does feel like ceramic with a smooth feel that's cool to the touch. It almost feels like a ceramic tile, basically, and it doesn't seem to catch any fingerprint either.
If there's any downside to this, it would be the fact that the ceramic-like finish is only done on the lid of the Zenbook 14X OLED. Other parts of the laptop, including the palm rest area, still has a regular aluminium finish.
Anyway, beyond the unique finish of the Zenbook 14X OLED, it brings notable performance gains too. Now powered by Intel's latest 13th gen processors – maxing out at a Core i9-13900H – it can also be configured with up to 32GB of RAM and an RTX 3050 GPU.
While the RTX 3050 isn't an awfully powerful GPU, it should still be fast enough to run most AAA games at acceptable frame rates with some tweaks to the graphics settings. The fact that the Zenbook 14X OLED is marketed as a productivity laptop while still sporting a gaming-grade RTX 3050 GPU is really quite impressive.
Next, we have the OLED display of the Zenbook 14X OLED. It is now a 14.5-inch 2880 x 1800 OLED display – upsized from 14-inch – with a 120Hz refresh rate and 16:10 aspect ratio. The tall aspect ratio makes it great for productivity tasks, as you get more vertical screen real estate to work with.
Of course, the extra frame rates afforded by the OLED panel's 120Hz refresh rate also ensures that animations look smooth and fluid, especially in games that can hit the 120fps mark. Even the general user experience of the laptop is improved with the high refresh rate. Everything from moving the mouse cursor or scrolling through a web page will look extra smooth.
As for the screen quality of the Zenbook 14X OLED itself, it seems quite promising. This is, after all, an OLED display, which typically features vibrant, punchy colours with deep blacks and wide viewing angles. It's worth noting that this panel is also Pantone Validated, so it should have good colour accuracy – something creative professionals will appreciate.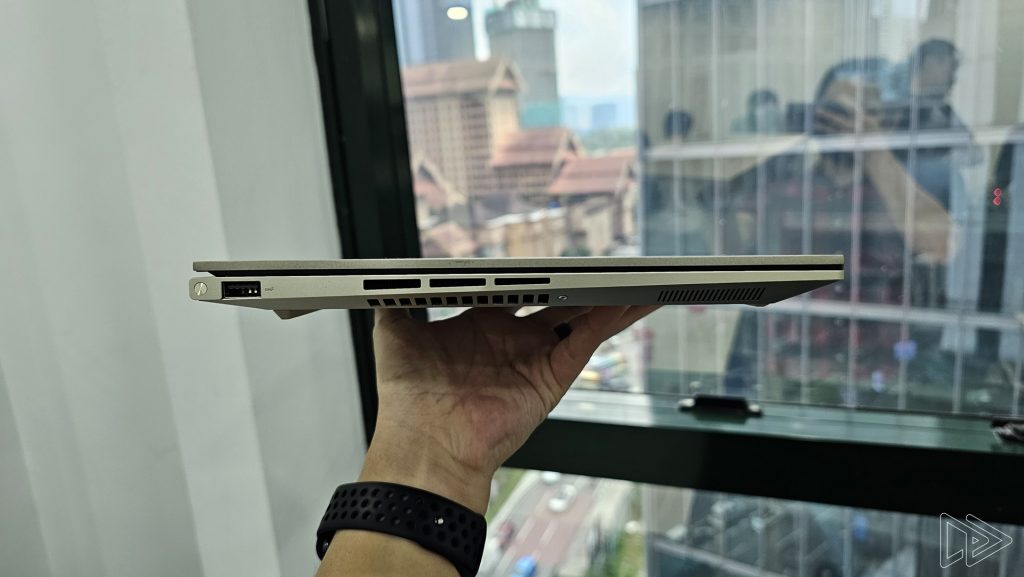 Now, onto some of the most important hardware for a productivity laptop: input devices. In this regard, the Zenbook 14X OLED's keyboard is a bit of a mixed bag. While it does offer a good amount of key travel, the low actuation force of the keys make for a "soft" typing experience, which isn't quite to my liking.
That being said, the keyboard does offer a good amount of tactile feedback, and the Zenbook 14X OLED I tested is still just an engineering sample. It's entirely possible the consumer-ready unit will feature a more refined keyboard, and hopefully, more consistent backlight as well.
As for the laptop's trackpad, it's largely accurate with a smooth surface for my fingers to glide on. It also doubles as a numpad with a long press on the top right corner of the trackpad, which works in a pinch.
Overall, the 2023 Asus Zenbook 14X OLED looks to be a refined productivity laptop with a bright, vibrant OLED display; promising performance from the 13th gen Intel processor and RTX 3050 GPU; as well as a unique ceramic-like finish, even if it's only limited to the top lid.
However, until Asus Malaysia reveals the Malaysian pricing of the Zenbook 14X OLED, it's tough to gauge the value proposition of the laptop. If it's priced anything like last year's Zenbook 14X OLED Space Edition – which starts from RM5,599 at launch – it could be a compelling productivity laptop, especially for folks who also want to do some gaming.
Nonetheless, we will find out soon enough once Asus Malaysia launches the new Zenbook 14X OLED on our shores. I was told it will be available here in the next couple of weeks, so we won't have to wait much longer now.