The 2022 Asus ROG Zephyrus G series are some of the sleekest gaming laptops in the market now, and this applies to both the G14 and G15. The former is especially interesting, given that it is one of very, very few gaming laptops in a 14-inch form factor, especially here in Malaysia.
But if you're considering to get either one of these two gaming laptops, here's a comparison between the Zephyrus G14 and Zephyrus G15. Basically, it's a fight between a compact, all-AMD gaming laptop against a larger AMD + Nvidia machine. Without further ado, let's get to it.
First, let's talk about the performance of the two gaming laptops. For this writeup, we got the range-topping RM9,999 Zephyrus G14 with an AMD Radeon RX 6800S GPU and 32GB RAM, while the G15 we received is packed with an Nvidia GeForce RTX 3060 graphics card and 16GB RAM for a cool RM7,999.
Do note that the Zephyrus G15 is actually offered with a beefier RTX 3070 Ti GPU + 32GB RAM as well (also for RM9,999), though we didn't get that model for this comparison. Nonetheless, even though this is not an apples to apples comparison – the RX 6800S is considered a more capable GPU – this comparison is still relevant (to an extent).
In these gaming benchmarks, we set the power mode of the two laptops to Turbo with the GPU set to the Ultimate setting to squeeze every ounce of performance out of them.
| | |
| --- | --- |
| Games (Zephyrus G14, max settings @ 1920 x 1080, ray-tracing disabled) | Average FPS |
| Hitman 3 | 104.97 |
| Forza Horizon 5 | 61 |
| Marvel's Guardians of the Galaxy | 116 |
| Middle-earth: Shadow of Mordor (1920 x 1200) | 105 |
| | |
| --- | --- |
| Games (Zephyrus G15, max settings @ 1920 x 1080, ray-tracing disabled) | Average FPS |
| Hitman 3 | 98.89 |
| Forza Horizon 5 | 41 |
| Marvel's Guardians of the Galaxy | 115 |
| Middle-earth: Shadow of Mordor | 113 |
In general, the Zephyrus G14's RX 6800S proves itself to be the more capable GPU, though it doesn't differ all that much compared to the G15's RTX 3060 in Guardians of the Galaxy and Shadow of Mordor. However, the latter was running at a slightly higher resolution – there was no option to run the game at 1080p on the G14.
If we were to repeat the same benchmark on the higher-end Zephyrus G15 with an RTX 3070 Ti and 32GB RAM, it is very likely that model will offer better performance than the Zephyrus G14. But to be fair, the G14 is also a smaller, more compact machine – it belongs in a different class altogether, and we'll get back to this later on.
Of course, we also tested the performance of the Ryzen 7 6800HS processor powering the two gaming laptops with Cinebench R23. Yes, both the Zephyrus G14 and Zephyrus G15 feature the same processor, and for the most, they perform similarly – the score difference is not wide enough.
| | | |
| --- | --- | --- |
| Processor (Cinebench R23) | Single-core test | Multi-core test |
| AMD Ryzen 7 6800HS (Zephyrus G14) | 1,512 | 13,504 |
| AMD Ryzen 7 6800HS (Zephyrus G15) | 1,489 | 13,963 |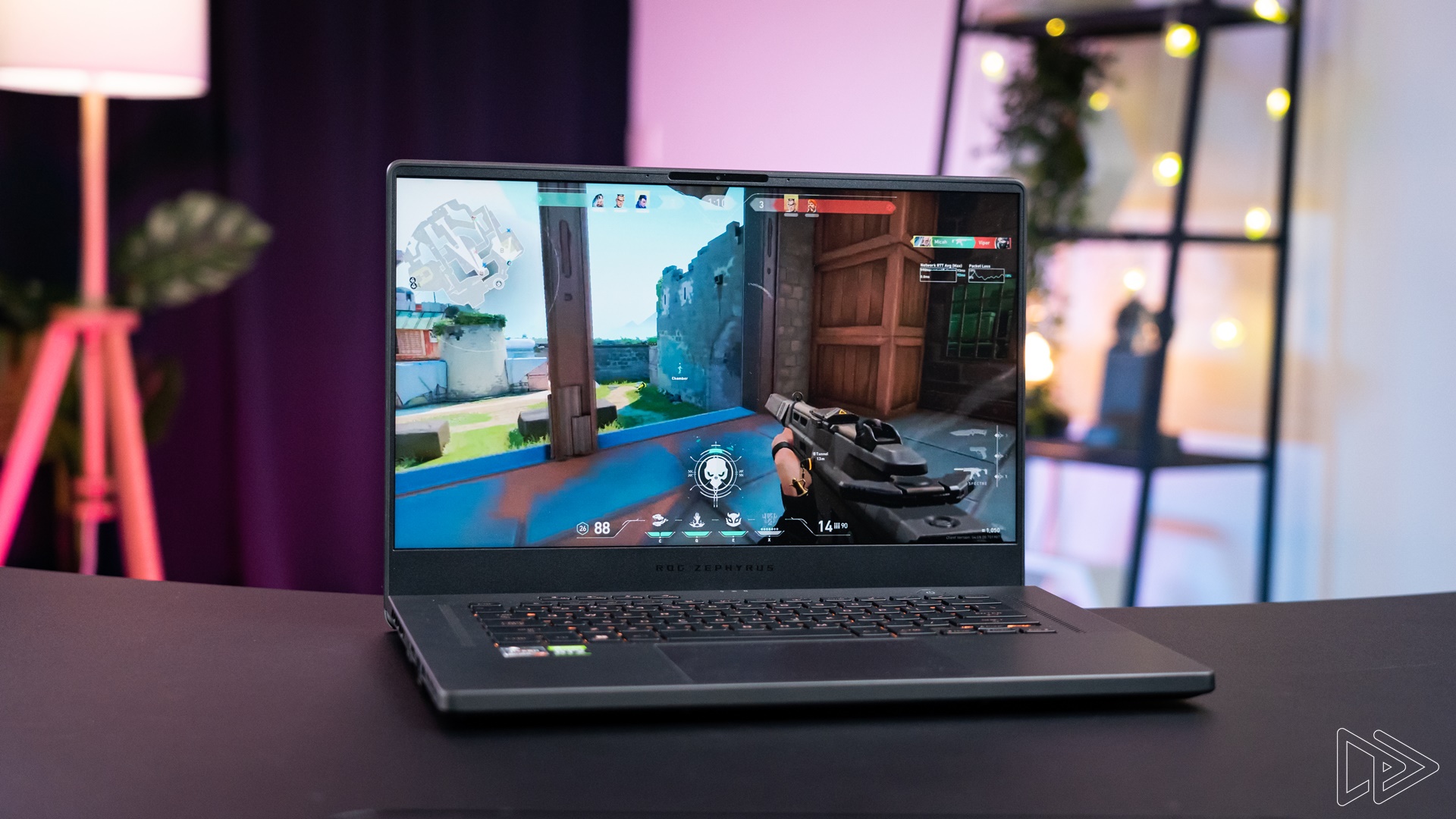 Beyond raw performance, there are also a number of differences between the two gaming laptops that are worth highlighting. System noise, for one, is noticeably louder on the Zephyrus G15. You'll definitely hear the fans spinning in prolonged gaming sessions.
While the same still applies to the Zephyrus G14, it is definitely quieter than the larger G15. However, the fans are only very audible when the power plan is set to Turbo. In other power plans (especially Silent), both laptops are far quieter, though you'll also limit their performance levels.
Display quality is also important for a pleasant gaming experience. In this regard, both the Zephyrus G15 and G14 have their own appeals. Take the G15, which features a 15.6-inch 1440p IPS display with a blazing fast 165Hz refresh rate; the higher-end model has an even faster 240Hz panel! Needless to say, games that can hit this high refresh rate will look extremely smooth.
As for the Zephyrus G14, it comes with a 14-inch 2560 x 1600 IPS panel with a lower 120Hz refresh rate. Even though its refresh rate isn't quite as high as the G15's, this is a taller 16:10 display, making it ideal not just for gaming, but for productivity tasks as well. After all, you've got more vertical screen real estate.
Speaking of screens, we have to mention the AniMe Matrix display on the lid of the Zephyrus G14; it's a feature unique to this compact gaming laptop. Although the Zephyrus G15 has a similar-looking design, it doesn't have the LED matrix, though it does look cleaner and more minimalist as a result.
Portability is also one area where the Zephyrus G14 is superior to the G15, thanks to the fact that it has a more compact 14-inch display. Even though its smaller chassis does make it feel slightly hotter than the G15 in heated gaming sessions, it is definitely easier to lug around in a backpack.
When it comes to the input devices of the two gaming laptops, both are excellent in this regard. Their keyboards are comfortable to type on, thanks to the long key travel, good tactile feedback, and cushioned bottom out. The trackpads of the two laptops can also track my fingers accurately, and it's just the right size for a comfortable user experience.
Aside from that, bundled alongside the Zephyrus G14 and G15 is a 100W USB-C power adapter worth about RM400. This allows you to charge up the laptops when you're out and about with a more compact adapter, rather than the much larger (and heavier) 240W or 200W power adapters for the G14 and G15 respectively.
All in all, if you want a compact gaming laptop with very respectable gaming performance, the Asus ROG Zephyrus G14 is the one to go for. But if you want a larger, faster screen with a beefier GPU option, opt for the Zephyrus G15 instead. It's worth mentioning again that the range-topping models of both laptops cost the same at RM9,999.
Regardless of which laptop you go for, you will be very happy with either the Zephyrus G14 or Zephyrus G15 – they are both excellent gaming laptops in their own right. You can get the laptops from Asus' online store, as well as Shopee and Lazada.